Wind-eze Chewable Tablets - 30
Relieves gastro-intestinal gas
Fast acting
Chewable peppermint tablets
Relieves gastro-intestinal gas
Fast acting
Chewable peppermint tablets
Product Information
Wind-eze Chewable Tablets offer relief from the symptoms associated with gastrointestinal gas, which include flatulence, bloating, wind pains, and abdominal distension.


Description
Wind-eze Chewable Tablets contain the active ingredient simeticone. This anti-foaming agent works by uniting all the small bubbles of gas that can get trapped among the stomach contents, and then forms large bubbles that are more easily expelled by burping or passing wind. Simeticone acts locally in the gut and is not absorbed into the bloodstream. Wind-eze contains thirty gentle acting peppermint flavoured chewable tablets. Peppermint is known as one of the world's oldest medicines, and herbalists recommend it as an effective remedy for bloating and other digestive complaints. The menthol found in peppermint oil has a variety of beneficial influences on the digestive system. Menthol is an effective carminative and anti-spasmodic, relaxing the muscles in the gastrointestinal tract.
Usage
Adults, the elderly and children aged 12 years and over: take 1 tablet 3 or 4 times daily after meals and at bedtime as needed. Wind-eze peppermint tablets must be chewed before swallowing.
Ingredients
Each tablet contains active ingredient Simeticone. Also contains: Starch, Sorbitol (E420), Tribasic Calcium Phosphate, Citric Acid, Talc, Peppermint flavour, non-Pareil seeds (sugar and starch).
Suitable For
Suitable For adults, the elderly and children aged 12 years and over.
Cautions/Allergies
Not recommended for children under 12 years. Seek medical consultation before using if you are breast feeding, pregnant, or planning to become pregnant. Keep out of the reach and sight of children. Do not store above 25¦C.
Frequently Asked Questions (0)
You Could Also Consider These Tablets Products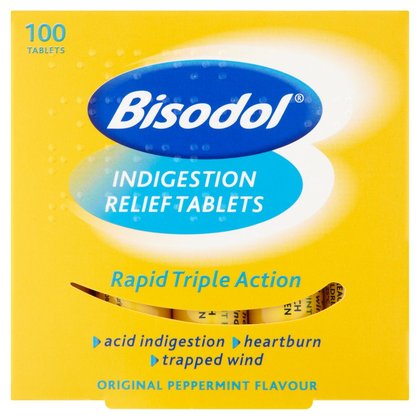 Bisodol Indigestion Relief Tablets - 100
Bisodol Indigestion Relief Tablets provide effective, rapid relief from acid indigestion, heartburn and trapped wind.
£3.54
RRP £3.73
Save £0.19 (5% OFF)
View Product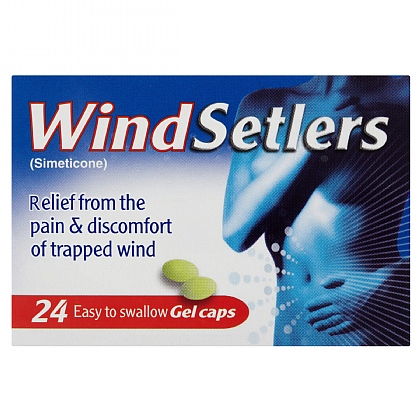 Windsetlers - 24 Capsules
Effective relief for bloating, trapped wind and indigestion.
£5
View Product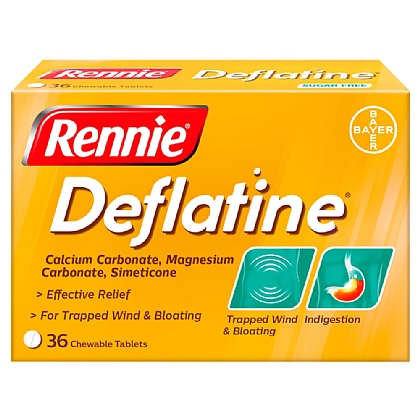 Rennie Deflatine Tablets - 36
Mint flavoured tablets. Provide relief from trapped wind & bloatedness.
£5.85
RRP £6.15
Save £0.30 (5% OFF)
View Product