OsteoGuard®, High Strength Calcium and Magnesium Formula
UK's Best Bone Formula, 180 Tablets, 3+ month's supply
High strength Calcium and Magnesium
At levels recommended by many nutritionists
Fine-grade minerals for maximum absorption

Taste-free coated tablets
Product ID: 743
High strength Calcium and Magnesium
At levels recommended by many nutritionists
Fine-grade minerals for maximum absorption

Taste-free coated tablets

Product Information
OsteoGuard
®
is a high potency all-in-one bone health formula supplying 500mg calcium and 125mg of magnesium per tablet as recommended by many nutritionists. There's good evidence to show maintaining a high dietary intake of calcium will help to slow down the process of bone loss and the DoH recommends that women should have an intake of up to 1200mg of calcium per day. However, calcium is not the only important nutrient as it's been found that there is a clear link between magnesium intake and bone mass density too. Since 7 out of 10 women have diets providing less than the recommended amount of magnesium it makes sense to include this mineral in any bone health programme. However relevant levels of these two minerals are only found in specialist products like OsteoGuard
®
and that's why it has become one of our top sellers.
No bone formula would be complete without vitamin D, the 'sunshine' vitamin, and we've increased the level of 10µg per two tablets, which is twice the NRV, following recent research which has again focussed on the importance of this vitamin to our health.
In addition vitamin K is also being highlighted as it contributes to maintenance of normal bones and so we have raised the level to 75µg per two tablets, the NRV.
Read our article 'Weight Loss Supplements' to understand more.
Daily Intake
Take 1-2 tablets daily with a meal. If your diet is low in dairy produce or if you have reached menopause, then you may choose to take 2 tablets daily. Do not exceed recommended daily dose.
Food supplements should not replace a balanced diet and healthy lifestyle.
Formula
Ingredients
Calcium Carbonate, Cellulose, Magnesium Oxide, Crosslinked Cellulose Gum, Tablet Coating (Hydroxypropyl Methylcellulose, Glycerine), Anti-caking Agents (Silicon Dioxide & Magnesium Stearate), Stearic Acid, Boron (Sodium Borate), Vitamin D3, Vitamin K1..
Suitable For
This product is suitable for all adults. This product is suitable for vegetarians. This product is suitable during pregancy and breast feeding.
Cautions/Allergies
This product is free from wheat, yeast, dairy, soya, nuts and shellfish.
This product is free from gluten containing ingredients.
You Could Also Consider These Vitamin D Products
Great Combinations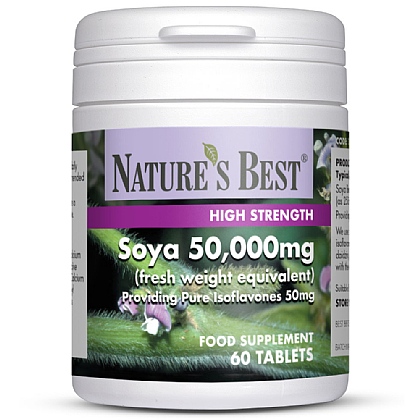 Soya Isoflavones 50mg, High Strength Extract
4.7/5 based on

215 customer reviews
From 50,000mg Whole Soya Beans, 60 Tablets, 1+ month's supply
One of the UK's top Soya Isoflavones. Popular with women going through the menopause. Notice the difference or your money back.
From £12.95
View Product
"Tablet size"
By
Juliette Bray
, 26 Oct 2020
I couldnt use this product as the tablets were too big and I have trouble swallowing, so these weren''t suitable for me unfortunately.
Recommend to a friend: Don't know
Thank you for taking the time to leave a review.

We do formulate our products to be as small as possible, whilst still providing a relevant level of the nutrients required. Our research has suggested that our customers prefer to take fewer tablets which is why they are often rather large in size. It would be perfectly fine to crush the tablets into a powder if this makes it easier for you to consume them. You may wish to use a pestle and mortar to do this, or a pill crusher which are often available from pharmacies. For future reference, you can see the size of these against a ruler on the product pages on our website.
Nature's Best Nutrition Advice:
How much has this product helped you?
"Supporting bone density"
By
Anonymous
, 16 Oct 2020
I am in my seventies and have been taking Osteoguard for several years to prevent osteoporosis following a hysterectomy. It has clearly worked well because during further recent surgery, the consultant remarked that my bones were in very good condition.
Recommend to a friend: Yes
How much has this product helped you?
"Good insurance policy"
By
Anonymous
, 02 Oct 2020
I have osteoporosis, so I started taking these.
Recommend to a friend: Yes
How much has this product helped you?
"evry thing helps"
By
Albert Moses
, 01 Oct 2020
it says it protects the bones than why not
Recommend to a friend: Yes
How much has this product helped you?
"Excellent quality"
By
Tickertyboo
, 28 Sep 2020
I've been taking this particular supplement for quite some months. I thought it especially important whilst the 'lockdown' was in place and I wasn't venturing outside as much as usual. To be honest I'm not sure if it is helping me, I have no solid proof. But feel by using this supplement and exercising I'm doing all I can to keep my body strong. I also researched this and other products to find the most purest and value for money. This one won hands down or should I say up ??
Recommend to a friend: Yes
How much has this product helped you?