Co Q10 100mg
Useful strength for those on statins
Natural source CoQ10 for higher absorption
One of our most popular strengths
Manufactured to GMP pharmaceutical standards
Small, easy to swallow capsules
This is a higher potency CoQ10 for anyone who wants more of this amazing nutrient than just an insurance level provided by the 30mg strength. We now tend to recommend this 100mg strength to anyone taking statins, the cholesterol lowering medicines that have been shown to deplete the body of CoQ10.
There has been a huge amount of research into CoQ10 over the years which we have followed closely as our Technical Director (now retired) was one of the original researchers that discovered CoQ10. So we were the first company to provide CoQ10 in vegetable oil base, as research showed that it was better absorbed like this, and from our knowledge of this fascinating nutrient we know that naturally sourced CoQ10 is the best.
CoQ10 is found in the mitochondria of our cells, where glucose is converted in to the energy our body needs to power our metabolism and drive our muscles which is why the heart contains the highest concentrations of CoQ10.

Product Information
Daily Intake
Take 1 capsule daily with a meal. Do not exceed recommended daily dose.
Food supplements should not replace a balanced diet and healthy lifestyle.
Formula
Co-Enzyme Q10 (Ubiquinone)
100mg
Ingredients
Sunflower Seed Oil, Capsule Shell (Gelatin, Glycerin, Colour: Iron Oxide), Co Enzyme Q10, Sunflower Lecithin, Glyceryl Monostearate.
Suitable for / Cautions
Suitable For
This product is suitable for all adults.
Cautions/Allergies
This product is free from wheat, yeast, dairy, soya, nuts and shellfish.
This product is free from gluten containing ingredients.
This product is not suitable during pregnancy or breast feeding.
This product is not suitable for vegetarians .
You Could Also Consider These Co Q10 Products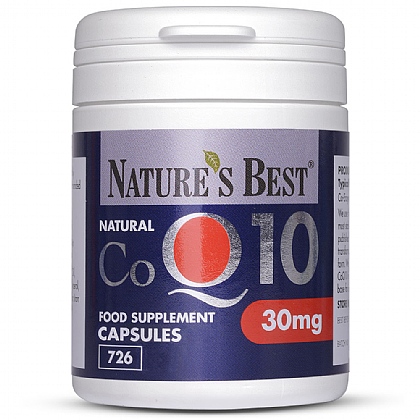 Co Q10 30mg
4.8/5 based on

124 customer reviews
Natural source, gelatin free capsules from just 7p per day
Pure CoQ10 in an oil base for easy absorption. Useful strength for use as an 'insurance policy'. Natural source, as used in clinical studies
£8.50
£6.95
View Product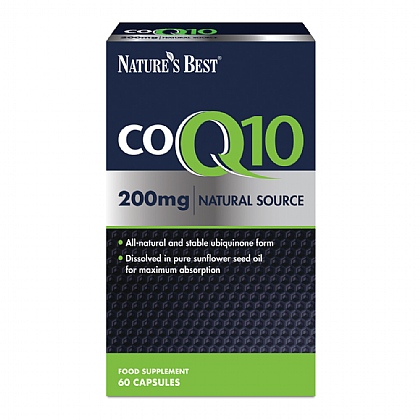 Co-Q10 200mg
4.8/5 based on

251 customer reviews
One of the UK's strongest top quality, natural source CO-Q10
The UK's strongest CoQ10 and fantastic value for money. Often recommended as part of a heart health regime, and to people on statins.
From £18.50
View Product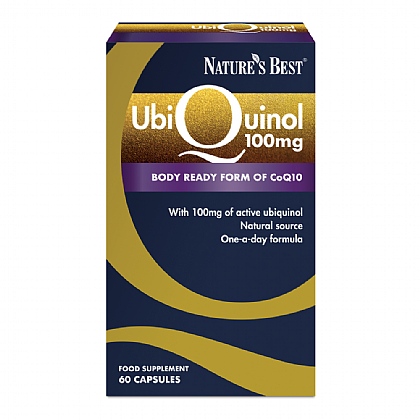 Ubiquinol 100mg
4.8/5 based on

105 customer reviews
Highly absorbable form of CoQ10
Ubiquinol is the 'new' form of CoQ10 which is billed as being an advance on the more widely used ubiquinone form of CoQ10 traditionally used in supplements.
£34.95
£29.95
Add to basket
By
alan taylor
, 14 Oct 2018
Recommend to a friend: Don't know
How much has this product helped you?
"Ideal if on S*****s"
By
Anonymous
, 09 Oct 2018
Being on st****s, I found I had low energy and this product helped me to feel more energetic
Recommend to a friend: Yes
How much has this product helped you?
"Wow amazing item not tired."
By
Caroline Brittain
, 24 Sep 2018
I purchased this product as I am on S****ns for my heart problem and was so tired, found a leaflet at my GP and as I purchase the brilliant ginger from here. I thought I would purchase this and it is brilliant only been on it for 10 days approx not falling asleep as soon as I see down to watch tv. Just amazing thank you so much.
Recommend to a friend: Yes
How much has this product helped you?
By
Alex Skliros
, 22 Sep 2018
Because I was told that the 200 mg one is essential for people taking s****ns.
Recommend to a friend: Yes
How much has this product helped you?
By
Jayne Averill
, 16 Sep 2018
My partner uses this product as takes s*****s and suffers with the muscle aches and fatigue often associated with taking statins. Has absolutely no problems when taking coq10.
Recommend to a friend: Yes
How much has this product helped you?