Product Information
Full Marks Solution is a fast and effective, 10 minute treatment that kills head lice and eliminates eggs. It dosen't poison the lice like traditional head lice treatments, but rather causes them to dehydrate and die. A detector comb is also provided and can be used to remove these dead lice along with any eggs.


Description
Full Marks Solution contains the active ingredients, cyclomethicone and isopropyl myristate. These two ingredients combine to dissolve the outer coating of head lice, which dehydrates and kills them. Because of it's physical action, head lice cannot become resistant to Full Marks Solution. With no traditional pesticides, it is low in odour and toxin free too!
Usage
Adults, the elderly and children aged 2 years & over: Approx 50ml should contain sufficient solution to treat a head lice infection on one head. However, you should apply enough to cover scalp and hair to ensure a successful treatment. omb through dry hair with a normal comb to remove any tangles, shake the bottle, apply the solution to the dry hair and massage in, ensuring that the entire scalp and all the hair are coated with the solution. Leave on the hair for 10 minutes. After 10 minutes you can comb through the hair using the special comb provided, to remove the dead lice and any eggs. To ensure a thorough job, divide the hair into four quarters and comb each separately. Take a small section of hair from the quarter and place the teeth of the comb as close as you can to the scalp and comb downwards away from the head to the tips of the hair. After each stroke, rinse out the comb to remove any hair and lice and wipe it with a tissue. Once an area of hair is free of lice and eggs push it to one side and continue until the quarter is completely clear. Once you have finished the treatment, wash out the solution using an ordinary non-conditioning shampoo. Conditioner is not necessary. Repeat above steps on days 7 and/or 14 as required.
Ingredients
Cyclomethicone. Isopropyl Myristate.
Suitable For
Suitable for adults, the elderly and children over 2 years
Cautions/Allergies
For external use only. Avoid inhaling the solution. Avoid getting the product in the eyes. If you accidentally get it in the eyes, rinse them immediately with plenty of water. Keep out of the reach & sight of young children. Store at room temperature. Keep bottle in carton and away from direct sunlight. Do not use after the expiry date. If you experience any sensitivity discontinue use and seek medical consultation. Full Marks Solution is an oily liquid, so care should be taken when applying as it might make hard surfaces, such as floor or baths, slippery.
Frequently Asked Questions (0)
You Could Also Consider These Treatments & Repellents Products
Great Combinations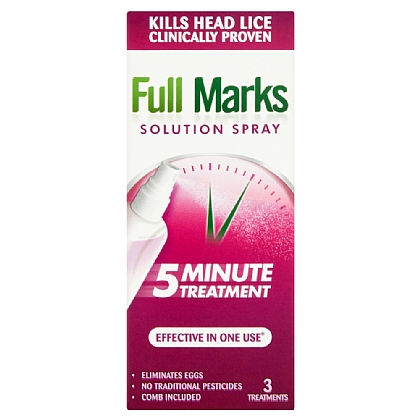 Full Marks Solution Spray - 150ml
Kills head lice & eliminates eggs. Quick & easy treatment. 10 minute treatment. Low in odour. Toxin free.
£12.34
RRP £12.99
Save £0.65 (5% OFF)
View Product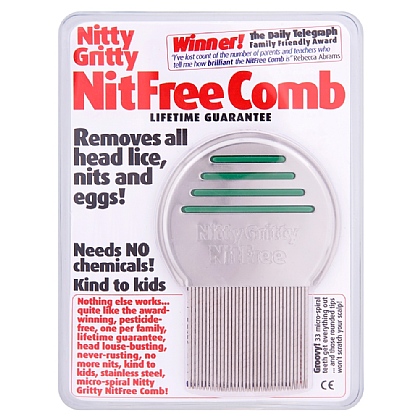 Nitty Gritty Nit-Free Comb
Unique, stainless steel design. Long teeth for optimum efficacy in all hair types. Safe & effective.
£11.14
RRP £11.73
Save £0.59 (5% OFF)
View Product