Eucerin Calming Urea Scalp Treatment
Significantly improves scalp's condition and restores a healthy balance
soothes the scalp from minor scalp irritation
Reduces itchiness and soothes the scalp from that first application
Provides intensive moisture to the scalp for a long time
Significantly improves scalp's condition and restores a healthy balance
soothes the scalp from minor scalp irritation
Reduces itchiness and soothes the scalp from that first application
Provides intensive moisture to the scalp for a long time
Product Information
Dermatological findings identified scalp irritation as an important factor in many scalp disorders such as dandruff, dry & itchy scalp, sensitive scalp and certain forms of thinning hair. This phenomenon can disturb the healthy scalp regeneration process. Based on its experience in Dermatological Skin Care, Eucerin Skin Research has developed, in co-operation with dermatologists, a daily usage Scalp & Hair Care range that specifically addresses the needs of a problematic scalp. Due to its highly effective leave-on treatments, this complementary system soothes against scalp irritation resulting in healthy looking hair from the roots.


Description
Dry and itchy scalp is often caused by a skin barrier dysfunction that encourages irritant factors to affect the scalp. Symptoms of scalp irritation include itchiness, tautness, redness, roughness, scaliness and sensitivity. Eucerin Dermo Capillaire Calming Urea Treatment is an intensive leave-in formula, specifically formulated for dry and itchy scalps. It contains licochalcone, a natural ingredient known for its skin calming properties which soothes the scalp from scalp irritations. Eucerin Dermo Capillaire also contains skin's own moisturising factors, urea and lactate. These combine to increase the moisture levels of the scalp, while polidocanol soothes the scalp and reduces itchiness.Dermatological and clinical studies have proven Eucerin Dermo Capillaire Calming Urea Treatment's efficacy and tolerability, respectively, on very sensitive and dry & itchy scalps. Intensively soothe and balance your scalp today with Eucerin Dermo Capillaire Calming Urea Treatment.
Usage
Recommended Use: Apply directly on dry or wet scalp and massage into scalp. Do not rinse. After application, hair can be styled as usual.
Ingredients
Aqua, Urea, Methylpropanediol, Sodium Lactate, Laureth-9, Glycyrrhiza Inflata Root Extract, Glycerin, Lactic acid, Arginine HCl, Hydroxyethylcellulose, PEG-40 Hydrogenated Castor Oil, Cetrimonium Chloride, Phenoxyethanol
Suitable For
Suitable for daily use. Suitable for adults and children from 3 years of age
Cautions/Allergies
For external use only. As with most shampoos, avoid contact with eyes. If contact occurs, rinse thoroughly with water. If irritation persists, consult a doctor. Do not use if you have any known sensitivity to any of the ingredients in this shampoo.
Frequently Asked Questions (0)
You Could Also Consider These Dandruff Products
Great Combinations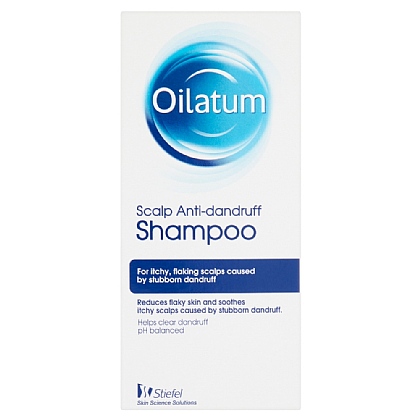 Oilatum Scalp Treatment Shampoo
Oilatum Scalp Treatment Shampoo has been specially formulated with ciclopirox olamine; an ingredient that is clinically proven to treat the underlying cause of itchy, flaky scalp.
£9.49
Add to basket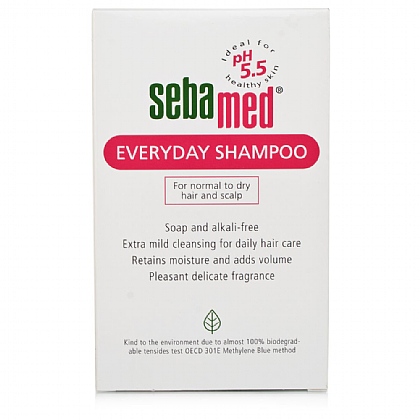 Sebamed Everyday Shampoo
Sebamed Everyday Shampoo supports and protects the acid mantle of the scalp for healthy hair and offers stabilisation of the hair structure with the pH value of 5.
£5.12
RRP £5.39
Save £0.27 (5% OFF)
View Product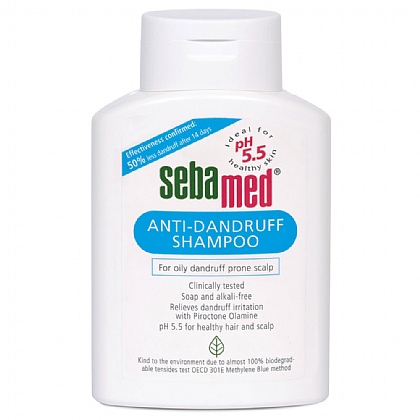 Sebamed Anti-Dandruff Shampoo
Sebamed Anti-Dandruff Shampoo is a gentle cleansing shampoo with mild wash active substances which removes visible signs of dandruff.
£5.12
RRP £5.39
Save £0.27 (5% OFF)
View Product