Multi-B Complex
Popular choice for long term use.
3x stronger than shop brands
Great for long term use and as a top up for your multi
Fantastic price, these are incredible value at 5p/day
Easy to take, one-a-day, small coated tablets
Although this is our lowest potency B Complex it still packs a punch compared with most high street products, as our vitamin levels are typically three times stronger. This is a great value product for long term use and will provide sufficient B Vitamins to ensure your daily requirements are met.
B Vitamins are involved in almost every metabolic process in the body, and play an important role in the release of energy from food, the normal functioning of the immune and nervous systems and the regulation of hormonal activity.
All of our multis provide the B Vitamins at levels that are sufficient for most situations, and this product can be taken on its own or alongside a multi to boost the overall intake of B vitamins. If you need help choosing then please call or email our Advice line.
Product Information
Daily Intake
Take 1 tablet daily with a meal. Do not exceed recommended daily dose.
Food supplements should not replace a balanced diet and healthy lifestyle.
Formula
Ingredients
Cellulose, DiCalcium Phosphate, Niacin (Nicotinamide), Pantothenic Acid (Calcium Pantothenate), Para Amino Benzoic Acid, Choline Bitartrate, Inositol, Vitamin B6 (Pyridoxine Hydrochloride), Thiamine Mononitrate, Riboflavin, Tablet Coating (Hydroxypropl Methylcellulose, Glycerin), Crosslinked Cellulose Gum, Silicon Dioxide, Stearic Acid, Magnesium Stearate, Folic Acid, Biotin, Vitamin B12 (Methylcobalamin).
Suitable for / Cautions
Suitable For
This product is suitable for all adults. This product is suitable during pregnancy and breast feeding This product is suitable for vegetarians.
Cautions/Allergies
This product is free from wheat, yeast, dairy, soya, nuts and shellfish.
This product is free from gluten containing ingredients.
You Could Also Consider These Vitamin B Complexes Products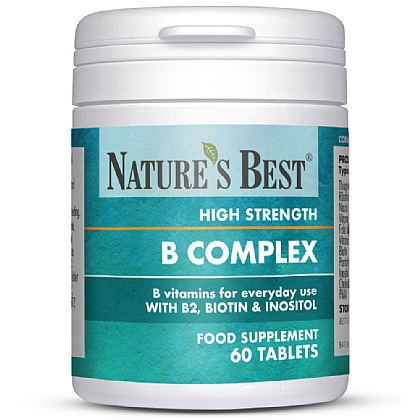 Vitamin B50 Complex
4.9/5 based on

108 customer reviews
Super strength, our most popular B-Complex
Stronger than many high street products, this is the highest potency B-Complex we recommend for long-term use. Great value, small, one-a-day tablet.
From £9.95
View Product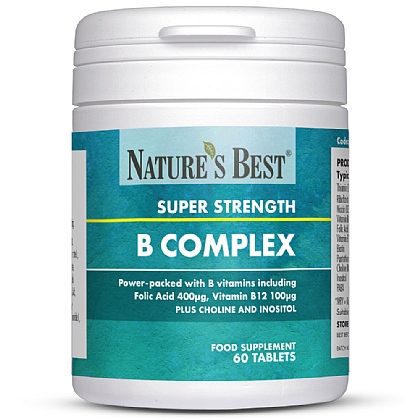 Vitamin B-100 Complex
5/5 based on

29 customer reviews
The UK's Strongest B Vitamin formula
The UK's strongest B-Complex for short term use, 2-3 months. For convalescence or for an energy boost. One-a-day.
From £11.95
View Product
By
Anonymous
, 15 Mar 2019
vitamin b is the most useful product, everybody needs vitamin b. I have taken this for years.
Recommend to a friend: Yes
How much has this product helped you?
"Easy to shallow & gentle on stomach. This is NOT a food supplement."
By
Yvonne Williams
, 05 Mar 2019
As a DISABLED person this is what I''m low in and this does boost my levels adequately. Container is easy to open/close & which is a BIG bonus. Naturesbest at it''s best. Another quality product take a look at website (mention me possibly may get you a discount).???? Used NaturesBest for several years, never been disappointed, let down or given substitutes, which can be very annoying.
Recommend to a friend: Yes
Thank you for taking the time to leave a review.

I am pleased to hear that you have found this product helpful. This product is classed as a food supplement as it is designed to supplement nutrients that you should also be obtaining from your diet.
Nature's Best Customer service:
How much has this product helped you?
By
Anonymous
, 24 Feb 2019
I buy this for my husband who was advised many years ago to take a Vit B tablet. Not tried without it!!!
Recommend to a friend: Yes
How much has this product helped you?
"multi B Complex"
By
Janet Bowden
, 14 Feb 2019
Have been taking this for some while on recommendation from friends. Very happy with this.
Recommend to a friend: Yes
How much has this product helped you?
"Good vitamin for moods."
I definitely seems to help my hormonal balance. I have more energy when I take it continually too as I found out when I stopped for a while!
Recommend to a friend: Yes
How much has this product helped you?