Home

/

Product Focus - Wholefoods: Christmas recipes
Product Focus - Wholefoods: Christmas recipes
We're not sure if there's anything more evocative of the festive season than the foods we choose to serve at this time of year. Yes, there is the Christmas tree and the presents, and, if you're lucky, the extended break from work, but it's the preparing and sharing of food that brings us together like no other past-time. There are the typical dishes you would expect and look forward to, because of tradition and the anticipation that accompanies them once a year. For some we're talking, a steaming Christmas pudding, mince pies or roast turkey, and let's not forget dried fruits and nuts for seasonal snacking. However, if you're looking to create something special this year, look no further. We've highlighted some delicious holiday heroes, and our favourite ways to use them here, but for the whole range, and it's worth a peek, click here.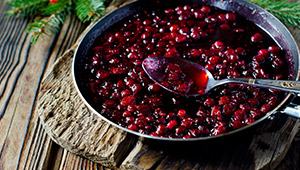 Dried Cranberry Sauce
Ingredients
2 cups cranberry juice (not from concentrate)
¼ cup brown sugar
2 teaspoons cornflour
1 ½ cups dried cranberries
1 cup orange marmalade
¼ teaspoon grated ginger
2 teaspoons of finely grated orange peel
Pinch of allspice
Method
- Whisk together 2 cups cranberry juice, 2 teaspoons cornflour and ¼ cup brown sugar in a medium saucepan.
- Bring to a simmer over medium low heat; cook for 5 minutes, whisking occasionally, until mixture is reduced by one third.
- Stir in 1 ½ cups dried cranberries, 1 cup orange marmalade, ¼ teaspoon grated fresh ginger, pinch of allspice.
- Reduce heat to low and continue cooking for another 8-10 minutes or until cranberries are slightly rehydrated.
- Stir in 2 teaspoons of finely grated orange peel and remove from heat.
- Chill before serving.
For a twist on tradition, why not add in some chopped toasted pecans or walnuts.
Sparkling Fruit Concentrate Mocktail (serves 4)
Ingredients
80ml Fruit Concentrate: CherryMax™, Pomegranate, BerryGuard®
Juice of half a lemon
Cold sparkling soda water
2 x mint sprigs
Crushed ice
Method
- Pour the Fruit Concentrate into a tumbler and add one mint sprig, stirring and bruising it lightly.
- Add the lemon juice and stir, then top right up with crushed ice and the sparkling or soda water.
- Garnish with the second mint sprig.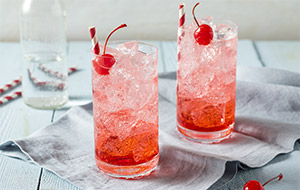 Chocolate Florentines
Ingredients
Deluxe Fruit and Nut Mix
Good quality dark chocolate
Method
- Roughly chop some Deluxe Fruit and Nut Mix and put to one side.
- Line a large tray with baking paper. Melt some good quality dark chocolate over a double boiler.
- Spoon small puddles of the melted chocolate onto the baking paper.
- Sprinkle a little of the chopped fruit and nuts onto each puddle and put into the fridge until firm. You could also try pumpkin seeds, flaked almonds, goji berries or dried apricots. These Florentines are great gifts or after dinner treats.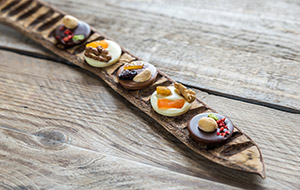 Here are our top snack choices this Christmas and New Year