Home

/

Product Focus - Supporting your health during autumn
Product Focus - Supporting your health during autumn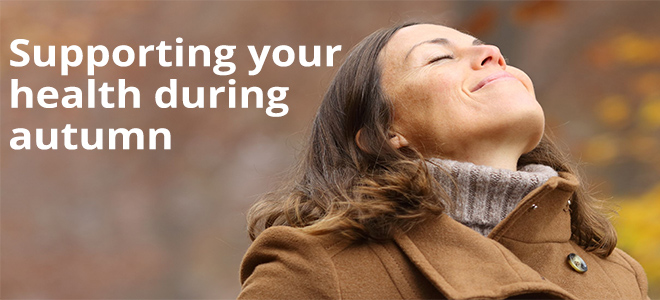 The shift from summer to autumn is a ripe time to re-evaluate, reset, and recalibrate. But if you're dreading the colder mornings, rainier days and darker evenings, don't worry, there are plenty of ways to rebalance and realign yourself with nature, so you can enjoy all this season has to offer and buffer yourself before the 'winter blues' start to creep in.
Eat seasonally
Autumn brings with it a deliciously nutritious bounty of root veggies, like carrots, pumpkin, carrots, and squash, dark leafy greens, such as kale, watercress, Swiss chard, and spring greens, and fruits, including apples, pears, blackberries and elderberries.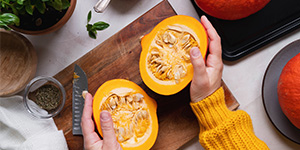 There are many reasons to eat seasonally this autumn: it will save you money, taste better, and support your local community. It's also much healthier and kinder to the planet. Incorporating these foods into curries, stews and soups will provide the perfect fuel to stay warm throughout autumn.
Think about your immunity
'Tis the season for coughs and colds, so getting on top of your immunity before winter sets in is always a smart idea. Try to pack your diet with lots of vitamin C – found in broccoli, kiwi, oranges and spinach – and zinc – rich in whole grains, nuts, oysters, seeds and lentils – both of which support immune function.
Garlic is another seasonal favourite. This pungent herb contains the powerful natural compound, allicin, but is destroyed when heated. Add raw garlic liberally to sauces, pesto, and dips.
Echinacea is also widely known for its role in immune health. This traditional herbal medicinal product is used to relieve the symptoms of the common cold and influenza-type infections, making it a popular choice as autumn draws in.
And, of course, we can't forget vitamin D3, our favourite supplement for autumn. In the absence of as much sunlight (note: the body needs sunlight to produce vitamin D3), taking a high-strength formula will provide the nutritional coverage needed to support your immune system.
Get outside
It may be colder, but don't let the weather stop you from getting outside. Not only will spending time in nature help you appreciate the seasonal shift in all its glory – the changing colours, the crispness of the leaves, the bite in the air – it's also hugely beneficial for your brain. Time spent in nature improves mood, reduces feelings of stress and promotes relaxation. So, grab your wellies, sport a thick jumper and venture outside.
Seasonal self-care
For some people, the darker, colder days can usher in changes to their emotional health. Seasonal affective disorder (SAD), characterised by a persistently low mood that comes and goes in a seasonal pattern, is very common. If you experience this, please know that you're not alone.
Consider using the move into autumn to centre your self-care. You may wish to start a meditation practice, make more of an effort to connect with people you love, or simply embrace the slower pace of life that often comes with this 'hibernation' season (hello, candles, pumpkin lattes and the joy of not going out!).
L-theanine, magnesium, and a high-strength B vitamin complex are often recommended to support mood and emotional wellbeing – and may be useful additions at this time.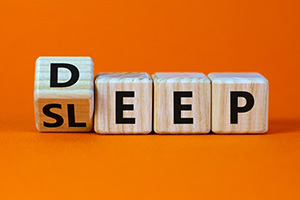 Recalibrate your circadian rhythm
The seasonal shift can also affect your sleep. Our circadian rhythm, or internal 24-hour body clock, is governed by light. And the decrease in daylight can make us feel more tired. In very simple terms, less light exposure means more melatonin, the sleep hormone, which can lead to lethargy and sluggishness. Getting as much natural light as possible in the morning is one of the best ways to recalibrate your circadian rhythm and support your energy levels as you transition into autumn.
For more information on improving your sleep hygiene, please visit our dedicated Sleep Health Hub.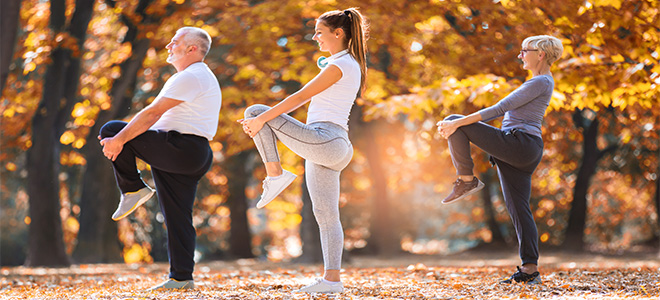 Create your own heat
There's no doubt that the sudden change in weather can influence activity levels. If you can no longer bear facing an al fresco exercise session, that's okay. Instead, embrace hot yoga, indoor swimming-pool-based activities, or home workouts. However, it's also important to be mindful that we aren't in winter just yet; there are still plenty of great days to get outside and move your body.
Now might also be a great time to consider a lunchtime workout. As the nights draw in, you may find it harder to pull yourself off the sofa in the evenings. Whether you're in the office or WFH, make the most of your lunch break. Take a 20-minute jaunt around the block, squeeze in a yoga class, or stream a virtual workout.
Autumn is a period of change and renewal. Although the darker, colder days can take some adjusting, trying to align your dietary and lifestyle choices with this seasonal shift can help you feel at your natural best. For more help and guidance on supporting your health, please reach out to our team of expert Nutrition Advisors.
Here are our top supplement suggestions to support your health this autumn