Home

/

Healthy Recipes to Satisfy Your Sweet Tooth
Healthy Recipes to Satisfy Your Sweet Tooth



Whether it's that need for an afternoon pick-me-up, the urge to satisfy a post-dinner craving, or a straight-up hankering for a sugary 'je ne sais quois', submitting to your sweet tooth is a feeling many of us know. Problem is, 'sweet' usually equates to 'sugar', which isn't too great for our health. Yup, the white stuff is bad news for our skin, waistline, and even emotional wellbeing. Thankfully, there are ways to quench that thirst for a sweet treat without a spoonful of sugar in sight. Most of our recipes below are vegan, gluten-free and sweetened with natural sugars from fruit, vanilla, honey or maple syrup. Finally, you can have your cake and eat it, too.

Raw cacao energy balls (GF) (Vegan)
As far as healthy snacks go, energy balls probably take the biscuit. They deliver a satiating (and delicious) combination of carbs, protein and fats. Plus, they're portable and customisable; you can spice them up with whatever toppings you fancy. Perfect for that pre-gym energy boost or mid-morning elevenses.

Ingredients (makes 20)
400g Medjool dates (pitted)
200g almonds
2-½ tbsp. almond butter
4 tbsp. raw cacao powder
2 tbsp. coconut oil

Topping ideas
Coconut flakes
Raw cacao powder
Chia seeds
Sesame seeds
Crushed nuts
Maca powder

Directions
Place the almonds in a food processor and blend until crushed
Add the coconut oil and Medjool dates and mix thoroughly
Add the raw cacao powder and almond butter, and mix again
Using a tablespoon, take a dollop of the mixture and roll into a ball. Repeat this process with the remaining mixture.
Coat the balls with any topping of your choice or leave plain.
Put the energy balls in the freezer for approximately 1 hour, then remove and place in an airtight container in the fridge.

Almond and blueberry muffins
These muffins win on every front: they're super easy to whip up, a total crowd pleaser, and brimming with antioxidant-rich almonds and berries. Try making a batch at the beginning of the week to satisfy your sweet tooth at every occasion: breakfast, picnics and with a nice cup of tea. Oh, delicious.

Ingredients (makes 12)
300g spelt flour
100g honey
70g coconut oil
22g frozen blueberries
50g flaked almonds
4 eggs
1 orange
1 tsp. baking powder
½ tsp. bicarbonate of soda
1 tsp. cinnamon
½ tsp. vanilla extract

Directions
Preheat the oven to 170 degrees.
Place the honey and coconut oil in a food processor and blend until creamy. Once light and fluffy, add the eggs and blend again.
In a separate bowl, combine the spelt flour, bicarbonate of soda, baking powder and cinnamon.
Zest the orange, mix with the vanilla extract, and add to the wet mixture.
Combine the wet mixture with the dry and stir thoroughly, before adding half the almonds and all of the blueberries.
Spoon the mixture into large muffin moulds, sprinkle over the remaining flaked almonds, and bake for 25 minutes.
Leave to cool and then dig in!
Chocolate peanut butter bites (GF) (Vegan)
A guilt-free take on the classic Reese's Pieces, this is a recipe the whole family will love. Raw chocolate, peanut butter, banana and a sprinkling of sea salt are a match made in flavour heaven. Keep these in close proximity for when the three o'clock slump hits. Be warned, though: they are mouth-wateringly moreish.

Ingredients (makes 6)
125g almond butter
125g peanut butter
2 ripe bananas
60ml maple syrup
40g raw cacao powder
1 pinch sea salt

Directions
Melt the maple syrup and nut butters using a bain maire
Add the raw cacao and mix thoroughly until fully dissolved
Remove from the heat. Then, using a blender, combine the nut mixture, bananas and sea salt.
Line a muffin tin and pour in the mixture. A silicone ice cube tray will also work well.
Store in a cool place for a couple of hours. Note: leaving the bites in the fridge will prevent them from developing a gorgeously shiny finish on top.
Keep in an airtight container for up to 5 days.

No-bake coconut, oat and apricot bars (Vegan)
Having healthy on-the-go snacks is a secret weapon that protects you from junk food when you crave something sweet. These coconut, oat and apricot bars are far superior to anything you'll find in the supermarket; they contain no nasties, no additives, and none of the white stuff! Perfect for storing in your office drawer.

Ingredients (makes 8)
100g dried apricots
100g rolled oats
2 tsp. coconut oil
1 tsp. vanilla extract
2 tbsp. desiccated coconut
1 pinch cinnamon

Directions
Blend the apricots, coconut oil, cinnamon and vanilla for 30 seconds.
Add the oats and desiccated coconut, and pulse until combined. Be careful not to blitz the mixture for too long, as the oats will lose their consistency.
Grease a baking tray with coconut oil and fill it with the oat mixture, pressing it down with the back of a spoon.
Store in the freezer for 30 minutes and then cut into bars.
Keep them in an airtight tin for up to 5 days.

Chocolate superfood pots (GF) (Vegan)
Chock-full of omega-3s, fibre and protein, the chia seeds pack a whopping nutritional punch to these indulgent chocolate pots. Plus, they couldn't be easier to whizz up and store in the fridge. Top with your favourite add-ons and enjoy for breakfast, dessert or over a candlelit dinner.

Ingredients (makes 4)
1-¼ cup unsweetened almond milk (or any plant-based milk of your choice)
¼ cup chia seeds
3 tbsp. raw cacao powder
1 tbsp. maple syrup
Pinch sea salt

Topping ideas
Whipped coconut cream
Dark chocolate shavings
A dollop of almond butter
Pomegranate seeds
Flaked almonds
Fresh berries
Sliced banana
Goji berries

Directions
Combine all the ingredients in a large glass or plastic jar with a lid, give it a stir, and then put the lid on.
Shake for 30 seconds to thoroughly mix the ingredients together
Divide into four ramekins or bowls.
Refrigerate for at least 4 hours or overnight
Serve the pots chilled and finish with your favourite toppings.
Dig in!

You Might Also Like
---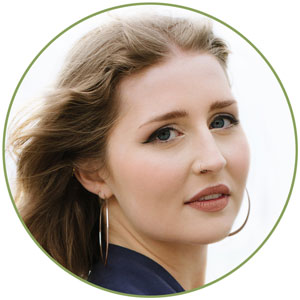 Olivia
Olivia Salter has always been an avid health nut. After graduating from the University of Bristol, she began working for a nutritional consultancy where she discovered her passion for all things wellness-related. There, she executed much of the company's content marketing strategy and found her niche in health writing, publishing articles in Women's Health, Mind Body Green, Thrive and Psychologies.

View More