Product Focus - Flexibility & Mobility
What food can support flexibility and mobility?
Fuel for the body affects a myriad of bodily functions. This applies to movement of the body too. Food and vitamins can support flexibility and mobility goals — as long as you make the right choices.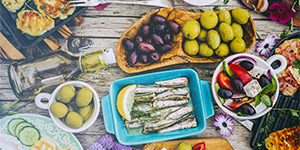 Protein
Protein is essential for repairing and building your muscles and connective tissues, making it vital if you want to step up your mobility game. Dietary protein is available in meat, poultry, fish and dairy products, however, plant-based sources, such as beans, tofu and Edamame are also a helpful way to increase your protein intake.
The Mediterranean diet
Rich in healthy fats, colourful plants, whole grains, beans, oily fish and nuts and seeds, the Mediterranean is lorded as the Holy Grail of good nutrition – and it's no surprise, really. Experts increasingly believe adopting a Mediterranean diet may support your joint health, amongst other things.
Avoid inflammatory foods
If you want to support your joints and muscles, watch your intake of the following foods which may cause inflammation.
Sugar: Any kind of sweet treat rich in refined sugar (hello, fizzy drinks, chocolate and pastries) will likely contribute to inflammation in the body.
Saturated fats: Foods high in saturated fat, like cheese, often have a 'pro-inflammatory status'.
Refined carbs: Takeaways, fast food and microwave meals are known to increase inflammation in the body.
Drink up
It can be helpful to think of your body as a sponge. Without enough water, the sponge becomes stiff, weak and brittle; with enough water, it becomes flexible, agile and supple. Our muscles are 79 per cent water, which means proper hydration is essential to keep them in good working order.¹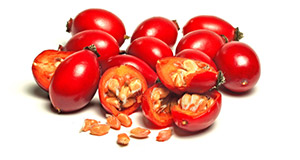 Natural ways to support flexibility and mobility
Certain herbs, nutrients and vitamins can aid active individuals in reaching their athletic goals — whether this be to get healthier overall, or to become a more flexible and mobile individual.
Glycosaminoglycans
Compounds called glycosaminoglycans may be helpful for active, on-the-go individuals. Eat it: Shellfish. Vegetarian? Try a supplement
Fresh turmeric spice
Turmeric contains curcumin, which belongs to a family of powerful compounds called curcuminoids, and many people find this spice helpful. Eat it: Add fresh turmeric to smoothies or curries.
Fresh ginger
Comprising the active compounds, gingerols, ginger is revered in Eastern medicine. Aside from supporting digestion and circulatory health, ginger is often recommended for movement and agility. Eat it: Grate fresh ginger into soup and curries.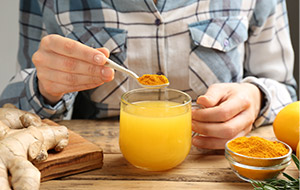 Oily fish
Rich in the long-chain omega-3 fatty acids, EPA (eicosapentaenoic acid) and DHA (docosahexaenoic acid), oily fish are now believed to support many areas of health, including mobility. Eat it: Wild salmon.
Vitamin C
Collagen is the most abundant protein in the body. Some would call it the 'glue' that holds our skeletal structure together. Vitamin C contributes to the normal collagen formation for the normal function of cartilage. Eat it: Spinach.
Dark-skinned berries
Anthocyanidins are powerful plant compounds believed to support and reinforce the production of collagen. Eat them: Blueberries.
Fresh Pineapple
An enzyme mixture found in fresh pineapple, bromelain is thought to offer some help with sprains and strains. People often take bromelain with turmeric and glucosamine as they make a perfect supplement partnership.
Dried Rosehips
For centuries, herbalists have referred to the rosehip as a 'super-fruit'. Practitioners often recommend rosehip to those with active lifestyles or people who take glucosamine, turmeric and ginger.
A supplement to consider - Devil's Claw
A traditional herbal medicinal product used for the relief of backache, rheumatic or muscular pain and general aches and pains in the muscles and joints.
Here are our top supplement suggestions to support mobility health
References:
The Water in You: Water and the Human Body | U.S. Geological Survey. (2021). https://www.usgs.gov/special-topics/water-science-school/science/water-you-water-and-human-body