Home

/

Product Focus - Christmas Gift Guide
Product Focus - Christmas Gift Guide
Are you sitting comfortably - cosy socks, glass of fizz, mince pie perhaps? Then we shall begin. We have an excellent range of seasonal supplements to see you through the festive season, take a look here and stock-up for winter. If you haven't considered Nature's Best for gifts this Christmas, then now's your chance. Below we have showcased some of our top skin care products and aromatherapy oils to support skin health and wellbeing throughout the colder months. Not to be missed are our diffusers teamed with a FREE Winter Spice Blend. The diffusers will fill your home with all the aromas associated with seasonal festivities. If you're baking goodies for the holidays then visit our website for Wholefood essentials, and delicious snack ideas.

Merry Christmas from us all at Nature's Best® and happy shopping!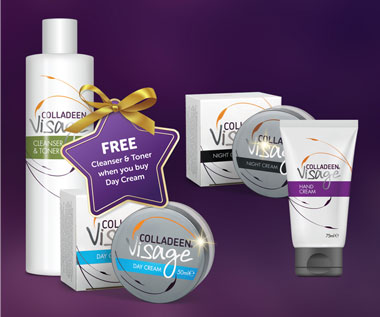 The Colladeen® Skin Care Range

Colladeen® Visage Day Cream 50ml £11.95
Our skin has a daily challenge to stay hydrated when exposed to central heating, constant changes in temperature, pollution and UV rays. With an accomplished day cream formula we can help defend our skin. Colladeen® Visage is a nourishing day cream with a caring blend of hydrating ingredients, suitable for all skin types.
Buy Now
Colladeen® Visage Night Cream 50ml £11.95
Skin works hard to repair and regenerate itself throughout the night. Applying creams in the evening allows your skin to absorb the active ingredients without having to compete with other products. This lightweight yet enriching night cream contains a powerful blend of naturally active ingredients to leave your skin feeling pampered and rejuvenated.
Buy Now
Colladeen® Visage Cleanser & Toner 150ml £7.95
Cleanse away makeup without drying out the skin with our gentle Cleanser & Toner. Formulated to remove cosmetics including stubborn waterproof mascaras. Charged with powerful plant actives to help soothe and calm all skin types, including delicate skin. Lotion based with high levels of naturally derived ingredients (approximately 99%) including coconut oil, cocoa butter, aloe vera and vitamin E to moisturise and condition the skin. You can choose to wash with warm water after application or simply leave on the skin for a beautifully silky-smooth feel. Use daily and follow with Colladeen® Visage Day/Night Cream for a complete pamper package!

Colladeen® Visage Hand Cream 75ml £7.95
Nature's garden provides some powerful ingredients, so we've handpicked plant extracts that have hydrating properties to give our hand cream a nourishing and softening effect. We've included soothing aloe vera, combined with natural vitamin E, which is known for its skin supporting credentials. Delicately scented with real essential oils.


Aromatherapy
Christmas is guilty of having some of the most seducing aromas, with spiced wine, mince pies and the freshness of pine trees being up there as the most tantalising. That said, it's hard to hang onto those season defining scents for very long. So, why not diffuse Winter Spice Blend into your home for a seasonal scent over the festive break. With all the smells we associate with Christmas, aromatherapy experts have created a rich and fruity infusion of spices to evoke that holiday feeling. Warming, invigorating and uplifting, the hot spiciness of cinnamon, with the strong woody scents of cloves and freshness of ginger creates a complex layering of aromatics. Frankincense adds a balsamic fragrance with a delicious citrus top note to finish the blend. It's hard not to fall in love with this essential oil. A super stocking filler!

When seasonal snuffles scupper your wellness, you need to take a little extra care of yourself. Breathe Easy Blend has a sharp, herbaceous, minty aroma with antiseptic properties. The stimulating action of eucalyptus leaf oil, camphor bark oil and wild peppermint oil help to relieve congestion and open the airways (it has medicinal and minty characteristics which can be used effectively in steam inhalations or diffusers). Sprinkle a few drops onto a tissue to inhale to clear the head and combat fatigue.

Our top under-the-tree pressie this year has to be Rose Geranium & Chamomile Oil. Rose geranium is one of the most popular in natural therapies for its soothing effects and tension relieving properties. Combined with comforting and gentle chamomile flower oil to induce restfulness.


Diffusers
Achieving a sense of 'zen', that feeling of peacefulness and calm, is something that's not often associated with Christmas. So, we're over the moon to be working alongside British brand madebyzen®, renowned for their luxury aroma diffusers. Now you can experience our range of pure essential aromatherapy oils and blends dispersed in a fragrant mist anytime you need to escape the Christmas chaos. Beautifully crafted, timeless and elegant diffusers incorporate high quality materials to fragrance your home or office environment, to support wellbeing and positive energy this holiday. Open the gateway to your senses and embrace a total state of zen with our carefully selected madebyzen® diffusers.


Zenbow £48.99 + FREE Winter spice
This pyramid of light and fragrance soothes the mind, body and spirit. The Zenbow benefits from colour changing mood lighting which moves through a rainbow of colours whilst emitting a cool, scented and relaxing mist to create a 'zen' like atmosphere for any space – hence the name Zenbow. The Zenbow also has the option of setting to a favourite colour or using without the light.


Esta £54.99 + FREE Winter spice
A stunning diffuser made using bamboo, which is a naturally beautiful material and yet strong and supple enough to allow versatility in design. The bamboo used is selected and cut by hand, which allows maturing and flowering strands to remain flourishing. This method has the least impact on wildlife, compared to hardwood logging, which would require the use of heavy machinery.