Deep Freeze Cold Patch - 4
Deep Freeze Cold Patches are a convenient alternative to ice packs for long-lasting cold therapy. They are great for use upon sports injuries such as sprains and muscle strains and are slim & flexible, so can be used on joints too.
Lasting cooling relief
suitable for sports injuries as well as joint pain
Suitable for children
Product Information
Usage
Apply only to clean, dry skin. Open the pouch, remove one cloth patch and peel off the clear plastic film. Apply the sticky side of the patch over the affected or swollen area. Do not cut the patch. Re-seal the pouch to prevent remaining patches from drying out. Use all patches within one month of opening the pouch. Each patch can be used only once. Throw away the patch after use.
Ingredients
Contains menthol, aloe vera and water, in a hydrogel layer.
Suitable for / Cautions
Suitable For
Suitable For adults and children (use by young children should always be supervised).
Cautions/Allergies
For external use only. Keep out of the reach and sight of young children. Use by young children should always be supervised. Do not use on broken or irritated skin or with other skin products on the same area. Do not use more than 4 patches one after the other on the same area. Stop using the patch straight away if you get a rash or experience any other skin irritation. Those with poor blood circulation or diabetes, should seek medical consultation before using Deep Freeze. Seek medical consultation if your symptoms do not improve.
Great Combinations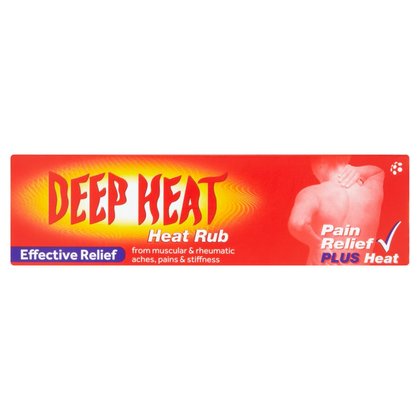 Deep Heat Cream Rub - 67g
0/5 based on

0 customer reviews
Non greasy. Fast relief from muscular aches & pains. With penetrating warmth.
£3.70
Add to basket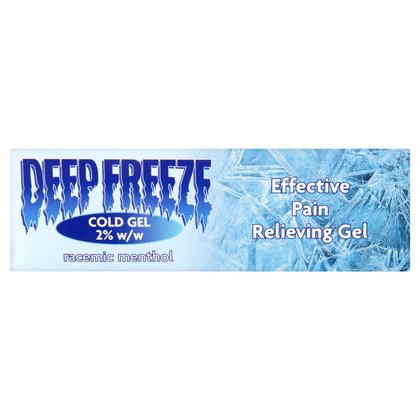 Deep Freeze Cold Gel 2% - 100g
0/5 based on

0 customer reviews
Fast, targeted pain relief. Easy use allows swift and direct pain relief.
£4.55
View Product
You Could Also Consider These Joint & Muscle Pain Products