Starflower Oil 1000mg
The UK's strongest GLA, with 220mg in each capsule
High strength GLA, a massive 220mg per capsule
One of the riches sources of GLA
Convenient one-a-day veggie capsules
Grown on UK farms that support Honey Bees
Starflower Oil is the oil extracted from borage seeds which has been found to have a naturally high level of the precious compound called GLA. This is an Omega 6 fatty acid which is used by the body to make certain hormones. In theory our bodies can make GLA but research on evening primrose oil has shown that supplements of GLA can be helpful for some people, and now many women choose a GLA supplement around the time of their period.
Starflower Oil is a very concentrated source of GLA which means that each capsule can deliver more than twice the level of GLA than the equivalent sized evening primrose capsule.
Each vegetarian capsules provide a massive 220mg of GLA per capsule, making this an impressive, high potency one-a-day product.

Product Information
Daily Intake
Take 1 capsule daily with a meal. Do not exceed recommended daily dose.
Food supplements should not replace a balanced diet and healthy lifestyle.
Formula
Gamma-Linolenic Acid
220mg
Ingredients
Starflower Oil (Borage Oil), Capsule Shell (Modified Starch, Glycerol, Gelling Agent: Carageenan), Antioxidant: dl alpha Tocopheryl.
Suitable for / Cautions
Suitable For
This product is suitable for all adults. This product is suitable for vegetarians and vegans. This product is suitable during pregnancy and breast feeding.
Cautions/Allergies
This product is free from wheat, yeast, dairy, soya, nuts and shellfish.
This product is free from gluten containing ingredients.
If you suffer from epilepsy, consult your doctor before taking this product.

You Could Also Consider These Starflower Oil (Borage Oil) Products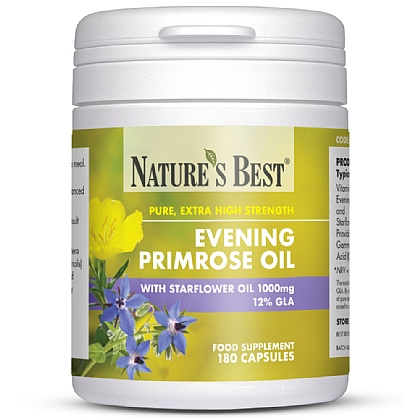 Evening Primrose Oil GLA 1000mg With Starflower Oil
4.9/5 based on

51 customer reviews
Fortified with pure Starflower Oil
Fortified with Starflower oil to give an impressive 12% GLA, which makes it one of the UK's strongest, and great value for money.
£16.75
Add to basket
"Really Good For Dry Eyes"
By
Helen F.
, 16 Jul 2018
I was suffering from very dry eyes and was finding it difficult to open my eyes in the morning when I woke up. These really work well for me, reducing these symptoms by 95% I wouldn't be without them.
Recommend to a friend: Yes
How much has this product helped you?
"Thought this would help my skin"
By
Denise Woodhatch
, 25 Jun 2018
I started to take this product to help the skin problem on my hands. To be honest I can''t see a real improvement with this product. I have bought a second tub to see if it needed more time to take effect. If after that I don''t see any improvement may not take it again, I have also tried Calendula cream and that didn''t work either.
Recommend to a friend: Don't know
Thank you for your review.

If you would like some advice on products that may be useful for your issue feel free to contact us via email nutrition@naturesbest.co.uk as we would be happy to advise you.
Nature's Best Customer service:
How much has this product helped you?
"Great Starflower oil."
By
Anonymous
, 12 Jun 2018
This definitely is the best I've tried. Better than other brands.

My only issue is customer service is terrible. No one answers the phone or reply's to emails so what is the point listing them for advice? I have been waiting a week for a response.
Recommend to a friend: Yes
Thank you for taking the time to leave a review and I am pleased to hear that you are happy with the product.

I am sorry to hear that you have not had a response to your email. I have arranged for a colleague to get in contact shortly regarding this.
Nature's Best Customer service:
How much has this product helped you?
"Very effective"
By
Margaret Frost
, 07 Jun 2018
To balance hormones
Recommend to a friend: Yes
How much has this product helped you?
"This product really works"
By
Valerie McAulay
, 30 May 2018
This product was recommended by my GP as I was having breast pains due to menopause. I would highly recommend it as within 2 weeks I have really noticed a big difference.
Recommend to a friend: Yes
How much has this product helped you?