Starflower Oil 1000mg
The UK's strongest GLA, with 220mg in each capsule
High strength GLA, a massive 220mg per capsule
One of the riches sources of GLA
Convenient one-a-day veggie capsules
Grown on UK farms that support Honey Bees
Starflower Oil is the oil extracted from borage seeds which has been found to have a naturally high level of the precious compound called GLA. This is an Omega 6 fatty acid which is used by the body to make certain hormones. In theory our bodies can make GLA but research on evening primrose oil has shown that supplements of GLA can be helpful for some people, and now many women choose a GLA supplement around the time of their period.
Starflower Oil is a very concentrated source of GLA which means that each capsule can deliver more than twice the level of GLA than the equivalent sized evening primrose capsule.
Each vegetarian capsules provide a massive 220mg of GLA per capsule, making this an impressive, high potency one-a-day product.

Product Information
Daily Intake
Take 1 capsule daily with a meal. Do not exceed recommended daily dose.
Food supplements should not replace a balanced diet and healthy lifestyle.
Formula
Gamma-Linolenic Acid
220mg
Ingredients
Starflower Oil (Borage Oil), Capsule Shell (Modified Starch, Glycerol, Gelling Agent: Carageenan), Antioxidant: dl alpha Tocopheryl.
Suitable for / Cautions
Suitable For
This product is suitable for all adults. This product is suitable for vegetarians and vegans. This product is suitable during pregnancy and breast feeding.
Cautions/Allergies
This product is free from wheat, yeast, dairy, soya, nuts and shellfish.
This product is free from gluten containing ingredients.
If you suffer from epilepsy, consult your doctor before taking this product.

You Could Also Consider These Starflower Oil (Borage Oil) Products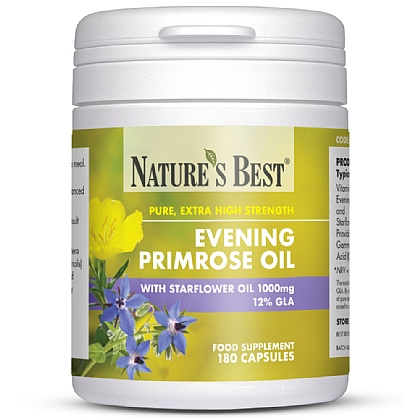 Evening Primrose Oil GLA 1000mg With Starflower Oil
4.9/5 based on

51 customer reviews
Fortified with pure Starflower Oil
Fortified with Starflower oil to give an impressive 12% GLA, which makes it one of the UK's strongest, and great value for money.
£16.75
£15
Add to basket
"Best of its kind"
By
Marguerite Henry-Pierre
, 04 Oct 2018
I started using gla supplements many years ago to aid the relief of severe pmt and it worked. I had always had troublesome skin and over the years it seemed to improve to the point where people began commenting on how good my skin was for my age. I am now over 70 and believe that continual use has helped maintain both hormones and skin as I a m regularly told I look years younger than I am. I have also been told by a doctor to continue taking 2 a day as gla is so beneficial.

Recommend to a friend: Yes
Thank you for your review.

Please note that we would only recommend taking more than one capsule daily of Starflower Oil daily if done so under the guidance of a doctor
Nature's Best Customer service:
How much has this product helped you?
"Best available "
By
Rebecca Trowsdale
, 28 Sep 2018
I have been taking Starflower for many years. This particular make is this best I have found. High GLA, easy to take and works well. Good for breast pain and hormonal health. I always recommend to all my friends and family.
Recommend to a friend: Yes
How much has this product helped you?
"Goof for hot flushes!"
By
Lisa Mcdiarmid
, 26 Sep 2018
Someone recommended this to me to help with hot flushes during menopause. I had been having really bad ones for months. I took it for about a month and gradually they subsided and have virtually disappeared. Very happy!
Recommend to a friend: Yes
How much has this product helped you?
"Very Effective"
By
Ashira Israel
, 23 Sep 2018
I use this for pms and it is most helpful. Thank you.
Recommend to a friend: Yes
How much has this product helped you?
"Really Good For Dry Eyes"
By
Helen F.
, 16 Jul 2018
I was suffering from very dry eyes and was finding it difficult to open my eyes in the morning when I woke up. These really work well for me, reducing these symptoms by 95% I wouldn't be without them.
Recommend to a friend: Yes
How much has this product helped you?