Starflower Oil 1000mg
The UK's strongest GLA, with 220mg in each capsule
High strength GLA, a massive 220mg per capsule
One of the riches sources of GLA
Convenient one-a-day veggie capsules
Grown on UK farms that support Honey Bees
Product ID: 582
High strength GLA, a massive 220mg per capsule
One of the riches sources of GLA
Convenient one-a-day veggie capsules
Grown on UK farms that support Honey Bees

Product Information
Starflower Oil is the oil extracted from borage seeds which has been found to have a naturally high level of the precious compound called GLA. This is an Omega 6 fatty acid which is used by the body to make certain hormones. In theory our bodies can make GLA but research on evening primrose oil has shown that supplements of GLA can be helpful for some people, and now many women choose a GLA supplement around the time of their period.

Starflower Oil is a very concentrated source of GLA which means that each capsule can deliver more than twice the level of GLA than the equivalent sized evening primrose capsule.

Each vegetarian capsules provide a massive 220mg of GLA per capsule, making this an impressive, high potency one-a-day product.




Daily Intake
Take 1 capsule daily with a meal. Do not exceed recommended daily dose.
Food supplements should not replace a balanced diet and healthy lifestyle.
Formula
Gamma-Linolenic Acid
220mg
Ingredients
Starflower Oil (Borage Oil), Capsule Shell (Modified Starch, Glycerol, Gelling Agent: Carageenan), Antioxidant: dl alpha Tocopheryl.
Suitable For
This product is suitable for all adults. This product is suitable for vegetarians and vegans. This product is suitable during pregnancy and breast feeding.
Cautions/Allergies
This product is free from wheat, yeast, dairy, soya, nuts and shellfish.
This product is free from gluten containing ingredients.
If you suffer from epilepsy, consult your doctor before taking this product.

You Could Also Consider These Starflower Oil (Borage Oil) Products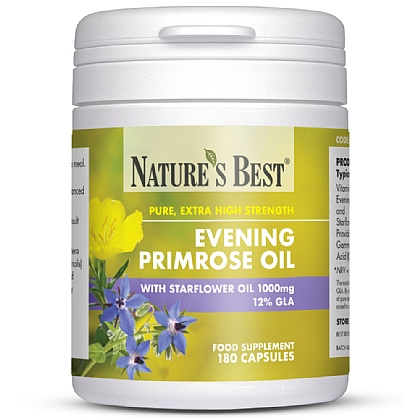 Evening Primrose Oil GLA 1000mg With Starflower Oil
4.8/5 based on

71 customer reviews
Super strength GLA makes this 33% stronger than others
Fortified with Starflower oil to give an impressive 12% GLA, which makes it one of the UK's strongest, and great value for money.
£17.95
Add to basket
By
Ian Turnbull
, 31 Mar 2020
Recommend to a friend: Yes
How much has this product helped you?
By
Anonymous
, 05 Mar 2020
Recommend to a friend: Yes
How much has this product helped you?
"Excellent "
By
Anonymous
, 26 Feb 2020
I have been using and have recommended this product for many years. I really believe that it helped during the menopause years and has definitely improved my skin.
Recommend to a friend: Yes
How much has this product helped you?
"Arrived quickly"
By
Paula Bishop
, 16 Feb 2020
I have been recommended to take these but only just started so not sure of result yet! Ordered easily and arrived quickly
Recommend to a friend: Yes
How much has this product helped you?
"So far I'm disappointed "
By
Lawrenson
, 07 Feb 2020
I started taking starflower oil to help with my awful mood swings and night sweats which I believe are both brought on by the peri menopause. My doctor had given me H*T patches but I didn't feel comfortable in using them due to the bad press H*T has had in recent years.
I read dozens of reviews of starflower oil and began taking them religiously about 6 weeks ago. So far I haven't seen or felt any change at all and I wonder what I am doing wrong as everyone else calls this a wonder supplement within a few days.
I know you are going to tell me it can take 3 months to start working but surely I should feel something by now?
Recommend to a friend: No
Thank you for taking the time to leave a review.

I am sorry to hear that you have not found Starflower Oil helpful. This provides the omega 6 fatty acid GLA (Gamma-Linoleic Acid). GLA is thought to have an effect on prolactin in the body, which may help to reduce breast tenderness and pain. Although there is some suggestion that this may help with other menopausal symptoms, the evidence is a little thin on the ground.

I would suggest Premtis (code 719), which is a two-a-day preparation formulated for women. Whilst it has been formulated for women of menstrual age, many of the symptoms experienced by peri-menopausal women are similar to PMS symptoms and this supplement may still be useful. It provides an excellent level of magnesium; 250mg per two tablets and this mineral can contribute to normal muscle function (which may be useful for painful menstrual cramps) and to the reduction of tiredness and fatigue. This multi also has a very good level of Vitamin B6, which can contribute to the regulation of hormone activity. Chromium is also present at 200mcg and this mineral is known to be involved in maintaining healthy blood glucose levels, which may help to reduce cravings, especially for sweet foods.

https://www.naturesbest.co.uk/multivitamins/multivitamins-for-women/premtis-for-women/

The most common symptoms of the menopause are hot flushes and night sweats and there are a number of different supplements which may be helpful for them. I would suggest Soya Isoflavones 50mg (code 136) as a good initial supplement to take. They are phyto-oestrogens, which mimic the action of oestrogen and are often used to reduce the incidence of hot flushes and night sweats. I would suggest one tablet daily as 50mg is considered to be a sufficient dose for these symptoms, although it can be increased to two a day if necessary or if you have concerns about your bone health.

https://www.naturesbest.co.uk/herbs-spices/soya-isoflavones-50mg/


Nature's Best Nutrition Advice:
How much has this product helped you?