Starflower Oil 1000mg
The UK's strongest GLA, with 220mg in each capsule
High strength GLA, a massive 220mg per capsule
One of the riches sources of GLA
Convenient one-a-day veggie capsules
Grown on UK farms that support Honey Bees
Starflower Oil is the oil extracted from borage seeds which has been found to have a naturally high level of the precious compound called GLA. This is an Omega 6 fatty acid which is used by the body to make certain hormones. In theory our bodies can make GLA but research on evening primrose oil has shown that supplements of GLA can be helpful for some people, and now many women choose a GLA supplement around the time of their period.
Starflower Oil is a very concentrated source of GLA which means that each capsule can deliver more than twice the level of GLA than the equivalent sized evening primrose capsule.
Each vegetarian capsules provide a massive 220mg of GLA per capsule, making this an impressive, high potency one-a-day product.

Product Information
Daily Intake
Take 1 capsule daily with a meal. Do not exceed recommended daily dose.
Food supplements should not replace a balanced diet and healthy lifestyle.
Formula
Gamma-Linolenic Acid
220mg
Ingredients
Starflower Oil (Borage Oil), Capsule Shell (Modified Starch, Glycerol, Gelling Agent: Carageenan), Antioxidant: dl alpha Tocopheryl.
Suitable for / Cautions
Suitable For
This product is suitable for all adults. This product is suitable for vegetarians and vegans. This product is suitable during pregnancy and breast feeding.
Cautions/Allergies
This product is free from wheat, yeast, dairy, soya, nuts and shellfish.
This product is free from gluten containing ingredients.
If you suffer from epilepsy, consult your doctor before taking this product.

You Could Also Consider These Starflower Oil (Borage Oil) Products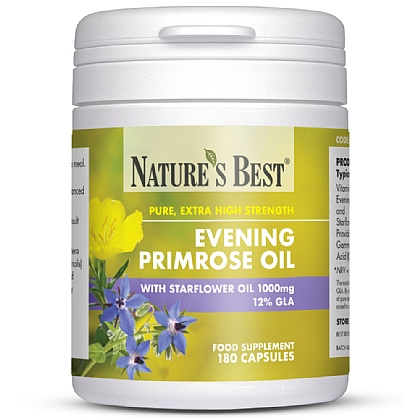 Evening Primrose Oil GLA 1000mg With Starflower Oil
4.9/5 based on

47 customer reviews
Fortified with pure Starflower Oil
Fortified with Starflower oil to give an impressive 12% GLA, which makes it one of the UK's strongest, and great value for money.
£16.75
Add to basket
"Fantastic for menopause "
By
Gillian Buckley
, 13 May 2018
I have been taking Starflower Oil for several months along with Sage from Natures Best. Both recommended by a friend who like myself are perimenopausal. I initially started off with hot flushes and since I am also hypothyroid my GP couldn't tell me if it was my thyroid or
starting the menopause causing the problem.
Well since I taking these two beautys every morning I haven't had a hot flush since.
Recommend to a friend: Yes
How much has this product helped you?
"Works for me!"
Used starflower oil for years for breast tenderness, it works. My usual brand was discontinued a while back and I bought a different brand from high street health store. Within a few days the tenderness had returned, I was so upset. Saw Nature's Best advertised (poss on Facebook, can't remember) and thought I'd try. The tenderness disappeared after about 3 days. Phew. It works. So relieved!
Recommend to a friend: Yes
How much has this product helped you?
"Even better than Evening Primrose Oil"
By
Anonymous
, 04 May 2018
Great for maintaining healthy cholesterol, hormonal balance and for skin.
Recommend to a friend: Yes
How much has this product helped you?
"Maintains mood levels"
By
E Thomas
, 28 Apr 2018
This has huge levels of mood maintenance acids - much higher than evening primrose- I've compared prices online and high street offers - excellent value for money
Recommend to a friend: Yes
How much has this product helped you?
"My PMS Support"
By
CharLou78
, 17 Apr 2018
My skin stays clearer & my mood remains more stable when I take Starflower. I've definitely noticed the difference when I've run out and it's been my time of the month!
Recommend to a friend: Yes
How much has this product helped you?