Korean Ginseng 1200mg
Highest strength, one-a-day, purest grade, guaranteed level of actives
One of the world's top selling herbs
A well-known 'adaptogen'
Highest grade extract, guaranteed 24mg 'active' ginsenosides
Many repeat purchasers
Product ID: 557
One of the world's top selling herbs
A well-known 'adaptogen'
Highest grade extract, guaranteed 24mg 'active' ginsenosides
Many repeat purchasers

Product Information
Korean Ginseng is one of the top selling herbs in the world and it is popular with all ages. Some experts believe the huge popularity of this herb is due to its mild stimulatory properties. The main 'actives' are found in the root and include more than 24 compounds classified as ginsenosides which have powerful properties. Nature's Best uses a high quality extract of ginseng root to provide a guaranteed 24mg of ginsenosides, the active compounds in ginseng. This makes our product one of the best value Korean ginsengs available.

Don't be taken in by some companies claiming a higher weight, such as 1300mg, because it's meaningless without any declaration of the level of the 'active' ingredients, ginsenosides.


Daily Intake
Take 1 tablet daily with a meal. Do not exceed recommended daily dose.
Food supplements should not replace a balanced and healthy lifestyle.
Formula
Dry extract equivalent to Korean Ginseng (Panax Ginseng)
1200mg
providing Ginsenosides
24mg
Ingredients
DiCalcium Phosphate, Cellulose, Korean Ginseng Root Extract, Tablet Coating (Hydroxypropyl Methylcellulose, Colours: Titanium Dioxide & Copper Chlorophyllin, Glycerine), Anti-Caking Agents (Silicon Dioxide & Magnesium Stearate), Stearic Acid.
Suitable For
This product is suitable for all adults. This product is suitable for vegetarians and vegans.
Cautions/Allergies
This product is free from wheat, yeast, dairy, soya, nuts and shellfish.
This product is free from gluten containing ingredients.
This product is not suitable during pregnancy and breast feeding.
You Could Also Consider These Ginseng Products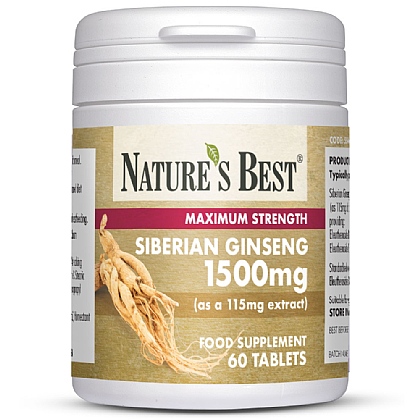 Siberian Ginseng 1500mg
4.9/5 based on

45 customer reviews
15 times stronger, one-a-day, UK's best grade
One of the UK's strongest Siberian Ginseng products, that's hard to beat on potency and price. Helps maintain that 'get up and go' feeling.
£9.95
Add to basket
"very effectuve"
By
Anonymous
, 30 Jan 2020
stuffy nose
Recommend to a friend: Yes
How much has this product helped you?
"Ginseng"
By
John May
, 19 Dec 2019
Good it does work .good price .good products
Recommend to a friend: Yes
How much has this product helped you?
"Great quality product "
By
Gareth Williams
, 27 Nov 2019
Help with my well being and mental health
Recommend to a friend: Yes
How much has this product helped you?
By
Marjorie Footitt
, 27 Nov 2019
I use this product as a health boost. I haven''t taken many doses yet so it''s difficult to judge if there''s a difference. That is difficult when there''s no specific ailment being treated. However, I have taken it in the past and felt that it was effective.
Recommend to a friend: Yes
Thank you for taking the time to leave a review.

We would normally suggest trying a supplement for three months before reassessing. However, we can appreciate that if you are taking a supplement the prevention of a condition, it may be more difficult for you to assess the benefits of the product.

Nature's Best Customer service:
How much has this product helped you?
"Great product"
By
Tess Ward
, 25 Nov 2019
I have a health condition which makes me very fatigued and lacking in energy. I also have a lowered immune system. I have taken Korean ginseng for some time now and I find it helps my fatigue and I haven't gotten any bugs/colds that have been going round so far ????
Recommend to a friend: Yes
How much has this product helped you?