Chondroitin Sulphate 600mg
High strength, UK made, premium grade chondroitin
Premium 90% grade material not the 20% used by others
Bovine sourced chondroitin, rather than from endangered shark species
We use a well-regulated, highly refined material
Made to GMP standards and USP standards
Product ID: 535
Premium 90% grade material not the 20% used by others
Bovine sourced chondroitin, rather than from endangered shark species
We use a well-regulated, highly refined material
Made to GMP standards and USP standards

Product Information
Chondroitin, a compound found naturally in the body, helps to attract fluid into the cartilage, the tough protein that lines the surfaces of bones.

Chondroitin is an expensive nutrient, and you have to read labels carefully to check the amount of chondroitin that is present in a product. At Nature's Best, we insist on a premium 90% grade material for our chondroitin, (many companies are still using a low grade 20% material). Happily this highly concentrated form means that each of our tablets contains a relevant level at 540mg.

Chondroitin is typically sourced from shark species but we're not entirely satisfied that this is a renewable resource. So to save our shark species, we've chosen to use bovine chondroitin for all our chondroitin supplements as this is simply a by-product of the beef industry and a well-regulated, high quality material.



Daily Intake
Take 1-2 tablets daily with a meal. Do not exceed recommended daily dose.
Food supplements should not replace a balanced diet and healthy lifestyle.
Formula
Chondroitin Sulphate
600mg
Providing Chondroitin
540mg
Ingredients
Chondroitin Sulphate, Modified Starch, Cellulose, Silicon Dioxide, Stearic Acid, Tablet Coating (Hydroxypropyl Methylcellulose, Glycerin), Magnesium Stearate.
Suitable For
This product is suitable for all adults.
Cautions/Allergies
This product is free from wheat, yeast, dairy, soya and nuts.
This product is free from gluten containing ingredients
This product is not suitable for vegetarians
This product is not suitable during pregnancy and breast feeding

You Could Also Consider These Chondroitin Products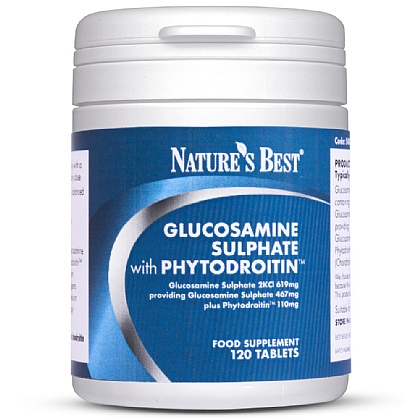 Glucosamine & Chondroitin 619/100mg
4.9/5 based on

724 customer reviews
UK made, fantastic value
Great combination providing full strength glucosamine sulphate and pure chondroitin. UK made tablets for freshness and purity. Fantastic value.
From £10.95
View Product
Glucosamine Gold
4.9/5 based on

886 customer reviews
Unique high potency formula
Glucosamine and chondroitin plus rosehips, ginger, quercetin and MSM in a great all-in-one formula. Fantastic value for a high strength product.
From £13.50
View Product
"Osteoarthritis I Wish I Had Known Earlier About This Supplement"
I have osteoarthritis, painful hands knuckles , wrists, knees, back of neck and lower back!. I took this supplement for three days and found a great 100% improvement,, I wish I had known about it a long time ago . It is absolutely wonderful I am in now in week two and felt I should let people know. I take it along with ' Turmeric Fast Release'. I feel so much better, please don't hesitate in buying this, it's a must must and will help you.
Recommend to a friend: Yes
Thank you for taking the time to leave a review.

As supplements can take some time to build up and have an effect in the body, we would normally suggest reassessing your symptoms after three months. However, I am pleased to hear that you have already found our products helpful.

Nature's Best Customer service:
How much has this product helped you?
"KNEE JOINT PAIN, PROBABLY ARTHRITIS, FROM RECENT XRAYS"
By
Catherine LOXTON
, 18 Feb 2020
Condroitin was recommended by my octogenarian aunt and uncle who have been taking it for some years. I have just started taking one tablet a day in conjunction with glucosamine (medical advice from doctor), also one tablet a day. The chemist did ask me ''whether I had had any trouble taking condroitin''. Whether my extreme pain has gone because of taking them both or not, the condition is much improved and I am viewing my new foldable floral walking stick as an accessory rather than a necessity. Very relieved 61 year-old customer continuing to purchase.
Recommend to a friend: Don't know
How much has this product helped you?
"an addition to glycosamine"
By
Anonymous
, 04 Jan 2020
have tried this as it is recommended to supplement glycosamine. I have taken this for a coulple of months but cannot say that it has made a significant difference. I will continue for the time being.
Recommend to a friend: Don't know
Thank you for taking the time to leave a review.

As with the majority of our products, this should be used daily for at least three months before the effects are assessed. It would be great if you could leave a review after this time.

Nature's Best Customer service:
How much has this product helped you?
"Seems to do the job"
By
JOHN ROGERS
, 03 Jan 2020
I changed from Health Span because of cost. My osteoarthritis physiotherapist tells there is no medical evidence to support the claims made about these tablet but if they appear to help to continue taking them.

My view is that there is no medical evidence that they do NOT help. My pains do seem to improve. I do believe in taking them with food as per the instructions.
Recommend to a friend: Yes
How much has this product helped you?
By
Marjorie Footitt
, 27 Nov 2019
I use this product for arthritis and have taken it for many years. I''ve tried to do without it, got pain and restricted movement within a month. I''ve tried reducing the dose, same result.
I was put on this tablet by a French doctor and it was covered by the French health service rules, so when I returned to UK I asked for it here. Of course I found out that it wasn''t covered by the NHS but the doctor said that he took it, so that was good endorsement for me.
Recommend to a friend: Yes
How much has this product helped you?