Chondroitin Sulphate 600mg
High strength, UK made, premium grade chondroitin
Premium 90% grade material not the 20% used by others
Bovine sourced chondroitin, rather than from endangered shark species
We use a well-regulated, highly refined material
Made to GMP standards and USP standards
Product ID: 535
Premium 90% grade material not the 20% used by others
Bovine sourced chondroitin, rather than from endangered shark species
We use a well-regulated, highly refined material
Made to GMP standards and USP standards

Product Information
Chondroitin, a compound found naturally in the body, helps to attract fluid into the cartilage, the tough protein that lines the surfaces of bones.

Chondroitin is an expensive nutrient, and you have to read labels carefully to check the amount of chondroitin that is present in a product. At Nature's Best, we insist on a premium 90% grade material for our chondroitin, (many companies are still using a low grade 20% material). Happily this highly concentrated form means that each of our tablets contains a relevant level at 540mg.

Chondroitin is typically sourced from shark species but we're not entirely satisfied that this is a renewable resource. So to save our shark species, we've chosen to use bovine chondroitin for all our chondroitin supplements as this is simply a by-product of the beef industry and a well-regulated, high quality material.



Daily Intake
Take 1-2 tablets daily with a meal. Do not exceed recommended daily dose.
Food supplements should not replace a balanced diet and healthy lifestyle.
Formula
Chondroitin Sulphate
600mg
Providing Chondroitin
540mg
Ingredients
Chondroitin Sulphate, Modified Starch, Cellulose, Silicon Dioxide, Stearic Acid, Tablet Coating (Hydroxypropyl Methylcellulose, Glycerin), Magnesium Stearate.
Suitable for / Cautions
Suitable For
This product is suitable for all adults.
Cautions/Allergies
This product is free from wheat, yeast, dairy, soya and nuts.
This product is free from gluten containing ingredients
This product is not suitable for vegetarians
This product is not suitable during pregnancy and breast feeding

You Could Also Consider These Chondroitin Products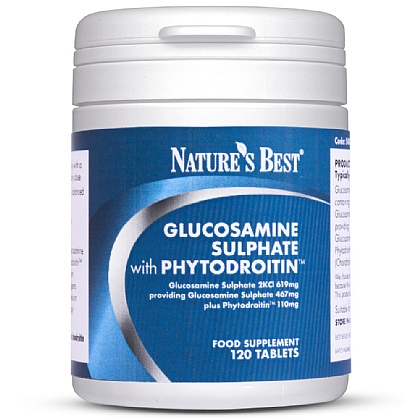 Glucosamine & Chondroitin 619/100mg
4.9/5 based on

702 customer reviews
UK made, fantastic value
Great combination providing full strength glucosamine sulphate and pure chondroitin. UK made tablets for freshness and purity. Fantastic value.
From £10.95
View Product

Glucosamine Gold
4.9/5 based on

861 customer reviews
Unique high potency formula
Glucosamine and chondroitin plus rosehips, ginger, quercetin and MSM in a great all-in-one formula. Fantastic value for a high strength product.
From £13.50
View Product
"This product is very effective"
By
Anonymous
, 31 Oct 2019
I have severe degenerative osteoarthritis between my 4th and 5th vertebrae.
This product helps tremendously
Recommend to a friend: Yes
How much has this product helped you?
"Cannot swallow these pills!"
By
Karen Mcnicol
, 02 Oct 2019
I use this for o supplement my joints in combination with glucosamine. However these pills are so large and have a rough outer shell that I cannot swallow them
Recommend to a friend: No
Thank you for taking the time to leave a review.

I am sorry to hear that you have been having difficulty swallowing these tablets. For future reference we are able to send out a sample of any of our tablets / capsules (excluding THRs) should you wish to assess the size of them. You can also view the size of a tablet / capsule by clicking on the picture at the top of a product page.

We do formulate our products to be as small as possible, whilst still providing a relevant level of the nutrients required. Our research has suggested that our customers prefer to take fewer tablets which is why they are often rather large in size. It would be perfectly fine to crush the tablets into a powder if this makes it easier for you to consume them. You may wish to use a pestle and mortar to do this, or a pill crusher which are often available from pharmacies.

I have contacted you directly to discuss this further.

Nature's Best Customer service:
How much has this product helped you?
"Good value"
By
Paul Green
, 29 Sep 2019
As part of a joint health programme
Recommend to a friend: Yes
How much has this product helped you?
"Joint improvement!"
By
Anonymous
, 15 Sep 2019
I realised that the Chondroitin in the combo tabs I take was quite low so I thought I would add these to my diet for my painful arthritic hands! I am happy to say that my hands feel much better and inflammation appears to be reduced... It has been a month and the condition seems to have stabilised. Fingers crossed! (Pun intended)
Recommend to a friend: Yes
How much has this product helped you?
"bought this to help add to glucosamine "
By
harry reilly
, 15 Sep 2019
Has made my body have more aches and pains, different ingredients from 10 years ago.
Recommend to a friend: No
Thank you for taking the time to leave a review.

As with the majority of our products, this should be used daily for at least three months before the effects are assessed. It would be great if you could leave a review after this time. I can confirm that this is a new product to our range and this was not available ten years ago.

Nature's Best Customer service:
How much has this product helped you?