Bromelain 1000 GDU
Highest strength with a guaranteed enzyme activity.
High strength bromelain, a level matching published studies
Accurately described enzyme activity; the only way to measure potency
Small vegetarian tablets that are taste-free
Makes the perfect partner to turmeric, fish oil and glucosamine
Bromelain is a protein digesting enzyme extracted from the stem of fresh pineapples. It is perhaps best known for its use as a digestive enzyme, but attention has now focused on its use for helping sports people with sprains and strains.
This is a high potency Bromelain supplement with an enzyme activity quoted at 1000 GDU. This figure describes how active the enzyme is and many bromelain supplements do not have a level quoted on the label. It is therefore fair to assume that they will be very weak.
Bromelain works well on its own, but many experts recommend turmeric alongside bromelain as the two work together so well. Bromelain is also popular with people who take a glucosamine supplement.
Product Information
Daily Intake
FOR JOINT CARE: Take 3 tablets (1 between each meal) for one week. Thereafter a maintenance dose of 1 tablet daily can be taken for 3-6 months. FOR DIGESTIVE CARE: Take 1 tablet before each main meal up to a maximum of 3 per day. Do not exceed recommended daily dose.
Food supplements should not replace a balanced diet and healthy lifestyle.
Formula
Enzyme activity level
1000 GDU
Ingredients
Bromelain, Calcium Carbonate, Cellulose, Crosslinked Cellulose Gum, Tablet Coating (Hydoxypropyl Methylcellulose, Glycerin), Silicon Dioxide, Stearic Acid, Magnesium Stearate. Suitable for vegetarians
Suitable for / Cautions
Suitable For
This product is suitable for all adults. This product is suitable for vegetarians.
Cautions/Allergies
This product is free from wheat, yeast, dairy, soya, nuts and shellfish.
This product is free from gluten containing ingredients.
This product is not suitable during pregnancy or breast feeding.
You Could Also Consider These Digestive Enzymes Products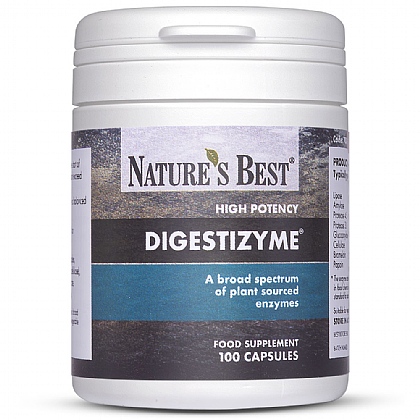 Digestizyme®
4.9/5 based on

61 customer reviews
High Potency enzymes to help digest protein, fat and carbohydrates
Feel bloated after meals? High potency, plant sourced enzymes, to help digest protein fats and carbohydrates. Notice the difference or your money back.
£13.25
Add to basket
"Extremely helpful product"
By
Anonymous
, 16 Aug 2018
Bromelain really helps me clear my chest and lungs of the sticky mucus that characterises bronchiecstasis, reducing the number of infections and the subsequent antibiotics needed. Also clears my sinuses, which is great. I trust Nature''s Best quality to be the best and this product is affordable for me. Thank you so much!
Recommend to a friend: Yes
Thank you for leaving a review.

If you are not already doing so, we would suggest keeping your doctor informed of any supplements that you are taking
Nature's Best Customer service:
How much has this product helped you?
"Not impressed"
By
Christine Walters
, 12 Jun 2018
Have used this product for 14 days and have noticed no change won''t be buying it again waste of money
Recommend to a friend: No
Thank you for taking the time to leave a review.

Bromelain should be taken for at least three months before the effects are assessed so I would suggest that you continue to take these tablets for a while longer before reassessing
Nature's Best Customer service:
How much has this product helped you?
"Good product as part of Pain Management strategy"
By
Anonymous
, 20 Apr 2018
Neuropathic Pain Management use. 1 x AM & PM
Seems to work for painful bladder condition.
Recommend to a friend: Yes
How much has this product helped you?
"Good "
By
Anonymous
, 02 Apr 2018
Recommend to a friend: Yes
How much has this product helped you?
By
Pauline Poynton
, 28 Mar 2018
For pain relief instead of using NSAIDS and avoiding side effects. I had an acute period of intense back pain as a result of stress fractures (diagnosis of osteoporosis) and had been advised to take a course of co-codamol over several weeks with extremely uncomfortable lingering side effects. My research suggested this might help and my nutritionist agreed. The pain reduced considerably after this and I am hoping it will have helped the overall healing. I take it with turmeric and kelp after consulting one of your advisors and doing my own research.

I would always hesitate to recommend anyone else take it but would certainly share my experience- advice best given by someone with professional training think.


Recommend to a friend: Don't know
How much has this product helped you?