Product Focus - Skin Nutrition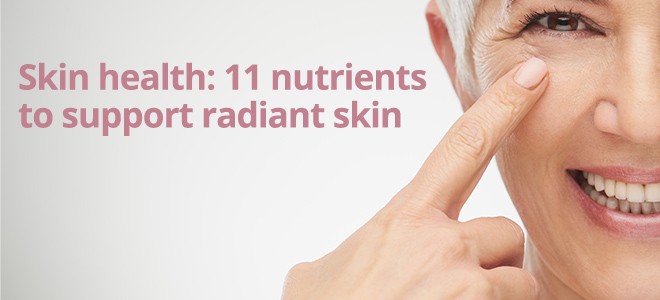 We often associate plump and vital skin with good health. But the secret to a glowing appearance doesn't just lie in a carefully curated cleansing, toning and moisturising routine. You can eat your way to a luminous complexion. Sidestepping the sneaky skincare-saboteurs (sun exposure, smoking and sipping on one too many tipples) will certainly help you radiate, too.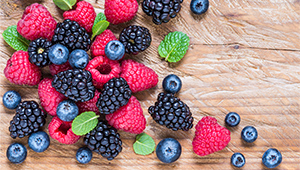 These nourishing skin superfoods will keep your complexion looking radiant and vital.
Astaxanthin
Not all antioxidants are created equal. And evidence suggests astaxanthin is unparalleled in its antioxidant properties, surpassing other skincare superfoods, like vitamin E.1 Perhaps most notably, astaxanthin is said to be 6,000 times more potent than another antioxidant powerhouse, vitamin C, which can often be found lining bathroom cabinets. 2 Eat it: Wild salmon
Zinc
The mineral, zinc, supports your complexion in two ways: firstly, it contributes to the maintenance of normal skin; secondly, it contributes to the protection of cells from oxidative stress (aka the loss of collagen and elastin fibres). Eat it: Pumpkin seeds
Biotin
Contributing to the maintenance of normal skin, biotin is an important nutrient to consume on a daily basis. Eat it: Eggs
Anthocyanidins
Members of the flavonoid family, some call anthocyanidins the Big Daddy of the antioxidant world. A regular dietary intake of anthocyanidins may support the body's collagen formation. Eat it: Blueberries
Green tea
The properties of green tea are important in skin health. As a drink, it's crammed with antioxidants, which is why you often find green tea extract in so many skincare products. Drink it: Aim for one to two cups daily
Selenium
Another important antioxidant, selenium contributes to the protection of cells from oxidative stress. Eat it: Brazil nuts
Vitamin A
Vitamin A contributes to the maintenance of normal skin. And that's why retinol (a topical vitamin A) is such a popular skincare superstar. Eat it: Sweet potato
Vitamin C
Arguably the best-known antioxidant in the skincare arena, vitamin C contributes to the normal collagen formation for the normal function of skin. Eat it: Spinach
Vitamin E
Vitamin E is an old hand at the beauty game – and no wonder. This little guy works hard to keep skin radiant by contributing to the protection of cells from oxidative stress. Eat it: Sunflower seeds
CoQ10
Widely believed to function as an antioxidant, CoQ10 is thought to play a role in energy production as it's closely involved in the metabolic processes that convert glucose into energy. Since the body's ability to make CoQ10 declines with age, ensuring a plentiful intake is essential. Eat it: Wild salmon
Sea buckthorn berry oil
The berries found in the sea buckthorn plant aren't only tremendously rich in skin-loving antioxidants, but also in the omega 7 essential fatty acid, palmitoleic acid – as well as the omega 9 fatty acid – oleic acid, both of which work hard to keep skin healthy. Find it: Nutritional supplements.


Helpful skincare hacks
Enjoy a cold blast: A healthy complexion is made all the more likely with proper blood circulation. And since cold water improves blood flow, a quick icy blast in the shower may help your skin glow
Try face yoga: Sure, you can work out your body. But did you know you can also work out your face? Practising regular face yoga may help tighten, chisel, and plump your skin. You can find plenty of helpful tutorials online
Supersize your sunglasses: Swap your thinly rimmed sunnies for a pair of chic oversized frames and you'll get more protection around your eyes from the sun's harmful UV rays

Stay out of the sun
We all know how healthy we feel with a sun-kissed glow. But the sun's UV rays are known to damage the skin and accelerate the signs of ageing (shockingly, 99% of wrinkles caused by sun exposure). To protect your complexion as you age, make SPF a non-negotiable component of your skincare regime, stay out of the midday sun (between 11 am and 4 pm), and always cover up with a hat, sunglasses and light clothes.
Cut the cigarettes
Cigarette smoke contains more than 4,000 chemicals – and many of them destroy the important proteins in skin, elastin and collagen. Nicotine, carbon monoxide, and free radicals can lead to wrinkles, dull skin, and even adult acne. One of the best skincare hacks to see you through the ages? Quit the skin-sapping smokes.
Watch your alcohol intake
We don't want to be a party pooper, but it's not great news when it comes to drinking and your skin. Alcohol is a toxin with virtually no nutrient content. It can disrupt your hormones, liver function, immunity, and – surprise, surprise – skin function. Alcohol is also a diuretic, so it zaps your skin of cell-loving water, leaving it dull, lack lustre and dehydrated. If you want to look after your skin as you age, go easy on your alcohol consumption.
Help hungover skin
Want to help hungover skin? Drink at least two litres of water with plenty of lemon to help rehydrate your body, which will in turn, restore your skin's radiance. We also suggest nourishing your skin with mega moisturisers, like hyaluronic acid.
Here are our top supplement suggestions to support skin health
References: