Ageing is a fact of life. And no matter how much an anti-ageing cream might convince us otherwise, we can't stop it in its tracks. But it's all-too-easy to associate ageing with greying hair and lined skin, and overlook the many benefits of getting older: with age often comes increased wisdom, happiness, and life satisfaction.

And yet, in our modern era – especially under the all-seeing, all-commenting eye of social media – there's still a disproportionate amount of pressure on women to remain youthful, wrinkle-free, and, most importantly, 'age gracefully'. Women are bombarded with endless 'must-dos' and 'must-haves', many of which are mind-bogglingly contradictory.

Though men experience pressures to look good as they age, admittedly, these expectations are a little less burdensome. You only need to look at the language used in journalism to see this. Mature men are celebrated as silver foxes. Women with greying hair, on the other hand, aren't afforded the same praise.

But societal pressures aside, there's also something to be said about looking good for yourself – and only yourself. No one else. Looking good often makes you feel good. And feeling good can be tremendously empowering.

How to hydrate ageing skin?

Of course, 'beauty is only skin deep'. And radiance isn't always found in a moisturiser with a hair-raising price tag. There are many ways to glow naturally as you age. Skincare has its place, but so too does eating well, exercising, reducing stress, sleeping better, and loving yourself.

Taking a proactive approach at every stage of life means you can look and feel your best, whatever your age.

Your skin health

We often associate plump and vital skin with good health. But the secret to a glowing appearance doesn't just lie in a carefully curated cleansing, toning and moisturising routine. You can also blot, blur and blend your way to a luminous complexion. Sidestepping the sneaky skincare-saboteurs (sun exposure, smoking and sipping on one too many tipples) will certainly help you radiate, too.

We just want to get one thing straight: wrinkles are normal and beautiful! They've been demonised for too long – and they needn't be. Sure, take the time to care for your skin. But don't despair at the natural signs of ageing. Fine lines tell stories of all the incredible things you've done with your life.

The science behind your skin

Accounting for 16 percent of your body weight, the skin is the largest organ of the body. And it's a pretty complex network. Understanding how it works means you can take better care of it as you age.

Epidermis: The outermost layer of your skin, the epidermis renews every 26 to 42 days. This renewal process gradually slows down as you age, which means dead cells can linger on the surface and make the skin appear less vital.

Dermis: Comprised of two proteins, collagen and elastin (the skin's scaffolding) – along with water and natural oils – the dermis sits beneath the epidermis. It contains deeper connective tissues, sweat glands and hair follicles.

Subcutaneous layer: The deeper subcutaneous layer acts as insulation and is involved in vitamin D3 synthesis.

Skincare products

Don't be fooled by fancy packaging and celebrity-endorsed marketing campaigns. Many skincare products contain long lists of ingredients that may actually do your skin more harm than good. Although beauty companies don't deliberately make their products toxic, using synthetic chemicals in excess may 'overload' your complexion (especially if, like the average woman, you use 12 skincare products and are exposed to 168 chemicals daily). Your skin may have a barrier, but it isn't totally impenetrable.

What chemicals to avoid in skincare

Not all chemicals are created equal. (Water is a chemical, after all). But there are certainly some ingredients you should try to avoid on your next skincare haul.

Parabens Triclosan Mineral oil Benzophenone

The best ingredients for skin

AHAs

Alpha hydroxyl acids (AHAs) are naturally occurring substances found in some fruits and sugar cane. Glycolic acid is the best-known AHA – a popular choice used to exfoliate and brighten skin.

BHAs

Beta hydroxyl acids (BHAs) operate in a similar way to AHAs, improving skin pigmentation and texture. The main difference is oil solubility: AHAs are water-soluble; BHAs are oil-soluble. Salicylic acid is the ever-popular, pimple-busting BHA.

Ceramides

Found in skin cells, ceramides are lipids (fat molecules) that help the skin retain hydration.

Hyaluronic acid

A naturally-occurring protein in the body, hyaluronic acid is a humectant, which helps the skin hold onto water.

Peptides

Peptides are amino acids that act as the building blocks for important proteins needed by the skin, like elastin and collagen.

Retinol

A potent form of vitamin A, retinol supports collagen production and skin renewal. This is a great compound to improve skin radiance.

L-Ascorbic acid

L-Ascorbic acid is a stable vitamin C packed with powerful antioxidant properties to brighten and improve skin texture.

Natural skincare vs. clever scientific compounds

With a dizzying number of skincare products on the market, all promising the best antidote to ageing, it can be hard to know what to choose.

For a radiance pep-up, we recommend finding formulas that combine some of the best plant ingredients with clever scientific compounds.

Natural plant ingredients
Almond oil

Almond oil is ultra-hydrating and often used to improve skin texture

Aloe Vera

Aloe vera is widely known for its ability to retain and replenish moisture

Calendula is packed with antioxidants and often used to soothe inflamed skin

Green tea is famed for its antioxidant and antimicrobial properties

Jojoba oil is an antioxidant powerhouse that helps maintain skin hydration

Pomegranate is a source of vitamin C used to improve skin texture

Rosehip oil is rich in antioxidants and essential fatty acids

Sea buckthorn berry oil helps plump and hydrate parched skin
Antioxidants for skin
What do antioxidants do for skin?

Antioxidants are of great importance in the skincare industry. You'll see beauty brands waxing lyrical about them.

And it's no surprise, really. These compounds help protect the skin from oxidative damage caused by environmental aggressors and free radicals (enter right: pollution and UV rays).

What is a good skincare routine?

Although everyone's skincare needs are different, some products should still form the bedrock of your daily routine. From serum to SPF, here are the essentials for your bathroom cabinet.

1. Cleanse skin

Cleansing your face is the most fundamental step of any skincare routine; don't skip it! Your skin encounters an untold amount of dirt, environmental pollutants and other nasties every day. Washing your face twice daily – morning and night – will avoid dullness, clogged pores and breakouts. Choose a formula best suited to your skin: acne-prone (foaming), dry (cream), sensitive (oil), or mature (melting balm).

Our top tip: Consider double-cleansing in the evening: first, with cleansing oil or micellar water to break down make-up, sebum, and SPF on the surface of your skin, then followed by a water-based cleanser. The act of double cleansing will remove bacteria, sweat, and old skin cells, and leave behind a glowing, squeaky-clean complexion.

2. Exfoliate skin

Exfoliators are the unsung heroes of skincare. They help slough off any dead skin cells, which can give your skin a sense of 'newness'. Exfoliators work deeper than a cleanser to buff away impurities. You can choose a chemical exfoliator, such as glycolic acid (AHA) or salicylic acid (BHA), or a mechanical exfoliator, like a gentle scrub.

Our top tip: Try exfoliating your face a couple of times a week.

3. Apply serums and facial oils
What is a facial serum used for?

Serums and facial oils are your skin's best friends. These powerful elixirs help purify, plump and protect your complexion. Hardworking favourites include hyaluronic acid, vitamin C and retinol.

Our top tip: Consider using serums, like vitamin C, in the morning to protect your skin from daily aggressors, and heavier facial oils, such as rosehip oil, in the evening when your skin can take more of an intensive hit.

4. Dab on eye cream

Don't roll your eyes at the importance of eye cream. The skin around your eye is much finer than the rest of your face, meaning it's more prone to visible signs of ageing. An eye cream can help brighten, energise and deeply hydrate this area.
How to apply eye cream:

Our top tip: To protect the delicate skin around your eyes, always apply eye cream in gentle, light, patting motion with your ring finger.

5. Moisturise

Moisturisers are a mainstay of most skincare routines for a reason. They hydrate, plump, and revive your complexion. Since your skin naturally loses its ability to retain moisturise as you age, investing in a quality moisturiser will nourish your skin.

How to moisturise:

Our top tip: Though, admittedly, not essential, you may wish to use a day cream and night cream. Day creams tend to be lightweight and loaded with antioxidants. Night creams, on the other hand, are usually richer in consistency, focusing on replenishing moisture levels and repairing any damage.

6. Finish with SPF

Any skincare expert will tell you that a high factor, high quality sun cream is an essential part of your skin care routine. Consistent, daily sun cream use will help keep skin radiant, vital and healthy as you age.

SPF meaning:

SPF stands for Sun Protection Factor, with the number beside it indicating how effectively the sunscreen protects skin against sunburn.

Skincare top tips

We recommend using an SPF of at least 30 every day of the year. Oh, and make sure SPF is always the last stage of your skincare routine before you apply make-up.

Give it time:

Aim to use any product over at least six weeks, once or twice daily, to see a noticeable difference.

Avoid sun damaged skin

We all know how healthy we feel with a sun-kissed glow. But the sun's UV rays are known to damage the skin and accelerate the signs of ageing (shockingly, 99% of wrinkles are caused by sun exposure). To protect your complexion as you age, make SPF a non-negotiable component of your skincare regime, stay out of the midday sun (between 11 am and 4 pm), and always cover up with a hat, sunglasses and light clothes.

Fake tan

Want an enviable glow without harming your skin? Look no further than a humble bottle of fake tan. Self-tanning products can help you achieve a natural, streak-free, bronzed look without the sunburn, pigmentation and fine lines.

Watch your alcohol intake

We don't want to be a party pooper, but it's not great news when it comes to drinking and your skin. Alcohol is a toxin with virtually no nutrient content. It can disrupt your hormones, liver function, immunity, and – surprise, surprise – skin function. Alcohol is also a diuretic, so it zaps your skin of cell-loving water, leaving it dull, lacklustre and dehydrated. If you want to look after your skin as you age, go easy on your alcohol consumption.

Help hungover skin

Want to help hungover skin? Drink at least two litres of water with plenty of lemon to help rehydrate your body, which will in turn, restore your skin's radiance. We also suggest nourishing your skin with mega moisturisers, like hyaluronic acid.

How to drink more water

Setting a daily water intake goal and investing in a reusable water bottle can be key to ensuring you drink more water.

Quit smoking

Cigarette smoke contains more than 4,000 chemicals – and many of them destroy the important proteins in skin, elastin and collagen. Nicotine, carbon monoxide, and free radicals can lead to wrinkles, dull skin, and even adult acne. One of the best skincare hacks to see you through the ages? Quit the skin-sapping smokes.

Makeover your makeup routine

There's no shame in wanting your complexion to look a little more dewy and plump as you age. Although a good skincare routine plays an important role in preserving your radiant looks, today's cosmetics can also work wonders. There are various lotions and potions – along with tried and tested techniques – that can lift your lids, fake cheekbones and give you an all-round healthy glow.

Makeup for ageing skin

From the age of 25, collagen, the protein that gives skin its structure, starts to decline. Investing in a light, moisturising foundation will help recapture your skin's youthfulness and vitality. For additional radiance, dab a small amount of liquid highlighter on your cheekbones, forehead, and nose and then blend.

Colour correct

To find the right foundation, you first need to know your undertone. You can easily do this by looking at the veins on your wrist: green veins mean you have a yellow undertone; blue veins mean you have a pink undertone.

Make your eyes pop

A light-reflective, liquid concealer is the secret to that 'I've just slept ten hours' look. But choose your product carefully. Avoid heavy formulas that sink into crevices, as well as overly light shades, which will struggle to cover up dark circles. Try placing a small amount of product on the inner and outer corners of your eyes and blending with a damp sponge.

Pucker up, buttercup

Since lips get thinner with age, over-lining them with a nude lip-liner will give the illusion of fullness. Exfoliating your lips regularly will also keep them looking plump. Dark, matte colours can fall heavy on mature skin, so try sticking to lip-gloss or rosy red lipsticks.

Fake a facelift

To give your face a snatched appearance, consider using an eyebrow gel to sweep brows in an upward motion. Using a cream blusher on the highest point of your cheekbones will also give your cheeks an instant lift.

Be careful with powder: Go easy on the setting power. Dusting layers all over your face will only accentuate imperfections and dry skin. Instead, hold your make-up in place with a dewy setting spray.

Helpful skincare hacks

Invest in silk pillowcases: Silk is a cleaner, kinder, and softer surface for cradling your skin at night. Sleeping on silk pillowcases means there will be less friction and reduce any crepe-ing on your face.

Enjoy a cold blast: A healthy complexion is made all the more likely with proper blood circulation. And since cold water improves blood flow, a quick icy blast in the shower may help your skin glow.

Try face yoga: Sure, you can work out your body. But did you know you can also work out your face? Practising regular face yoga may help tighten, chisel, and plump your skin. You can find plenty of helpful tutorials online.

Supersize your sunglasses: Swap your thinly rimmed sunnies for a pair of chic oversized frames and you'll get more protection around your eyes from the sun's harmful UV rays.

Go for a Gua Sha

A Gua Sha is a traditional Chinese scraping tool used to tone facial muscles and give you a brighter, healthier complexion.

Want to find out more?
Read more of our resources on ageing and related content here.
You Might Also Like
---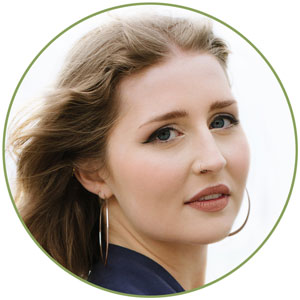 Olivia
Olivia Salter has always been an avid health nut. After graduating from the University of Bristol, she began working for a nutritional consultancy where she discovered her passion for all things wellness-related. There, she executed much of the company's content marketing strategy and found her niche in health writing, publishing articles in Women's Health, Mind Body Green, Thrive and Psychologies.

View More