Silica 200mg
Highest strength silica from bamboo extract in a one-a-day capsule
High Strength Silica 200mg, top quality from bamboo extract (not horsetail)
Easy to swallow, small, veggie capsules
Product ID: 780
High Strength Silica 200mg, top quality from bamboo extract (not horsetail)
Easy to swallow, small, veggie capsules

Product Information
Silica is a trace mineral which is only required by the body in small amounts and whilst there is no NRV for silica, most nutritionists agree that a daily intake from our diet is important.

Silica is found in compounds called glycosaminoglycans, which are components of structural tissues such as arteries, tendons, skin, bones and cartilage.

Most silica supplements use silica extracted from horsetail but at Nature's Best we prefer to use bamboo gum as a source of natural silica. Bamboo gum contains over 90% organic silica, which is more than 10 times the level found in the widely used horsetail plant, where the level is as low as 5-7%.
Good dietary sources of silica include grains such as oats, barley and rice, although refining processes can strip much of this mineral away.

Silica has become a popular supplement for healthy skin and joint health.
Daily Intake
Take 1 capsule daily with a meal. Do not exceed recommended daily dose.
Food supplements should not replace a balanced diet and healthy lifestyle.
Formula
Powdered Bamboo Extract
266mg
Ingredients
Powdered Bamboo exudate (Bambusa Arundinacea), Capsule Shell (Methylcellulose), Rice Powder, Magnesium Stearate.
Suitable for / Cautions
Suitable For
This product is suitable for all adults. This product is suitable for vegetarians.
Cautions/Allergies
This product is free from wheat, yeast, dairy, soya, nuts and shellfish.
This product is free from gluten containing ingredients.
This product is not suitable during pregnancy or breast feeding.
You Could Also Consider These Silica Products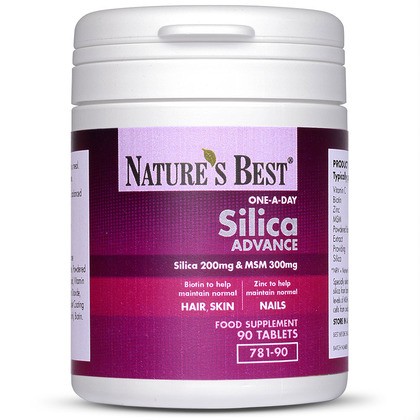 Silica Advance
4.8/5 based on

71 customer reviews
One-a-day formula for hair, skin and nails
Silica Advance has been formulated by nutrition experts to provide nutrients key to the health of our hair, skin and nails.
£11.95
£10.50
Add to basket
"This product is a great to assist in mending and keeping safe ligaments"
By
Anonymous
, 09 Jul 2019
I started using this product because I was having problems with the ligaments and tendons in my knees. It took a few weeks to start to notice a real difference and now my knees are back to full function and motion.
Recommend to a friend: Yes
How much has this product helped you?
"Can This Help My Dad?"
By
Charlin Fontanilla
, 29 May 2019
My dad is suffering from a very painful gout where walking or lifting is spoon to eat was just painful. Can this supplement help him?
Recommend to a friend: Yes
Thank you for taking the time to leave a review.

I am not aware of any evidence to suggest that this may be useful for gout. The easiest and most common way to reduce uric acid levels and the symptoms of gout is by making dietary changes. I would suggest that your father tries to increase the levels of wholegrains (brown rice, wholemeal pasta and wholemeal bread), chicken, white fish and fruit and vegetables in his diet. Also it is a good idea to drink plenty of fluids, preferably water or herbal teas, at least 8 large glasses a day.

Some foods are thought to make gout worse in some people and I would suggest cutting back on red meat, offal, game and shellfish. It is also a good idea to reduce alcohol intake (if applicable) and replace processed foods such as white bread, cakes and biscuits with more nutritious alternatives such as the wholegrain foods mentioned.

In terms of supplements, Fish Oil 1100mg (code 516) may be useful as this contains a good level of the omega 3 fatty acids EPA and DHA. These are known to be involved in the production of compounds which reduce inflammation in the body and may be helpful for the swelling and discomfort associated with gout. Initially I would suggest three capsules a day.

https://www.naturesbest.co.uk/fish-oil-omega-3s/fish-oil-1100mg-pure-omega-3s/

I would also suggest that Cherry Max (code 456) may be useful as sour cherries are thought to help reduce uric acid levels and some studies have shown them to be useful for this purpose. I would suggest an initial intake of 30ml (6 teaspoons) a day.

https://www.naturesbest.co.uk/fruit-concentrates/cherrymax/

Vitamin C may also be useful for reducing the level of uric acid in the blood, which may help to reduce the symptoms of gout. It would be advisable to start with a low level of Vitamin C (around 100mg) and build the dose up gradually.

https://www.naturesbest.co.uk/vitamins/vitamin-c-powders/vitamin-c-as-ascorbic-acid-powder/

I have attached a link to some further information which you may find useful.

https://www.naturesbest.co.uk/pharmacy/gout/
Nature's Best Customer service:
How much has this product helped you?
"Helped my knee pain "
By
Anonymous
, 18 May 2019
I''ve been taking these for a few years now & they have helped with my knee pain . More so going up & down the stairs. I don''t have arthritis as this was checked at the hospital, so my pain was just from joint pain due to wear & tear .
I can sleep so much better now & although my knees still click going up the stair I''m not in any pain so I guess for me they are working.
Recommend to a friend: Yes
How much has this product helped you?
"Very good for my nails"
By
Peter Harris
, 12 May 2019
Have used this product for several months and noticed a steady improvement in the condition of both toe and finger nails.
Recommend to a friend: Yes
How much has this product helped you?
"Was advised to take this for hair growth"
By
Anonymous
, 11 May 2019
I was told silica was good for hair growth and condition. I was told that the best source was from bamboo. It''s early days so I can''t see any change yet, but I know people who swear by it so fingers crossed.
Recommend to a friend: Don't know
How much has this product helped you?