Silica 200mg
Highest strength silica from bamboo extract in a one-a-day capsule
High Strength Silica 200mg, top quality from bamboo extract (not horsetail)
Easy to swallow, small, veggie capsules
Silica is a trace mineral which is only required by the body in small amounts and whilst there is no NRV for silica, most nutritionists agree that a daily intake from our diet is important.
Silica is found in compounds called glycosaminoglycans, which are components of structural tissues such as arteries, tendons, skin, bones and cartilage.
Most silica supplements use silica extracted from horsetail but at Nature's Best we prefer to use bamboo gum as a source of natural silica. Bamboo gum contains over 90% organic silica, which is more than 10 times the level found in the widely used horsetail plant, where the level is as low as 5-7%.
Good dietary sources of silica include grains such as oats, barley and rice, although refining processes can strip much of this mineral away.
Silica has become a popular supplement for healthy skin and joint health.
Product Information
Daily Intake
Take 1 capsule daily with a meal. Do not exceed recommended daily dose.
Food supplements should not replace a balanced diet and healthy lifestyle.
Formula
Powdered Bamboo Extract
266mg
Ingredients
Powdered Bamboo exudate (Bambusa Arundinacea), Capsule Shell (Methylcellulose), Rice Powder, Magnesium Stearate.
Suitable for / Cautions
Suitable For
This product is suitable for all adults. This product is suitable for vegetarians.
Cautions/Allergies
This product is free from wheat, yeast, dairy, soya, nuts and shellfish.
This product is free from gluten containing ingredients.
This product is not suitable during pregnancy or breast feeding.
You Could Also Consider These Silica Products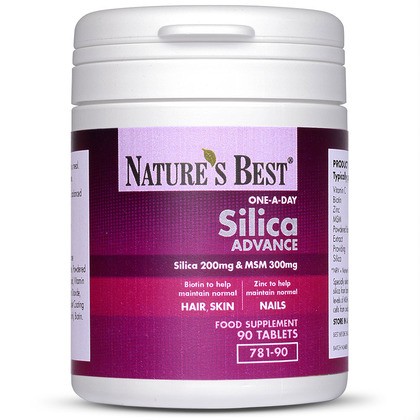 Silica Advance
4.8/5 based on

46 customer reviews
One-a-day formula for hair, skin and nails
Silica Advance has been formulated by nutrition experts to provide nutrients key to the health of our hair, skin and nails.
£11.95
Add to basket
"Need help to repair weak nails."
By
Gay McElwee
, 12 Apr 2018
After years of having acyrilic nails l decided to have them removed,my own nails are now paper thin.l remember homeopathic person telling me you need silica for good strong nails,so l am taking silica for this reason ,my own nails were always on the weak side,however l am looking forward to my nails improving in the coming months.
Recommend to a friend: Yes
How much has this product helped you?
"Hair loss"
By
Anonymous
, 11 Apr 2018
Excellent for thinning hair. Perfect
Recommend to a friend: Yes
How much has this product helped you?
"Good effective product"
By
Anonymous
, 10 Apr 2018
For joints pain, nails and skin.
Recommend to a friend: Yes
How much has this product helped you?
By
CAROLE GASAN
, 06 Apr 2018
This product is very effective in helping with hair thining.
When I stopped taking it for a few months the hair loss was worse
Recommend to a friend: Yes
How much has this product helped you?
"Lifechanging Re-Vitalising Silica Supplement"
By
Sister Marika Rebicsek
, 04 Feb 2018
Unbelievable! I have fibromyalgia badly and hypermobility. I started taking this about 8 days ago. 3-4 days ago I realised I was waking up in the morning without being exhausted and drained. My pain levels have dropped too, much more manageable and I am starting to be able to get more things done. The only thing that has changed in my diet or medicines is taking silica. I have just ordered 2 more bottles. My allergy specialist recommended it for my dog who has hypermobility issues - just had shoulder surgery as he dislocated it 3 times last year. I looked at the write ups and reviews and decided to try it for myself. It is a life changer! First time I can get up in the morning. Plus it is helping my lungs and sinuses as I got chronic lung disease. I can breathe much more easily too. This is a life changer and I wonder if a lot of people are deficient without realising it. £8.95 to try a bottle is very reasonable price too.
Recommend to a friend: Yes
How much has this product helped you?