Sage 2500mg
One of the UK's strongest one-a-day sage products
One of the UK's strongest and many more times stronger than culinary sage
Highest grade extract that has a guaranteed level of 2.5% rosmarinic acid
Convenient, one-a-day taste-free tablets
Remember our promise – 'notice the difference or your money back'
This charming kitchen herb has been used by herbalists for centuries for a number of conditions. More recently sage has become popular as a supplement for the menopause, a use supported by some studies. Interestingly the word 'sage' is also linked to wisdom and this herb has been investigated for its influence on memory. A recent study showed that sage was able to improve alertness and produce a positive effect on mood in some of the participants in the study.
Nature's Best
®
Sage Extract is one of the UK's strongest and many times more concentrated than culinary sage. We insist on a high-grade sage extract that has a guaranteed level of 2.5% rosmarinic acid (the 'active' compound in sage).
Remember our promise – 'notice the difference or your money back'
Product Information
Daily Intake
Take 1 tablet daily with a meal. Do not exceed recommended daily dose.
Food supplements should not replace a balanced diet and healthy lifestyle.
Formula
(provided by 500mg of a (5:1 extract)
Ingredients
Sage Extract, DiCalcium Phosphate, Cellulose, Tablet Coating (Methylcellulose, Colours: Titanium Dioxide & Copper Chlorophyllin, Glycerin), Silicon Dioxide, Stearic Acid, Magnesium Stearate.
Suitable for / Cautions
Suitable For
This product is suitable for all adults. This product is suitable for vegetarians.
Cautions/Allergies
This product is free from wheat, yeast, dairy, soya, nuts and shellfish.
This product is free from gluten containing ingredients.
Do not take if pregnant or breast feeding.
You Could Also Consider These Sage Products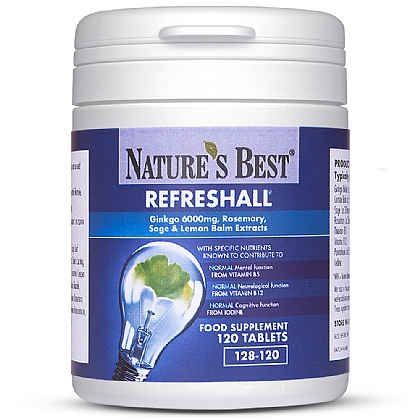 Refreshall
4.8/5 based on

23 customer reviews
Ginkgo 6000, Rosemary, and herbs for memory
Helps maintain short term memory. High strength Ginkgo biloba, sage, rosemary and lemon balm. Including B12 for neurological and psychological support. Thousands of satisfied customers.
£14.25
Add to basket
"Very effective "
By
Amanda Williams
, 22 Oct 2018
Going through the menopause and suffering from constant night sweats waking up several times through the night effecting my daily life, tried so many products and nothing worked untill now after just 2 weeks my nights sweats have reduced that much I''ve been sleeping through they are amazing and have gave me some sort of life back!!
Recommend to a friend: Yes
How much has this product helped you?
"Don'T Think About It-Just Buy It!"
By
A Hartley
, 12 Oct 2018
Hot flushes suddenly appeared in my life two months ago. I can deal with wonky periods, grey hair and wrinkles bit the sweats was an insult too far! I started taking this product (in desperation!). Almost immediately the sweats stopped in the day with the odd night sweats appearing after a few days... and now after less than 5 days NO night sweats! Bloody brilliant! I know that the efficacy of herbs can change (and I did notice that excess sugar seems to affect it working properly too-yawn) But if I have to keep taking them for the next five years (note black cohosh only recommended for six months) they are affordable and nontoxic. I'll exhaust all the natuaral med options before throwing myself on the mercy of H*T thanks. Anyway give it a try. It won't break the bank and it may really reduce or eliminate the misery of hot flushes.

Recommend to a friend: Yes
Thank you for leaving a review.

It is great to hear that this product has worked so quickly for you. We do suggest trying a product for three months before reassessing your symptoms.
Nature's Best Customer service:
How much has this product helped you?
"Amazing Stuff!!!"
By
Anonymous
, 05 Oct 2018
This high strength Sage is amazing stuff. My sister and I take it to help the effects of the menopause in particular hot sweats and oh how wonderful life is whilst taking it, definitely 100% recommend!
Recommend to a friend: Yes
How much has this product helped you?
"Almost stops the hot flushes"
By
Anonymous
, 01 Oct 2018
I had to stop my long-term use of H** and inevitably, the hot flushes began. Every hour or so it seemed. Since I started to take your SAGE product, this has reduced to one or two a day and I can cope with that! Many thanks
Recommend to a friend: Yes
How much has this product helped you?
"This product so far is effective"
By
Joan Johnston
, 01 Oct 2018
Only been taking this product over 2 weeks have felt difference in my Hot Sweats hope it continues
Recommend to a friend: Yes
How much has this product helped you?