Sage 2500mg
One of the UK's strongest one-a-day sage products
One of the UK's strongest and many more times stronger than culinary sage
Highest grade extract that has a guaranteed level of 2.5% rosmarinic acid
Convenient, one-a-day taste-free tablets
Remember our promise – 'notice the difference or your money back'
This charming kitchen herb has been used by herbalists for centuries for a number of conditions. More recently sage has become popular as a supplement for the menopause, a use supported by some studies. Interestingly the word 'sage' is also linked to wisdom and this herb has been investigated for its influence on memory. A recent study showed that sage was able to improve alertness and produce a positive effect on mood in some of the participants in the study.
Nature's Best
®
Sage Extract is one of the UK's strongest and many times more concentrated than culinary sage. We insist on a high-grade sage extract that has a guaranteed level of 2.5% rosmarinic acid (the 'active' compound in sage).
Remember our promise – 'notice the difference or your money back'
Product Information
Daily Intake
Take 1 tablet daily with a meal. Do not exceed recommended daily dose.
Food supplements should not replace a balanced diet and healthy lifestyle.
Formula
(provided by 500mg of a (5:1 extract)
Ingredients
Sage Extract, DiCalcium Phosphate, Cellulose, Tablet Coating (Methylcellulose, Colours: Titanium Dioxide & Copper Chlorophyllin, Glycerin), Silicon Dioxide, Stearic Acid, Magnesium Stearate.
Suitable for / Cautions
Suitable For
This product is suitable for all adults. This product is suitable for vegetarians.
Cautions/Allergies
This product is free from wheat, yeast, dairy, soya, nuts and shellfish.
This product is free from gluten containing ingredients.
Do not take if pregnant or breast feeding.
You Could Also Consider These Sage Products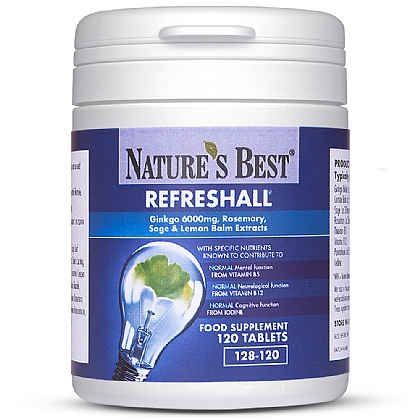 Refreshall
4.8/5 based on

22 customer reviews
Ginkgo 6000, Rosemary, and herbs for memory
Helps maintain short term memory. High strength Ginkgo biloba, sage, rosemary and lemon balm. Including B12 for neurological and psychological support. Thousands of satisfied customers.
£14.25
£12.25
Add to basket
"Competively priced"
By
Anonymous
, 23 Sep 2018
My wife uses this to cut down on hot flushes considerably
Recommend to a friend: Yes
How much has this product helped you?
"Bought on reading reviews"
By
Anonymous
, 19 Sep 2018
I think it''s too early to tell, I''m hoping they work as nothing else has, I''m only just over a week in.
Recommend to a friend: Yes
Thank you for taking the time to leave a review.

We do advise that this product is used at the recommended dose for at least three months. Perhaps you would be kind enough to leave another review after this time.
Nature's Best Customer service:
How much has this product helped you?
"Hot Flushes"
By
Gill Carter
, 02 Sep 2018
It helps with my hot flushes.
Recommend to a friend: Yes
How much has this product helped you?
"It seems to be helping me to sleep and restless legs"
By
Anonymous
, 29 Aug 2018
I was recommended these by a friend as I have great difficulty sleeping. Also I have restless legs and this product seems to be helping both!
Recommend to a friend: Yes
How much has this product helped you?
"These Tablets Work!"
By
51-year old former sufferer
, 20 Aug 2018
I've been taking these sage tablet for nearly three months now. I used to get around four hot flushes during the day - now I don't get a single one. In fact I had one when I missed a tablet and had literally forgotten what they felt like. I was getting bad nightsweats, four or five per night - now I don't get any at all. Before I started taking them I was at my wits end. I was sleeping very badly due to the nightsweats and was utterly exhausted. I thought HRT was the only option. But tried these as a last resort. They work. It does take a few weeks - maybe a month to really start to reduce the problem, but stick with it! It's worth it!
Recommend to a friend: Yes
How much has this product helped you?