Sage 2500mg
One of the UK's strongest one-a-day sage products
Guaranteed 2.5% rosmarinic acid
3 Month's supply for as little as 12p per day
Convenient, one-a-day taste-free tablets
'Notice the difference or your money back'
Product ID: 130
Guaranteed 2.5% rosmarinic acid
3 Month's supply for as little as 12p per day
Convenient, one-a-day taste-free tablets
'Notice the difference or your money back'

Product Information
We insist on a high-grade standardised sage extract that has a guaranteed level of 2.5% rosmarinic acid (the 'active' compound in sage). Although delicious as an addition to savoury dishes, culinary sage cannot compete on potency.

Sage has been used by herbalists for centuries for a number of conditions and is commonly known as an antioxidant. As a member of the phytoestrogen family, it's most popular as a supplement for the menopause, which has been supported by some studies. Sage makes an excellent choice for those looking for a soya-free option.

Interestingly the word 'sage' is also linked to wisdom and more recently this herb has been investigated for its influence on memory. A recent study showed that sage was able to improve alertness and helped some of the participants in the study maintain a positive outlook, when taken regularly.

Our premium quality sage extract is derived from the sage leaves, which have been rapidly dried to preserve the precious bioactive compounds. Our strict adherence to GMP standards ensures that each batch is analysed to meet the highest quality controls. In this process we remove the undesired thujone compound found in the plant, something many competing products leave in. However, our commitment to quality means we leave no stone unturned.


Daily Intake
Take 1 tablet daily with a meal. Do not exceed recommended daily dose.
Food supplements should not replace a balanced diet and healthy lifestyle.
Formula
(provided by 500mg of a (5:1 extract)
Ingredients
Sage Extract, DiCalcium Phosphate, Cellulose, Tablet Coating (Methylcellulose, Colours: Titanium Dioxide & Copper Chlorophyllin, Glycerin), Silicon Dioxide, Stearic Acid, Magnesium Stearate.
Suitable For
This product is suitable for all adults. This product is suitable for vegetarians.
Cautions/Allergies
This product is free from wheat, yeast, dairy, soya, nuts and shellfish.
This product is free from gluten containing ingredients.
Do not take if pregnant or breast feeding.
You Could Also Consider These Sage Products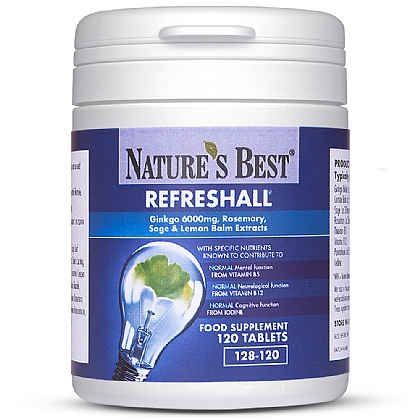 Refreshall
4.7/5 based on

32 customer reviews
B Vitamins & Iodine For Normal Cognitive Function
Helps maintain short term memory. High strength Ginkgo biloba, sage, rosemary and lemon balm. Including B12 for neurological and psychological support. Thousands of satisfied customers.
£14.95
Add to basket
"Seem to be working!"
By
Julie Maunder
, 12 Dec 2019
I have been taking these now for about 9 months and they seem to be keeping the hot flushes at bay!
Recommend to a friend: Yes
How much has this product helped you?
"Night Sweats"
By
Michelle Clements
, 07 Dec 2019
I had been getting horrendous hot flushes at night for weeks and the sleep deprivation was affecting my day time functioning. Girl friends suggested H** which I didn't want to use so I tried Sage tablets. During the first week they got less and less and now I only have the occasional one. Would highly recommend if you suffer you give them a go.
Recommend to a friend: Yes
How much has this product helped you?
"Really does help"
I have been using these for about a year to help with hit flushes. Although they haven''t stopped, they are consistently less severe and I''m sure that''s down to the sage! Continuing to take them because I don''t want them to come back full force! I love that the effects of ''the change'' can be helped by something that isn''t going to change my natural body clock!!
Recommend to a friend: Yes
How much has this product helped you?
"Working, I think..."
By
Anonymous
, 18 Nov 2019
After a month of intense sweats waking me up 3 - 4 times a night, and hot flushes during the day I decided to try sage extract tablets to see if it would relieve my symptoms. Over the course of the first week of taking them, my symptoms did gradually reduce and I have been almost free of hot flushes day and night since then. Of course, the nature of perimenopause is that that my hormones are fluctuating, so it could be that the symptoms would have stopped anyway, but I''m not going to risk stopping them just yet!
Recommend to a friend: Yes
Thank you for taking the time to leave a review.

As supplements can take some time to build up and have an effect in the body, we would normally suggest reassessing your symptoms after three months. However, I am pleased to hear that you have already found this product helpful.

Nature's Best Customer service:
How much has this product helped you?
"Amazing results"
By
Maureen Neely
, 08 Nov 2019
Hot flushes
Recommend to a friend: Yes
How much has this product helped you?