Prostex®
Highest strength Beta Sitosterols
With added zinc 15mg, which contributes to the maintenance of normal testosterone concentrations
Relevant levels of the important bioflavonoid, quercetin
3 important amino acids, alanine, glycine and glutamic acid, supplied in their free form for easy absorption.
No-quibble money back guarantee
Prostex
®
has been reformulated to include a higher level of Beta Sitosterols from a natural plant source. This plant source has enabled us to add a significantly higher level of these important 'actives', than was in the original Prostex
®
formula and a level which matches current research.
A full 320mg of extract of beta sitosterols
We're pleased to say that we insist on the highest strength concentrated extract where the beta sitosterol level is standardised to provide the full 320mg of these 'active' compounds (in 2 tablets). Many similar products contain less than half this amount!
Twice the NRV* for vitamin D

We've taken the opportunity to add a decent level of vitamin D (10µg per 2 tablets), recognising the important role it plays in the normal function of the immune system and healthy inflammatory response. * NRV (Nutrient Reference Value)
With added zinc and pure quercetin.
A healthy level of zinc at 15mg, which contributes to the maintenance of normal testosterone concentrations in the blood and the protection of cell constituents from oxidative damage. And a relevant level of the important bioflavonoid quercetin in each tablet.

Product Information
Daily Intake
Take 2 tablets daily with a meal. Do not exceed recommended daily dose. Food supplements should not replace a balanced diet and healthy lifestyle.
Formula
Ingredients
Calcium Carbonate, Cellulose, Phytosterol Complex, Vitamin C (Ascorbic Acid), Vitamin E (dl-alpha Tocopherol), Glycine, L-Alanine, L-Glutamic Acid, Tablet Coating (Methylcellulose, Colours: Titanium Dioxide & Copper Chlorophyllin, Glycerin), Magnesium Stearate, Silicon Dioxide, Quercetin Dihydrate, Crosslinked Cellulose Gum, Zinc Citrate, Thiamine Mononitrate, Riboflavin, Glycerine, Vitamin D3.
Suitable for / Cautions
Suitable For
This product is suitable for all adults.This product is suitable for vegetarians.
Cautions/Allergies
This product is free from wheat, yeast, dairy, soya, nuts and shellfish.This product is free from gluten containing ingredients
You Could Also Consider These Prostex & Saw Palmetto Products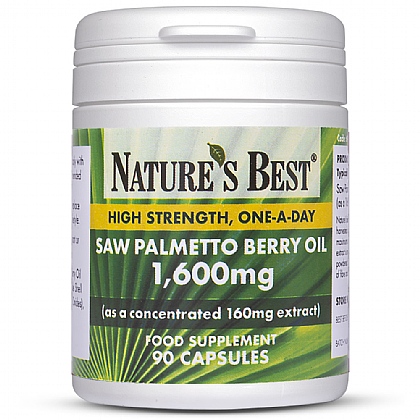 Saw Palmetto 1440mg
4.8/5 based on

58 customer reviews
High strength from the purest grade saw palmetto extract
Highly concentrated, standardised extract of pure grade saw palmetto berries. Up to 12 times stronger than cheap powdered berries!
£13.95
Add to basket
Prostex®
By
Anonymous
, 24 Jul 2018
This product was purchased on the strength of the reviews. My husband has been on it for fifty days and there is no benefit whatever thus far. We bought four bottles as well, so to us it's a waste of money.

I cannot believe that so many other users have given this product five stars, and some four stars, and there isn't anyone saying that it hasn't worked.

We take and have taken many supplements for decades which have helped in various degrees, but this has to be the worst let-down ever..
Recommend to a friend: No
Thank you for taking the time to leave a review.

We do suggest that Prostex is used at the recommended dose of two a day for three months before the effects are assessed, so I would recommend that your husband tries this for a little longer.
Nature's Best Customer service:
How much has this product helped you?
Prostex®
"A Friend Of Mine Used Them And They Helped Him In Not Needing The Bathroom At Night So I Have Tried "
By
John Marshall
, 14 Sep 2017
Why do you use this product Prostex® ?
They were recommended to me.
Recommend to a friend: Yes
How much has this product helped you?
Prostex®
"Repeat Purchase"
Why do you use this product Prostex® ?
I have been using Prostex regularly for a year or so now and have found that it helps me to sleep longer at night without several visits to the toilet.

Recommend to a friend: Yes
How much has this product helped you?
Prostex®
"Prostate Issues"
By
Colin Prow
, 29 Jun 2017
Why do you use this product Prostex® ?
Having been diagnosed with an enlarged prostate and suffering symptoms of frequently having to pass water. I decided to give this product a try, although early days I do feel that visits to the loo have reduced and the constant need to plan these visits has eased as a result. I wish I had tried this sooner. I buy regularly from Nature's Best as I believe the quality is great and price fair, service is always good.

Recommend to a friend: Yes
How much has this product helped you?
Prostex®
"Worth Trying.."
By
William Simpson
, 02 Jun 2017
Why do you use this product Prostex® ?
At 67 years of age prostate issues should be a natural concern... In an attempt to do everything in my power to assist healthy prostate, i have researched through reading etc. ways to support good prostate health.... My reading concludes the need for good diet along with natural foods and supplements that promote healthy prostate....
The product Prostex was one of a plethora of supplements available..Its use was based upon reviews of users, and my research into the company ethics of the supplier..Hence my choice of Prostex... Although its early days in my usage of the product, i do feel they along with my diet are producing the desired effect... Less toilet visits along with better flow has been my results so far, with absolutely no side effects.... I would recommend... Worthy of trying...
Recommend to a friend: Yes
How much has this product helped you?