Evening Primrose Oil GLA 1000mg
With 10mg Vitamin E (83% NRV)
Purest, highest quality grade oil
Guaranteed GLA level, minimum 9%
With Vitamin E for added freshnes
Smaller pot size, freshness guaranteed
Product ID: 545
Purest, highest quality grade oil
Guaranteed GLA level, minimum 9%
With Vitamin E for added freshnes
Smaller pot size, freshness guaranteed

Product Information
Evening Primrose Oil is a still one of our most popular products, and this 1000mg version offers fantastic value for money. We use only the purest oil in our capsules with a guaranteed level of 9% GLA. This Omega 6 fatty acid is the active ingredient in evening primrose oil and the amount present determines the quality and price of the oil. There is a big variation between oils and ours is carefully selected and then tested to ensure it contains at least 9% GLA. Our tests indicate that not all the products available meet the level of GLA declared on the label.

The oil from borage seeds, generally called starflower oil, is also a rich source of GLA and in our range we offer a pure Starflower oil with 22% GLA and a 12% GLA Evening Primrose Oil which is fortified with starflower oil.
Daily Intake
Take 1 capsule daily with a meal. Do not exceed recommended daily dose.
Food supplements should not replace a balanced diet and healthy lifestyle.
Formula
Evening Primrose Oil
1000mg
Gamma-Linolenic Acid (GLA)
90mg
Ingredients
Evening Primrose Oil, Capsule Shell (Gelatin, Glycerin), Vitamin E (as dl-alpha Tocopheryl Acetate).
Suitable For
This product is suitable for all adults. This product is suitable during pregnancy and breast feeding.
Cautions/Allergies
This product is free from wheat, yeast, dairy, soya, nuts and shellfish.
This product is free from gluten containing ingredients.
If you suffer from epilepsy, consult your doctor before taking this product.
You Could Also Consider These Evening Primrose Oil Products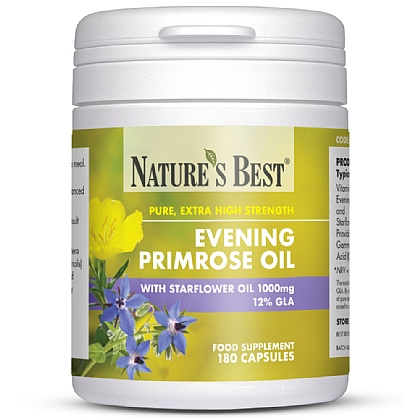 Evening Primrose Oil GLA 1000mg With Starflower Oil
4.8/5 based on

71 customer reviews
Super strength GLA makes this 33% stronger than others
Fortified with Starflower oil to give an impressive 12% GLA, which makes it one of the UK's strongest, and great value for money.
£17.95
Add to basket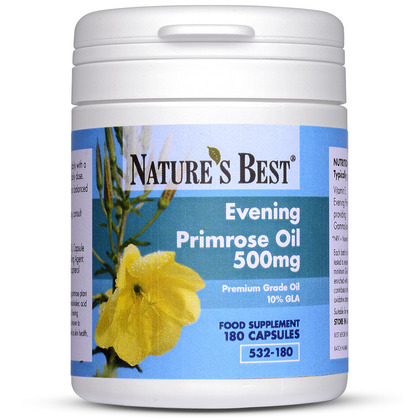 Evening Primrose Oil 500mg
5/5 based on

58 customer reviews
A pure oil with a guaranteed 10% GLA
These are smaller easy-to-swallow vegetarian capsules containing pure refined oil with 10% of GLA. Great value for a high quality oil.
£7.95
Add to basket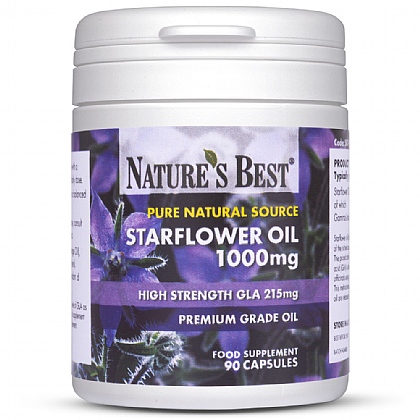 Starflower Oil 1000mg
4.9/5 based on

148 customer reviews
The UK's strongest GLA, with 220mg in each capsule
A great one-a-day product with a massive 22% GLA giving 220mg per capsule. Vegetarian capsules.
£12.95
Add to basket
By
Anonymous
, 26 Mar 2020
I am always told that I have beautiful skin for my age (82). I believe this product has helped.
Recommend to a friend: Yes
How much has this product helped you?
"good product"
By
Joan Dowsett
, 25 Mar 2020
because it is known to help with a variety of skin conditions
Recommend to a friend: Yes
How much has this product helped you?
By
Angelika Neal
, 21 Mar 2020
I was recommended to take evening primrose by a health professional in conjunction with sage tablets. Both of them in a high dose. I use it to reduce my menopause hot flushes. I highly recommend these two products as they have helped to reduce my hot flushes
Recommend to a friend: Yes
How much has this product helped you?
"This product is thery nice, efficiency! ???"
By
Liubovi Hristin
, 29 Feb 2020
Recommend to a friend: Yes
How much has this product helped you?
By
Christiane Wilmus-Deseins
, 26 Feb 2020
It is very active. It helps for hart problems ! And this is very true, you will not find it easily in books. We have known this product through a Prof. in cardiology in Cape Town. He told my husband to take it. It also helps with the blood pressure.

Recommend to a friend: Yes
Thank you for taking the time to leave a review.

The evidence is a little thin on the ground for this product being beneficial for heart health and blood pressure. However, I am pleased to hear that you have found this helpful. If you are not already doing so, we would suggest that you keep your doctor informed of any supplements that you are taking.

Nature's Best Nutrition Advice:
How much has this product helped you?