Evening Primrose Oil GLA 1000mg
With 10mg Vitamin E (83% NRV)
Purest, highest quality grade oil
Guaranteed GLA level, minimum 9%
With Vitamin E for added freshnes
Smaller pot size, freshness guaranteed
Product ID: 545
Purest, highest quality grade oil
Guaranteed GLA level, minimum 9%
With Vitamin E for added freshnes
Smaller pot size, freshness guaranteed

Product Information
Evening Primrose Oil is a still one of our most popular products, and this 1000mg version offers fantastic value for money. We use only the purest oil in our capsules with a guaranteed level of 9% GLA. This Omega 6 fatty acid is the active ingredient in evening primrose oil and the amount present determines the quality and price of the oil. There is a big variation between oils and ours is carefully selected and then tested to ensure it contains at least 9% GLA. Our tests indicate that not all the products available meet the level of GLA declared on the label.

The oil from borage seeds, generally called starflower oil, is also a rich source of GLA and in our range we offer a pure Starflower oil with 22% GLA and a 12% GLA Evening Primrose Oil which is fortified with starflower oil.
Daily Intake
Take 1 capsule daily with a meal. Do not exceed recommended daily dose.
Food supplements should not replace a balanced diet and healthy lifestyle.
Formula
Evening Primrose Oil
1000mg
Gamma-Linolenic Acid (GLA)
90mg
Ingredients
Evening Primrose Oil, Capsule Shell (Gelatin, Glycerin), Vitamin E (as dl-alpha Tocopheryl Acetate).
Suitable For
This product is suitable for all adults. This product is suitable during pregnancy and breast feeding.
Cautions/Allergies
This product is free from wheat, yeast, dairy, soya, nuts and shellfish.
This product is free from gluten containing ingredients.
If you suffer from epilepsy, consult your doctor before taking this product.
You Could Also Consider These Evening Primrose Oil Products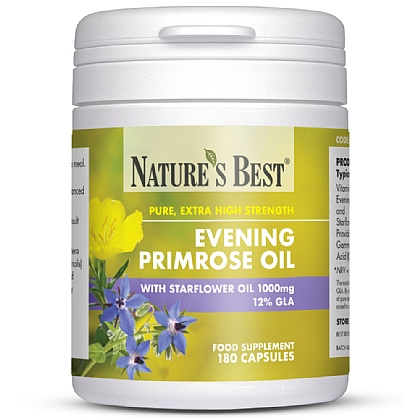 Evening Primrose Oil GLA 1000mg With Starflower Oil
4.8/5 based on

70 customer reviews
Super strength GLA makes this 33% stronger than others
Fortified with Starflower oil to give an impressive 12% GLA, which makes it one of the UK's strongest, and great value for money.
£17.95
Add to basket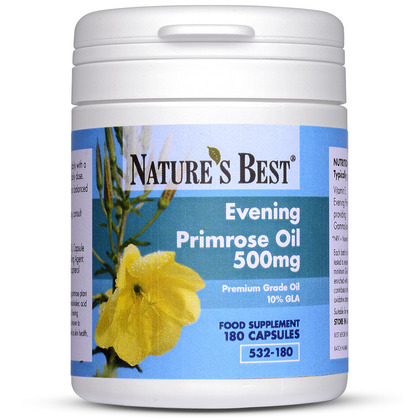 Evening Primrose Oil 500mg
5/5 based on

55 customer reviews
A pure oil with a guaranteed 10% GLA
These are smaller easy-to-swallow vegetarian capsules containing pure refined oil with 10% of GLA. Great value for a high quality oil.
£7.95
Add to basket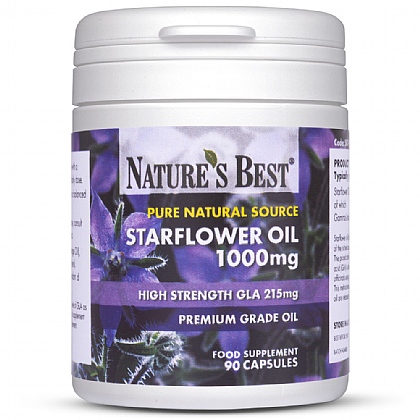 Starflower Oil 1000mg
4.9/5 based on

146 customer reviews
The UK's strongest GLA, with 220mg in each capsule
A great one-a-day product with a massive 22% GLA giving 220mg per capsule. Vegetarian capsules.
£12.95
Add to basket
"Breast pain "
By
Anonymous
, 18 Jan 2020
I use this product for breast pain after being recommended and my pain has gone I would recommend using this product
Recommend to a friend: Yes
How much has this product helped you?
"It seems to work against breast pain!"
By
Marianne Heemskerk
, 11 Jan 2020
My doctor told me to take it for breast pain!
Recommend to a friend: Yes
How much has this product helped you?
"Easing hormonal imbalance "
I have used similar products in the past, but so far I found that this product is the only one that has the recommended doze on the label. I use the primrose oil to help with hormonal imbalance before the period, and it's making a massive difference from my first few weeks of taking the product. Im extremely pleased so far. I'll definitely will buy again once my 180 tablets tub is empty.
Recommend to a friend: Yes
How much has this product helped you?
"excellent value "
By
Anonymous
, 29 Sep 2019
Have used eve primrose oil for years for PMT, now using it for the menopause and wanted a good recommended product. I feel these are more effective than the cheaper versions in supermarkets etc. definitly recommend.
Recommend to a friend: Yes
How much has this product helped you?
"These have solved an irritating annoying problem as was recommended."
By
Anonymous
, 26 Sep 2019
I am in the menopause and had itching across my chest and stomach but mostly my breast and it had become really tender and sensitive. I was told it was hormonal after a mammogram found nothing to report and advised to take Evening Primrose. Within a week the itching had gone and hasn't returned since. Another thing I noticed was my skin has also improved.
Recommend to a friend: Yes
Thank you for taking the time to leave a review.

As supplements can take some time to build up and have an effect in the body, we would normally suggest reassessing your symptoms after three months. However, I am pleased to hear that you have already found this product helpful.

Nature's Best Customer service:
How much has this product helped you?