Evening Primrose Oil GLA 1000mg With Starflower Oil
Super strength GLA makes this 33% stronger than others
Higher Strength at 12% GLA
Stronger Than Straight Evening Primrose Oil
With 10mg Vitamin E (83% NRV)
Veggie- Friendly Capsules
Product ID: 530
Higher Strength at 12% GLA
Stronger Than Straight Evening Primrose Oil
With 10mg Vitamin E (83% NRV)
Veggie- Friendly Capsules

Product Information
We've made this one of the strongest evening primrose oil product available in the UK by blending it with pure starflower oil to raise the GLA to 12%, (most evening primrose products contain between 8-10% GLA). This makes the product great value for money as it is considerably cheaper than most straight evening primrose products available in the shops.

GLA is an Omega 6 fatty acid which can be made by the body but several studies have shown that a supplement is useful for some people. Evening primrose oil is still one of the most popular supplements, a status that is achieved by the simple fact that users find it makes a real difference.
Our other GLA products are shown below, with the strongest being the pure Starflower Oil product.Oil which is fortified with starflower oil.
Daily Intake
Take 1 capsule daily with a meal. Do not exceed recommended daily dose.
Food supplements should not replace a balanced diet and healthy lifestyle.
Formula
Evening Primrose Oil and Starflower Oil
1000mg
Gamma Linolenic Acid (GLA)
120mg
Ingredients
Evening Primrose Oil (65%), Starflower Oil (35%), Capsule Shell (Modified Starch, Glycerol, Gelling Agent: Carageenan), Vitamin E (as dl-alpha Tocopheryl Acetate).
Suitable for / Cautions
Suitable For
This product is suitable for all adults. This product is suitable during pregnancy and breast feeding. This product is suitable for vegetarians and vegans.
Cautions/Allergies
This product is free from wheat, yeast, dairy, soya, nuts and shellfish.
This product is free from gluten containing ingredients.
If you suffer from epilepsy, consult your doctor before taking this product.
You Could Also Consider These Evening Primrose Oil Products

Evening Primrose Oil GLA 1000mg
4.9/5 based on

89 customer reviews
With 10mg Vitamin E (83% NRV)
A pure oil containing 9% of the active ingredient called GLA plus 83% NRV of Vitamin E. Manufactured in the UK. Fantastic value.
From £13.95
View Product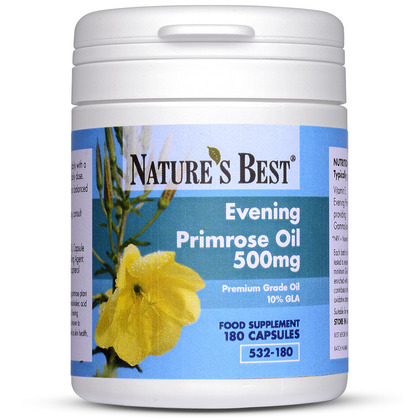 Evening Primrose Oil 500mg
5/5 based on

50 customer reviews
A pure oil with a guaranteed 10% GLA
These are smaller easy-to-swallow vegetarian capsules containing pure refined oil with 10% of GLA. Great value for a high quality oil.
£7.95
Add to basket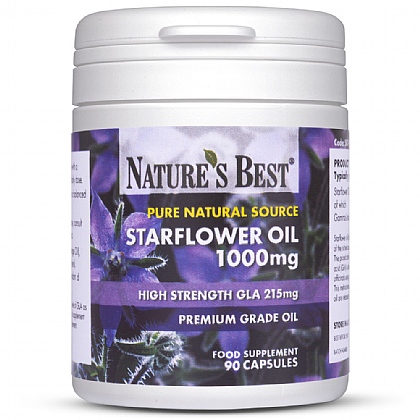 Starflower Oil 1000mg
4.9/5 based on

136 customer reviews
The UK's strongest GLA, with 220mg in each capsule
A great one-a-day product with a massive 22% GLA giving 220mg per capsule. Vegetarian capsules.
£12.95
Add to basket
"This product is awful for coeliacs "
By
leanne walton
, 14 Sep 2019
The vit E in this product is not suitable for coeliacs. It taken me 2 weeks to get back on track.
Recommend to a friend: No
Thank you for taking the time to leave a review.

New regulations on food labelling (EU FIC) which were introduced in 2014 now mean that fourteen of the most common allergens must be emphasised on the label of a product, in bold. These allergens are; egg, peanuts, fish, sesame seeds, milk, cereals containing gluten, crustaceans, celery and celeriac, mustard, molluscs, lupin, tree nuts, soya and sulphur dioxide/sulphites. We have updated our labels to comply with this new requirement and if these allergens are not shown on the label then they will not be included in the supplement. I can confirm that this product is free from gluten containing ingredients.

I am sorry to hear that you feel this product has not suited you. I have contacted you directly to discuss this further.

Nature's Best Customer service:
How much has this product helped you?
"Used this Product for years from Natures Best"
By
Hitesha Pattni
, 12 Sep 2019
great product, has all the natural ingredients, works exactly as it should and i have been using it for years.
Recommend to a friend: Yes
How much has this product helped you?
"Extremely effective"
By
Anonymous
, 26 Jun 2019
Was recommended by surgeon to take a high daily dossage of Evening Primrose due to pain from cysts in breasts-Been taking them for years and has definately worked, keeps pain away & on the occasions pain has returned dosage doubled for a period of a week as suggested by surgeon. Would absolutely recommend, works for me & wouldn''t stop taking them
Recommend to a friend: Yes
How much has this product helped you?
"Evening Primrose Oil with Starflower 1000mg"
By
Suratun Ali
, 23 Jun 2019
For additional continuous health remedy.
Recommend to a friend: Yes
How much has this product helped you?
"Love this product "
By
Caroline Esposito
, 05 Apr 2019
I've taken these capsules for over 10 years now. I had bad moods every time of the month, so decided to research what could help. Came across this product and I can honestly say it really helps with my moods. My partner notices no difference in my moods at that time of the month.

Recommend to a friend: Yes
How much has this product helped you?