Multi Vitamin and Mineral for dogs
Unique multi with unrivalled levels of nutrients for optimum health
Formulated by experts based on nutrition, not cost
High level of trace minerals and broader spread than most pet shop brands
Easy dosing regime,designed to meet the needs of all sizes of dogs
Product ID: 199
Formulated by experts based on nutrition, not cost
High level of trace minerals and broader spread than most pet shop brands
Easy dosing regime,designed to meet the needs of all sizes of dogs

Product Information
Whilst pet foods undoubtedly give your dog the calories it needs for energy, food processing and storage destroy much of their goodness, making it difficult to ensure that they receive all the nutrients from food alone.

This unique new multi for dogs has been formulated by experts to ensure your dog receives all the essential micro-nutrients it needs for optimum health. It contains a wide range of vitamins and minerals including the antioxidant vitamins A, C and E as well as trace minerals including zinc and selenium at levels unrivalled in many other pet formulas.

In the dogs we gave it to, 7 out of 10 took this multi readily and the others happily took it with food. Each beef flavoured tablet has a break line making them easy to administer, but if you are unsure if your dog will take them then please send us an email and we will send a few sample tablets for you both to try.


Daily Intake
Directions for use for DogsSize of Dog:Puppy (6-12 months): 1/2 tablet Small dog (0-10kg): 1 tabletMedium dog (10-25kg): 2 tablets Large/Extra Large dog (25kg+): 2 tabletsFor best results tablets should be added whole or crumbled into moist food and then mixed in well.
A bowl of fresh water should always be available.
Do not exceed recommended daily intake.
Formula
Vitamin E (dl-alpha Tocopherol)
37.25iu
Vitamin C (Ascorbic Acid)
20mg
Thiamine Mononitrate (Vitamin B1)
0.25mg
Riboflavin (Vitamin B2)
0.45mg
Niacin as Nicotinamide (Vitamin B3)
0.6mg
Vitamin B6 as Pyridoxine Hydrochloride
0.25mg
Vitamin B12 (Cyanocobalamin)
5µg
Calcium Pantothenate as Pantothenic Acid (Vitamin B5)
1mg
Iron (Ferrous Fumarate)
4mg
Iodine (Potassium Iodide)
60µg
Selenium (Sodium Selenite)
25µg
Ingredients
Composition:
Microcrystalline Cellulose, Yeast, Silicon Dioxide, Stearic Acid, Beef Flavoured, Magnesium Stearate.
Analytical Constitutents .(%):
Protein 10.6, Crude Fibre 33, Fat Content 3.9, Crude Ash 39.8
Cautions/Allergies
For animal use only. This product is for intermittent or supplemental feeding only.
You Could Also Consider These Pet Nutrition Products
Great Combinations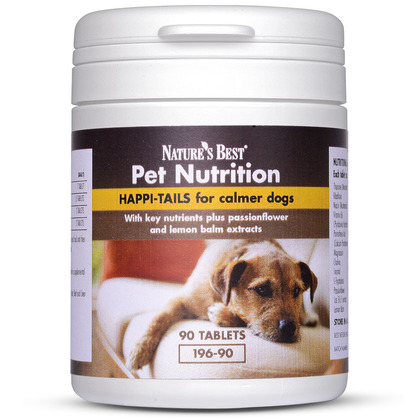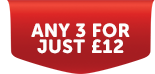 Happi-Tails for Calmer Dogs
4.6/5 based on

57 customer reviews
For calmer, happier dogs
Relieves anxiety and promotes calming. Easy to give due to its delicious beef and liver flavour.
£7.95
Add to basket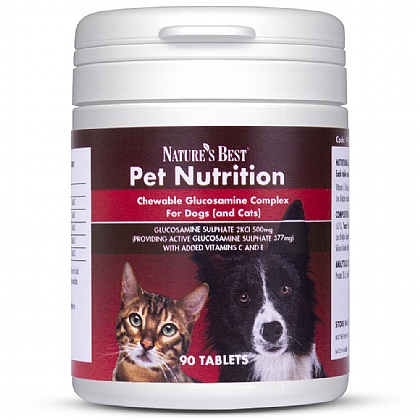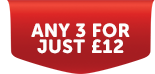 Glucosamine Complex for Dogs
4.9/5 based on

275 customer reviews
Perfect partner to Pet Omegas
With a unique combination of ingredients; glucosamine sulphate, vitamins C and E, this makes an ideal supplement for dogs.
£7.50
Add to basket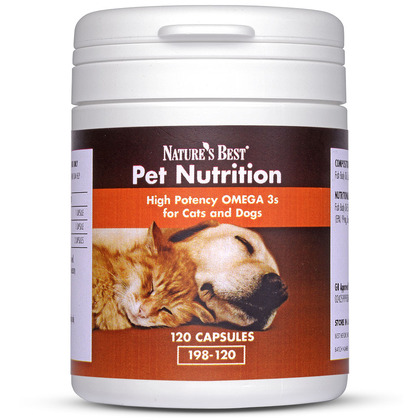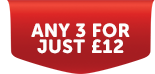 Omega 3s for cats and dogs
4.9/5 based on

172 customer reviews
For glossy coats and healthy joints
For healthy joints and glossy coats. Omega 3's are routinely recommended by vets. These capsules are higher strength than pet shop brands.
£6.50
Add to basket
By
John Ogle
, 16 Mar 2020
Its contents are helpful in maintaining my dog''s health.
Recommend to a friend: Yes
How much has this product helped you?
"Great Success"
By
Anonymous
, 03 Mar 2020
Both our Norfolk Terriers seem to be much happier and healthier since they''ve been taking these vitamin pills
Recommend to a friend: Yes
How much has this product helped you?
"Great product"
By
Anonymous
, 21 Feb 2020
Proven to be very good

Recommend to a friend: Yes
How much has this product helped you?
By
Kay Vogt
, 15 Feb 2020
My coat is better my eyes are brighter and I can bark much louder
Recommend to a friend: Yes
How much has this product helped you?
"My dogs are getting the vitamins they need for good health"
By
Anonymous
, 13 Feb 2020
It feels good to know my dogs ate getting the vitamins they need for growth and health in just 2 tablets which they eat no problem.
Recommend to a friend: Yes
How much has this product helped you?