Happi-Tails for Calmer Dogs
For calmer, happier dogs
Designed specifically to relieve anxiety and promote calming
Easy to give due to its delicious beef and liver flavour
A great blend of key nutrients known for their calming properties
Easy to add whole or crumble into moist food
Just like humans, dogs can suffer from stress and anxiety now and then. Pets are sometimes bothered by changes in routine or environment. They can also become stressed or over excited by situations such as storms, fireworks or travel. This is why it`s so important to have a great product you can turn to which helps promote a feeling of calm and well-being during these times.
With B vitamins renowned for their nervous system support
Magnesium, for normal muscle/nerve function
Extracts of passionflower and lemon balm, two well-known
L-Tryptophan, an essential amino acid for its calming properties
HAPPI-TAILS IS RECOMMENDED FOR –
All dogs of all ages, sizes and breeds. Please note dosage information for size of dog.

Product Information
Daily Intake
Directions for use for dogs (daily):Small dog 0-10kg - 1.5 tabletsMedium dog 10-25kg - 2 tabletsLarge / Extra Large dog 25kg+ - 2 tablets

For best results tablets should be added whole or crumbled into moist food and then mixed in well.
A bowl of fresh water should always be available. Do not exceed recommended daily intake.
Formula
Thiamine (Mononitrate)
0.15mg
Niacin (Nicotinamide)
0.6mg
(Pyridoxine Hydrochloride)
Ingredients
Composition:
Calcium Carbonate, Microcrystalline Cellulose, Magnesium Sulphate, Yeast, Beef and Liver Flavoured, Silicon Dioxide, Stearic Acid, Magnesium Stearate, L-Tryptophan (3.7%), Passionflower Extract (0.45%), Lemon Balm Extract (0.36%).
Analytical Constituents (%):
Protein 8.51, Crude Fibre 12, Fat Content 1.9, Crude Ash 46.6, Moisture 4.
Suitable for / Cautions
Suitable For
A complementary food for use in dogs only.
Cautions/Allergies
For animal use only. This product is for intermittent or supplemental feeding only.
Great Combinations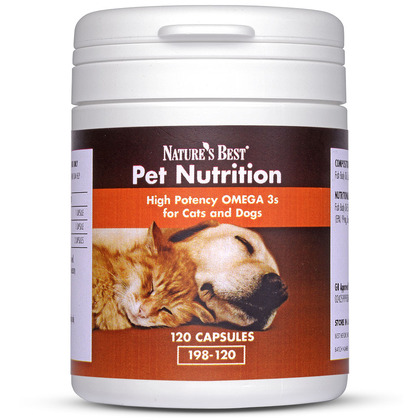 Omega 3s for cats and dogs
4.9/5 based on

127 customer reviews
For glossy coats and healthy joints
For healthy joints and glossy coats. Omega 3's are routinely recommended by vets. These capsules are higher strength than pet shop brands.
£6.50
£5
Add to basket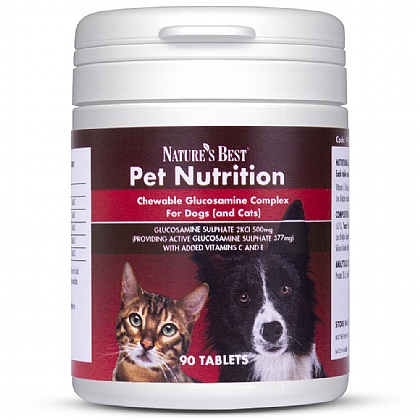 Glucosamine Complex for Dogs
4.9/5 based on

194 customer reviews
Perfect partner to Pet Omegas
With a unique combination of ingredients; glucosamine sulphate,
vitamins C and E, this makes an ideal supplement for dogs.
£6.95
£5.95
Add to basket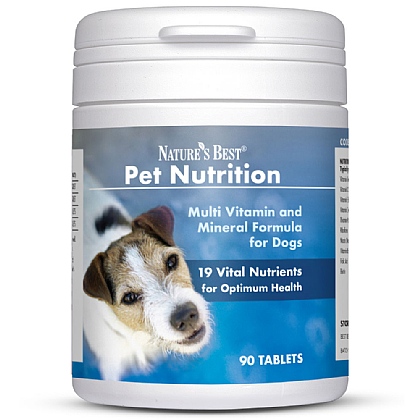 Multi Vitamin and Mineral for dogs
4.9/5 based on

93 customer reviews
Unique multi with unrivalled levels of nutrients for optimum health
The most comprehensive multi for dogs available in the UK. Formulated by experts to provide those nutrients that might be missing from their diets.
£5.95
£4.95
Add to basket
You Could Also Consider These Pet Nutrition Products
Happi-Tails for Calmer Dogs
"Excellent Tablets to Calm Your Over Active Pet"
By
Anonymous
, 04 Jan 2019
I bought these for my German Shepherd puppy. He is boisterous and over active. I have a fox terrier mix and I though she was over active but compared to the new puppy, she lives life in the slow lane.

After I tried these, I can say that the pup has moments of tranquility that I have not seen before. Do not get me wrong. He is not tranquil all the time but he is less of a handful and, his brother and sisters (I have four (4) dogs) will surely agree since they no longer go into hiding when they see him coming.
Recommend to a friend: Yes
How much has this product helped you?
Happi-Tails for Calmer Dogs
"This product was very effective"
By
Karin Hansen
, 02 Jan 2019
My dog is afraid off firework
Recommend to a friend: Yes
How much has this product helped you?
Happi-Tails for Calmer Dogs
"Worked but not completely "
By
Richard Parkinson
, 06 Dec 2018
The first day the dog seemed almost sedated. Since then a mininimal affect in his nervous habits and boisterous behaviour. Persevering to see if it has a longer term result.
Recommend to a friend: Don't know
Thank you for taking the time to leave a review.

We do advise that this product is used at the recommended dose for three months before reassessing. Perhaps you would be kind enough to leave another review after this time.
Nature's Best Customer service:
How much has this product helped you?
Happi-Tails for Calmer Dogs
"Excellent product"
By
Gerald Napper
, 04 Dec 2018
Our dog came from a rescue centre and was very nervous
these tablets have really helped to calm him
Recommend to a friend: Yes
How much has this product helped you?
Happi-Tails for Calmer Dogs
"Happi-Tails is fab"
By
Anonymous
, 05 Oct 2018
The dog seems to respond to these.He is young and pretty hyper-active but with lots of attention and exercise he calms down a bit.he had lead walks only as I was in London for 2 weeks and didn''t become overly excitable with other dogs or excitable in the house.they seem to have calmed him down considerably.someone said to me,''is that the mad dog,he seems much quieter''.he will be 2 and a half soon so with the ageing process and happiness tails hopefully he will stay on the good side of lively
Recommend to a friend: Yes
How much has this product helped you?