HAPPI-TAILS for calmer dogs
For calmer, happier dogs
ANY 3 FOR £12
Designed specifically to relieve anxiety and promote calming
Easy to give due to its delicious beef and liver flavour
A great blend of key nutrients known for their calming properties
Easy to add whole or crumble into moist food
Just like humans, dogs can suffer from stress and anxiety now and then. Pets are sometimes bothered by changes in routine or environment. They can also become stressed or over excited by situations such as storms, fireworks or travel. This is why it`s so important to have a great product you can turn to which helps promote a feeling of calm and well-being during these times.
HAPPI-TAILS IS RECOMMENDED FOR –
All dogs of all ages, sizes and breeds. Please note dosage information for size of dog.

Product Information
Daily Intake
Directions for use for dogs (daily):Small dog 0-10kg - 1.5 tabletsMedium dog 10-25kg - 2 tabletsLarge / Extra Large dog 25kg+ - 2 tablets

For best results tablets should be added whole or crumbled into moist food and then mixed in well.
A bowl of fresh water should always be available. Do not exceed recommended daily intake.
Formula
Thiamine (Mononitrate)
0.15mg
Niacin (Nicotinamide)
0.6mg
(Pyridoxine Hydrochloride)
Ingredients
Composition:
Calcium Carbonate, Microcrystalline Cellulose, Magnesium Sulphate, Yeast, Beef and Liver Flavoured, Silicon Dioxide, Stearic Acid, Magnesium Stearate, L-Tryptophan (3.7%), Passionflower Extract (0.45%), Lemon Balm Extract (0.36%).
Analytical Constituents (%):
Protein 8.51, Crude Fibre 12, Fat Content 1.9, Crude Ash 46.6, Moisture 4.
Suitable for / Cautions
Suitable For
A complementary food for use in dogs only.
Cautions/Allergies
For animal use only. This product is for intermittent or supplemental feeding only.
Great Combinations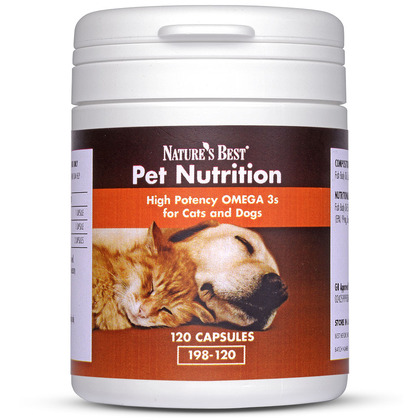 Omega 3s for cats and dogs
4.9/5 based on

109 customer reviews
For glossy coats and healthy joints
For healthy joints and glossy coats. Omega 3's are routinely recommended by vets. These capsules are higher strength than pet shop brands.
£6.50
Add to basket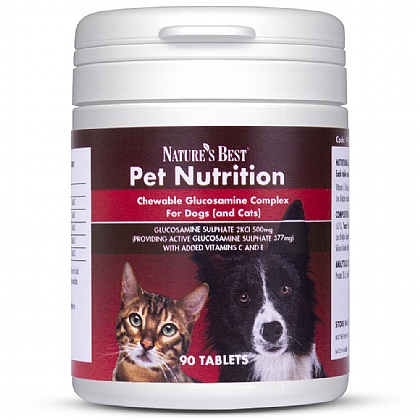 Glucosamine Complex for Dogs
4.9/5 based on

150 customer reviews
Perfect partner to Pet Omegas
With a unique combination of ingredients; glucosamine sulphate,
vitamins C and E, this makes an ideal supplement for dogs.
£6.95
Add to basket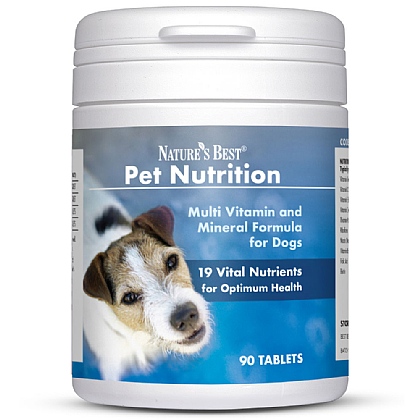 Multi Vitamin and Mineral for dogs
5/5 based on

82 customer reviews
Unique multi with unrivalled levels of nutrients for optimum health
The most comprehensive multi for dogs available in the UK. Formulated by experts to provide those nutrients that might be missing from their diets.
£5.95
Add to basket
You Could Also Consider These Pet Nutrition Products
HAPPI-TAILS for calmer dogs
"Helping With Stress And Lack On Confidence"
By
Gina Placzek
, 17 Jul 2018
Previously used this product on my dog with little affect. However, I have started to use again due to a loss of confidence in my dog due to a dog attack. Using this longer term has helped her to begin to be less stressed and is now starting to trust other dogs again.
Recommend to a friend: Yes
How much has this product helped you?
HAPPI-TAILS for calmer dogs
"Early days"
By
Anonymous
, 06 Jul 2018
Our dog is a four year old rescue cross-breed, (Pug/Border Terrier) and stresses very easily. For example, the postman calls, we have a visitor, the phone rings, or any unusual noise outside.Since taking these tablets daily for 2 weeks, even though we still have prolonged barking, he is becoming easier to calm down and pays more attention to what we say to him. We intend to continue giving him these tablets in his daily feed and hopefully we''ll be able to report further improvement in the future.
Recommend to a friend: Yes
How much has this product helped you?
HAPPI-TAILS for calmer dogs
"calmer dog "
By
david groom
, 01 Jul 2018
our dog is a bit nervous so thought we would try this worked in couple of days she seems lot happier and not as nervous
Recommend to a friend: Yes
How much has this product helped you?
HAPPI-TAILS for calmer dogs
"Very effective "
By
Anonymous
, 27 Jun 2018
We have a very nervous border collie and we were traveling from the UK to Portugal by car and needed something to calm him down.
These tablets worked very well. He travelled very well with no problems. We travelled for 3 days and he was fine. I would fully recommend.
Recommend to a friend: Yes
How much has this product helped you?
HAPPI-TAILS for calmer dogs
"Wish more dog owners knew about this!"
By
Caroline White
, 15 Jun 2018
Our dog has become more calm in general as he''s matured, but this has taken him to a new level of ''chilled''. He is much more agreeable.
For example, he used to get nervous excitement when meeting his doggy pals and became overtired (like a toddler) through overplaying which sometimes resulted in an unscheduled loose bowel movement on the way home. This has stopped and he''s less conflicted about calling an end to playtime!
Recommend to a friend: Yes
How much has this product helped you?