Glucosamine Complex for Dogs
Perfect partner to Pet Omegas
The purest glucosamine sulphate produced to strictest quality standards
Formulated by pet nutrition experts
Delicious beef flavour; easy to add whole/crumble into foods
The perfect partner to Pet Omegas supplement
These tasty beef flavoured tablets have been specially formulated with the help of experts, following requests from customers for us to introduce a glucosamine product to our range for pets. With a unique combination of ingredients; glucosamine sulphate, vitamins C and E, this makes an ideal supplement for dogs, helping to ensure they receive the optimum intake of these precious nutrients, whatever their age. Cats can also try them if they wish!
Glucosamine
– we use only the purest glucosamine sulphate, produced to the same strict GMP standards as our normal glucosamine range.
Vitamin E
– this well known vitamin contributes to the protection ofthe body's cells from oxidative stress caused by reactive compounds called 'free radicals'. And we've added a reasonable level at just over 50% NRV.
Vitamin C
- a gentle, non acidic form of vitamin C as calcium ascorbate, that is kind to your pet's teeth and gentle on their tummy. Each tablet contains over 60% NRV. Each tablet can be added whole, crumbled over their food or even given to them as a treat!

Product Information
Daily Intake
Cats - 1 tablet
Puppy 6-12 months - 1 tablet
Small dog 0-10kg - 1 tablet
Medium Dog 10-25kg - 2 tablets
Large / Extra-large dog 25kg+ - 3 tablets

For best results tablets should be added whole or crumbled into moist food and then mixed in well.
A bowl of fresh water should always be available.
Do not exceed recommended daily intake.
Ingredients
Nutritional Additives:
Each tablet contains:
Vitamin C (as Calcium Ascorbate)
10iu Vitamin E (as dl-alpha tocopherol).

Composition:
Glucosamine Sulphate 2KCl (from shellfish) (61%), Yeast, Vitamin C (as Calcium Ascorbate), Vitamin E (as dl-alpha Tocopherol), Beef Flavoured, Stearic Acid, Silicon Dioxide, Magnesium Stearate.

Analytical Composition (%)
Protein 30.6, Crude Fibre 8.8, Fat Content 2.3, Crude Ash 22.
Suitable for / Cautions
Suitable For
A complementary food for use in dogs and cats only.
Cautions/Allergies
For animal use only. This product is for intermittent or supplemental feeding only.
For allergens see ingredients listed in bold
This product is free from wheat, yeast, dairy, soya and nuts.
Great Combinations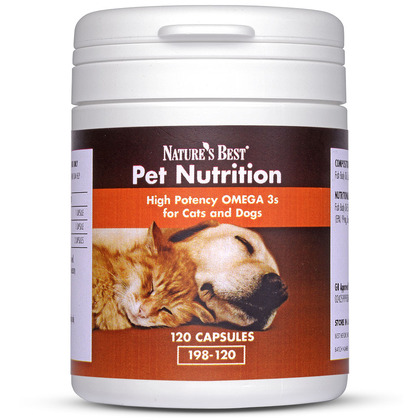 Omega 3s for cats and dogs
4.9/5 based on

127 customer reviews
For glossy coats and healthy joints
For healthy joints and glossy coats. Omega 3's are routinely recommended by vets. These capsules are higher strength than pet shop brands.
£6.50
£5
Add to basket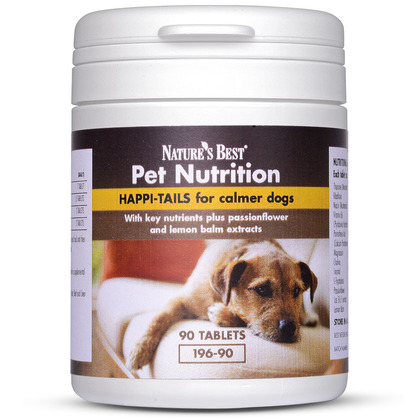 Happi-Tails for Calmer Dogs
4.7/5 based on

35 customer reviews
For calmer, happier dogs
Relieves anxiety and promotes calming. Easy to give due to its delicious beef and liver flavour.
£7.95
£6.95
Add to basket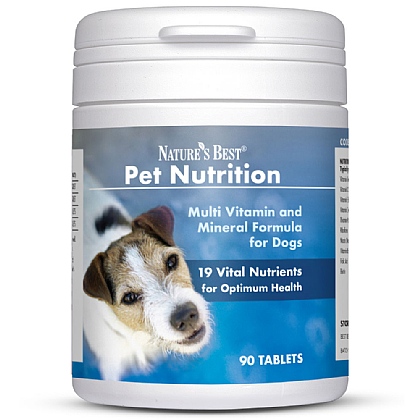 Multi Vitamin and Mineral for dogs
4.9/5 based on

93 customer reviews
Unique multi with unrivalled levels of nutrients for optimum health
The most comprehensive multi for dogs available in the UK. Formulated by experts to provide those nutrients that might be missing from their diets.
£5.95
£4.95
Add to basket
You Could Also Consider These Pet Nutrition Products
Glucosamine Complex for Dogs
"Amazing Cant Believe How Good These Supplements Are"
My nearly 10 year old Lab has been struggling with his joints for a year or more. I tried all sorts of joint tablets and i can say "THESE WORK" My boy has a spring in his step and is bounding around like a puppy. I am so happy to have finally found a site with genuine reviews.
My boy has arthritis in all his joints and to see the change over the past week is amazing.
Recommend to a friend: Yes
How much has this product helped you?
Glucosamine Complex for Dogs
"Fantastic results "
By
Alexandra Fraser
, 15 Jan 2019
I have a 13 yr old Jack Russell who is struggling to get up stairs and is very stiff when trying to get up from a long sleep. Did some online research and found these tablets to help. What a difference taking these has made she's chasing and fetching balls, the stairs are no longer a problem for her and in general she seems to be more mobile. Would definitely recommend this product.
Recommend to a friend: Yes
How much has this product helped you?
Glucosamine Complex for Dogs
"great"
By
ann lowe
, 14 Jan 2019
this product is the best my dog spotas stiffness in her legs and this as helped her tremendously would reccomend to others will be ordering more thanks .
Recommend to a friend: Yes
How much has this product helped you?
Glucosamine Complex for Dogs
By
Eleanor Brewer
, 14 Jan 2019
I brought this for my dog Nellie as she has arthritis in her front legs and these have really helped her a very good product
Recommend to a friend: Yes
How much has this product helped you?
Glucosamine Complex for Dogs
"This has made a huge improvement to my dogs quality of life"
By
Anonymous
, 13 Jan 2019
I have a 14 year old Springer Spaniel who still has lots of spring and really enjoys his walks. Unfortunately he has arthritis and was really struggling with stiff legs, sometimes unable to get up if he''d been for a walk.
Since starting on these tablet the change has been absolutely amazing!
No more stiffness and a much happier dog. Can''t recommend them enough.
Recommend to a friend: Yes
How much has this product helped you?