Glucosamine Complex for Dogs
Perfect partner to Pet Omegas
The purest glucosamine sulphate produced to strictest quality standards
Formulated by pet nutrition experts
Delicious beef flavour; easy to add whole/crumble into foods
The perfect partner to Pet Omegas supplement
Product ID: 197
The purest glucosamine sulphate produced to strictest quality standards
Formulated by pet nutrition experts
Delicious beef flavour; easy to add whole/crumble into foods
The perfect partner to Pet Omegas supplement

Product Information
These tasty beef flavoured tablets have been specially formulated with the help of experts, following requests from customers for us to introduce a glucosamine product to our range for pets. With a unique combination of ingredients; glucosamine sulphate, vitamins C and E, this makes an ideal supplement for dogs, helping to ensure they receive the optimum intake of these precious nutrients, whatever their age. Cats can also try them if they wish!

Glucosamine – we use only the purest glucosamine sulphate, produced to the same strict GMP standards as our normal glucosamine range.

Vitamin E – this well known vitamin contributes to the protection ofthe body's cells from oxidative stress caused by reactive compounds called 'free radicals'. And we've added a reasonable level at just over 50% NRV.

Vitamin C - a gentle, non acidic form of vitamin C as calcium ascorbate, that is kind to your pet's teeth and gentle on their tummy. Each tablet contains over 60% NRV. Each tablet can be added whole, crumbled over their food or even given to them as a treat!


Daily Intake
Cats - 1 tablet
Puppy 6-12 months - 1 tablet
Small dog 0-10kg - 1 tablet
Medium Dog 10-25kg - 2 tablets
Large / Extra-large dog 25kg+ - 3 tablets

For best results tablets should be added whole or crumbled into moist food and then mixed in well.
A bowl of fresh water should always be available.
Do not exceed recommended daily intake.
Formula
Glucosamine Sulphate 2KCL
500mg
Containing: Glucosamine Sulphate
377mg
Providing: Glucosamine Base
295mg
Ingredients
Nutritional Additives:
Each tablet contains:
Vitamin C (as Calcium Ascorbate)
10iu Vitamin E (as dl-alpha tocopherol).

Composition:
Glucosamine Sulphate 2KCl (from shellfish) (61%), Yeast, Vitamin C (as Calcium Ascorbate), Vitamin E (as dl-alpha Tocopherol), Beef Flavoured, Stearic Acid, Silicon Dioxide, Magnesium Stearate.

Analytical Composition (%)
Protein 30.6, Crude Fibre 8.8, Fat Content 2.3, Crude Ash 22.
Suitable For
A complementary food for use in dogs and cats only.
Cautions/Allergies
For animal use only. This product is for intermittent or supplemental feeding only.
For allergens see ingredients listed in bold
This product is free from wheat, dairy, soya and nuts.
You Could Also Consider These Pet Nutrition Products
Great Combinations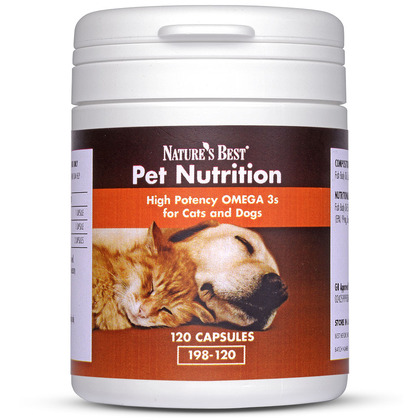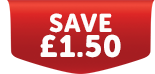 Omega 3s for cats and dogs
4.9/5 based on

167 customer reviews
For glossy coats and healthy joints
For healthy joints and glossy coats. Omega 3's are routinely recommended by vets. These capsules are higher strength than pet shop brands.
£6.50
£5
Add to basket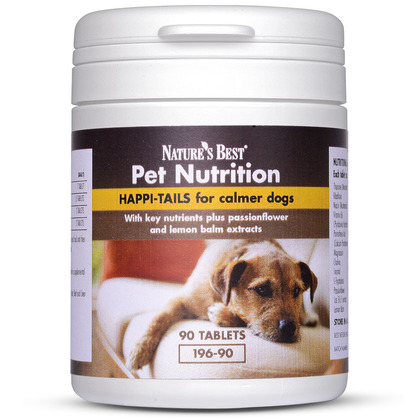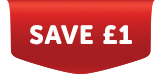 Happi-Tails for Calmer Dogs
4.6/5 based on

55 customer reviews
For calmer, happier dogs
Relieves anxiety and promotes calming. Easy to give due to its delicious beef and liver flavour.
£7.95
£6.95
Add to basket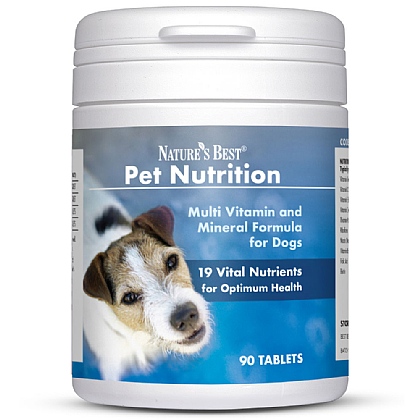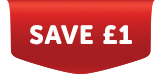 Multi Vitamin and Mineral for dogs
4.9/5 based on

105 customer reviews
Unique multi with unrivalled levels of nutrients for optimum health
The most comprehensive multi for dogs available in the UK. Formulated by experts to provide those nutrients that might be missing from their diets.
£5.95
£4.95
Add to basket
"Very effective once got into my dogs system "
By
Anonymous
, 22 Jan 2020
My dogs takes them easy no need to wrap them in anything as a beef flavour. Once into her system which was roughly 3 weeks wow what a difference she's like a new dog, she was just starting with having trouble getting up in a morning with her hips and back legs and has certainly helped.
Recommend to a friend: Yes
How much has this product helped you?
"This product seems to help one of my dogs"
By
Pat Venus
, 21 Jan 2020
I buy this for one of my dogs who at age 11 getssabit stiff on his shoulder also he's on a light diet because of IBS he doesn't get the vitamins he needs as he would with dog meat
Recommend to a friend: Yes
How much has this product helped you?
"Appears to be working!!"
By
DP Norfolk
, 20 Jan 2020
We have a 7.5 year old Rhodesian Ridgeback who in the past 12 months started getting reoccurring lameness and after seeing an orthopaedic specialist diagnosed a ruptured tendon in the foot. This improved with rest but will never be 100%. However I've been giving him 3 tablets 1500mg a day which is the dose for his weight (incidentally also what my rheumatologist told me to take) for 3-4 months and we have had no incidents of lameness since then at all. It definitely seems to help and a friend who has an older dog with arthritis also has found the same remarkable improvement. Just a point - our dog has a very sensitive stomach and with 2 tablets dose at first he had a bit of an upset tummy but then I started at one with a meal then gradually increased up to two in morning and one in evening and he's been fine with it! Worth a try if your dog is suffering....!
Recommend to a friend: Yes
How much has this product helped you?
"Effective Product"
By
Anonymous
, 19 Jan 2020
Very happy with results, we feel our 15 year old dog has improved mobility on this product. We have tried more expensive products and seen no improvement.
Recommend to a friend: Yes
How much has this product helped you?
By
Christine Humphreys
, 16 Jan 2020
Because it is the best on the market for arthritic dogs. Our old Labrador has suffered from arthritis for a few years & the vet gave her metacam which upset her digestive system badly. We were recommended to try Glucosamine who had used it for his old dog & it is working wonders for Lucy. A bit to go yet but she has a much better quality of life.
Recommend to a friend: Yes
Thank you for taking the time to leave a review.

If you are not already doing so, we would suggest that you keep your vet informed of any supplements that you are giving to your dog.

Nature's Best Customer service:
How much has this product helped you?