Premtis® For Women
With high strength Vitamin B6 Chromium and Magnesium
High strength multi, with vitamin B6, magnesium and chromium
Small, easy to swallow tablets
Unique formula that works; thousands of customers can't be wrong
Notice the difference or your money back!
Premtis
®
is a unique formula designed for women of menstruating age, and is one of the few multis available that has a high level of Vitamin B6 plus an impressive level of magnesium. The Vitamin B6 is included for its role in the regulation of hormonal activity, and the normal function of the nervous system. The magnesium is included because 7 out of 10 women have dietary intakes of this important mineral below the Nutrient Reference Value (NRV).
Premtis
®
is also a high potency multi, with all the most important micronutrients well represented. The other B Vitamins are important for their role in releasing energy from food, chromium for helping to avoid sugar cravings, zinc and vitamin C for the immune system, and iron to replace the monthly loss. There is also plenty of Vitamin D, which has been much in the news recently.

Product Information
Daily Intake
Take 2 tablets daily with a meal. Do not exceed recommended daily dose.
Food supplements should not replace a balanced diet and healthy lifestyle.
Formula
Ingredients
Magnesium Oxide, DiCalcium Phosphate, Calcium Carbonate, Cellulose, Vitamin C (Ascorbic Acid), Vitamin B6 (Pyridoxine Hydrochloride), Methylcellulose, Tablet Coating (Colours: Titanium Dioxide & Iron Oxides, Methylcellulose), Glycerin), Zinc Citrate, Iron (Ferrous Fumarate), Vitamin E (dl-alpha Tocopherol Acetate), Stearic Acid, Silicon Dioxide, Niacin (Nicotinamide), Magnesium Stearate, Thiamine Mononitrate, Riboflavin, Crosslinked Cellulose Gum, Pantothenic Acid (Calcium Pantothenic Acid), Vitamin A Acetate*, Vitamin D3*, Vitamin K1, Selenium (L-Selenomethionine & Sodium Selenite), Copper Sulphate, Chromium Chloride, Folic Acid, Potassium Iodide, Vitamin B12 (Cyanocobalamin).

*with antioxidant dl-alpha Tocopherol
Suitable for / Cautions
Suitable For
This product is suitable for all adults. This product is suitable for vegetarians.
Cautions/Allergies
This product is free from wheat, yeast, dairy, soya, nuts and shellfish.
This product is free from gluten containing ingredients.
This product contains iron, which, if taken in excess, may be harmful to very young children. Keep out of sight and reach.
This product is not suitable during pregnancy or breast feeding.
You Could Also Consider These Multivitamins For Women Products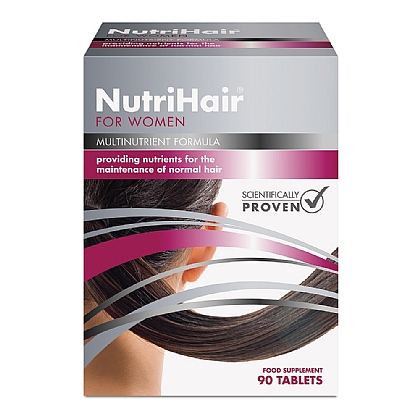 NutriHair® for Women
4.8/5 based on

47 customer reviews
A specialist multi for women to help maximise hair growth
A clinically researched supplement for women who are experiencing increased hair shedding. Contact us to request a free booklet on 'Understanding Hair Loss in Women'.
£35.90
£30
View Product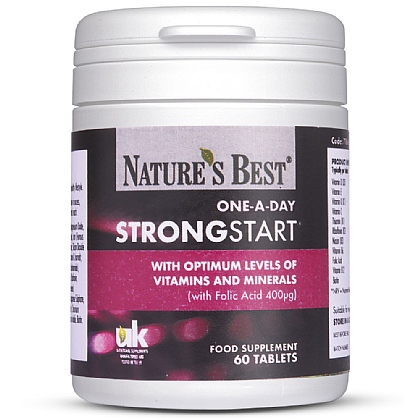 StrongStart®
5/5 based on

8 customer reviews
One-a-day multi for pregnancy with folic acid and Vitamin D.
Strongstart® provides all the essential micronutrients required for before and during pregnancy including vitamin B3 and folic acid. The perfect partner to a fish oil supplement.
£10.50
Add to basket
Premtis® For Women
"I Will Not Stop Taking These Again!"
I don't think anyone realises how powerful vitamins can be. Was using these for quite some time as I suffer with endometriosis type symptoms. I stopped taking them for 2 months whilst I took some immune system vitamins that I came across. My hormones became completely out of whack. I went to a serious state of depression which would put me off work a few days before my period. The Gp and a consultant were saying it would be ideal for me to go on the pill but I wasn't comfortable with that. Starting thinking, could it be a coincidence that it's happened since I stopped taking Premtis for 2 months? Back on them properly for a few weeks and my next period wasn't so bad. I'm not going to stop taking these again!
Recommend to a friend: Yes
How much has this product helped you?
Premtis® For Women
"Superb "
By
Anonymous
, 27 Dec 2017
I have used these vitamins now for 6 months packed with the essentials I suffer from Illness and these have helped so much ..... more than above average for me!!!!
Recommend to a friend: Yes
How much has this product helped you?
Premtis® For Women
"Premtis "
By
Anonymous
, 03 Oct 2017
Why do you use this product Premtis® ?
Recently I've been feeling very lethargic and rundown. Thought I'd try a supplement to give me a boost and these were recommended to me. Have been taking them for a week now and I already feel a little better.

Recommend to a friend: Yes
How much has this product helped you?
Premtis® For Women
"Feeling Better Already!"
Why do you use this product Premtis® ?
I have recently had the contraceptive implant removed on 19th June 2017 after being on this form of contraception for 5 years. The first month I tried to let my body get back to normal on it's own, but my moods were terrible I was stressed and anxious and couldn't help but cry all the time. It was causing problems in my home life and work life so decided to look for a balancer to try and get me back to normal. Started Premtis on the 30th July and already seen some improvement, my skin is clearing slowly, my mood is more levelled and I can get through the day without crying. Early days but if I continue to see good results I will order another pot!
Recommend to a friend: Yes
How much has this product helped you?
Premtis® For Women
"Great Product!"
By
Dea Windross
, 10 Jul 2017
Why do you use this product Premtis® ? I'm in my late 30's and have been using Premtis for over 1 year now and I must say I wouldn't go without it. It has helped me lots with mood swings and excessive sugar cravings. My mood & hormones seem to be more balanced now and I don't crave sugar all the time. I'm really happy to have found something that works for me. Would highly recommend this product if you have similar symptoms.
Recommend to a friend: Yes
How much has this product helped you?