Iodine 150µg
Providing 100% of the NRV*
Small easy to swallow tablets
normal energy-yielding metabolism
Coated, taste-free tablets
Well absorbed potassium iodide form
Suitable for vegetarians, vegans and pregnant women
Product ID: 636
Small easy to swallow tablets
normal energy-yielding metabolism
Coated, taste-free tablets
Well absorbed potassium iodide form
Suitable for vegetarians, vegans and pregnant women

Product Information
These iodine tablets are a convenient way to add iodine to your diet. Each tablet provides 150µg of free elemental iodine in the form of potassium iodide.
Reassuringly, we use European Pharmacopia (EP) grade material to ensure a highly refined and controlled level of this important trace mineral; and with 150µg in each tablet this allows for a flexible dosing system whereby one to two tablets can be taken daily, depending on individual requirements.
The tiny amounts of iodine needed by the body play a vitally important role in our health and wellbeing. Interestingly, 75% of the body's iodine is stored in the thyroid gland. Iodine contributes to:
normal thyroid function and normal production of thyroid hormones.
normal energy-yielding metabolism.
maintenance of normal skin.
The richest sources of iodine are sea vegetables such as kelp (which can absorb significant amounts from seawater) and fish, although it can be difficult to obtain enough from fish, unless you it eat fish regularly. Dairy foods such as milk are also a rich source. In some countries, table salt is iodised but it is not routinely added to salt in the UK and the often-promoted sea salt form is not iodised. If you eat little or no fish or dairy then an iodine supplement is necessary, to plug any shortfalls in the diet. More recent research has highlighted pregnant women and those breastfeeding and teenage girls as groups that fall short of adequate intakes and should therefore look to take an iodine supplement.
*NRV (Nutrient Reference Value)
Daily Intake
As a food supplement take 1 to 2 tablets daily with a meal. Do not exceed recommended daily dose.
Food supplements should not replace a balanced diet and healthy lifestyle.
Formula
Ingredients
Calcium Carbonate, Microcrystalline Cellulose, Tablet Coating (Hydroxypropyl Methylcellulose, Glycerine), Anti-caking Agents (Silicon Dioxide & Magnesium Stearate), Stearic Acid, Iodine (Potassium Iodide).
Suitable for / Cautions
Suitable For
This product is suitable for all adults. This product is suitable for vegetarians and vegans.
Cautions/Allergies
This product is free from wheat, yeast, dairy, soya, nuts and shellfish.
This product is free from gluten containing ingredients.
You Could Also Consider These Iodine Products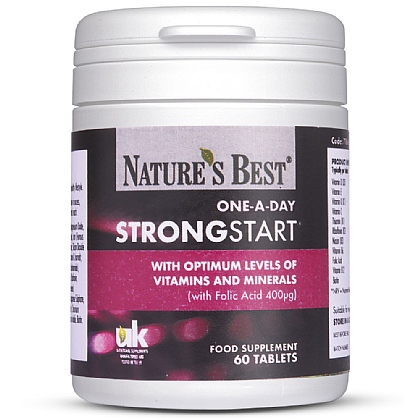 StrongStart®
4.8/5 based on

19 customer reviews
One-a-day multi for pregnancy with folic acid and Vitamin D.
Strongstart® provides all the essential micronutrients required for before and during pregnancy including vitamin B3 and folic acid. The perfect partner to a fish oil supplement.
£10.50
Add to basket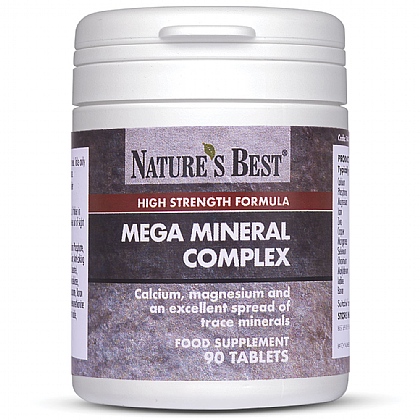 Mega Mineral Complex
4.8/5 based on

31 customer reviews
Highest strength multi mineral complex
Mega Mineral Complex is in a class of its own in terms of the minerals it supplies and is highly recommended. We have been unable to find another product that offers the same benefits.

This product offers an unbeatable combination of all the most important minerals including relevant amounts of the two mega minerals, calcium and magnesium, that are so often included in suplements at just token levels. In fact all of the minerals are present at relevant levels and this product can be taken with our high potency formula |Megavit//P602| to create a high potency supplement regime.

Recommended daily intake: 1-2 tablets
£13.50
Add to basket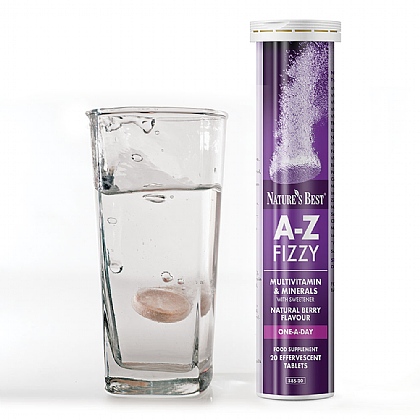 A-Z Fizzy Multivitamins & Minerals
4.9/5 based on

14 customer reviews
Natural Berry Flavour Effervescent Tablets
These dissolvable tablets easily mix into water for a tasty drink that all the family will love. Great for the elderly or those unable to swallow tablets.
From £5.50
View Product
"Good source of RDA of Iodine"
By
Frances Bristow
, 14 Oct 2019
I use this product because I have a plant based diet so need to supplement iodine as it is not available in my diet
Recommend to a friend: Yes
How much has this product helped you?
By
Avril Robinson
, 03 Sep 2019
Recommend to a friend: Yes
How much has this product helped you?
By
Anonymous
, 12 Jul 2019
I thought I might be deficient in iodine as I''m on a mainly vegan diet and don''t like seaweed. I think it is beginning to help as I feel less tired and my skin is less dry.
Recommend to a friend: Yes
How much has this product helped you?
By
Anonymous
, 18 May 2019
told it was good for thyroid
Recommend to a friend: Yes
How much has this product helped you?
By
Anonymous
, 12 May 2019
As a recent cancer patient and on hormone reducing medication I suffer from all sorts of problems. I''m hoping adding the iodine to my diet will help me feel better.
Many thanks
Recommend to a friend: Yes
Thank you for taking the time to leave a review.

If you are not already doing so, we would suggest that you keep your doctor informed of any supplements that you are taking.
Nature's Best Customer service:
How much has this product helped you?