Flax Seed Oil 1000mg
UK's strongest, fish free Omega 3s
Twice the level of alpha-linolenic acid, a massive 680mg of Omega 3 (ALA) per capsule
Taste-free vegetarian capsules, no aftertaste or odour
Fresher for being UK-made
Encapsulated and packed in the UK
Flax seed is one of the richest 'fish free' sources of Omega 3 fatty acids, having an amazing 68% Omega 3 by weight of alpha linolenic acid, which is converted by the body into the Omega 3s found in fish oil. With 680mg of alpha linolenic acid (ALA) per capsule, our flax seed capsules are one of the UK's strongest. So for vegetarians or people who don't like taking fish oils, flax seed oil is a great way to boost the levels of Omega 3 in the diet.
Each Nature's Best Flax Seed Oil capsule contains a fantastic 1000mg of pure flax seed oil, a level which for some people will actually double their intake of Omega 3s. The oil is cold pressed to ensure its nutritive properties are retained. Each soft gel vegetarian capsule delivers pure flax seed oil without any aftertaste or odour. Flax Seed Oil spoils quickly, so ours is delivered in opaque capsules with added vitamin E to prevent oxidation.
Flax seed has been cultivated for over seven thousand years and the oil is popular as part of a heart friendly diet. It can also help promote healthy skin, hair and nails.

Product Information
Daily Intake
Take 1 to 3 capsules daily with a meal.Take only as directed. Do not exceed recommended daily dose.
Food supplements should not replace a balanced diet and healthy lifestyle.
Formula
Alpha Linolenic Acid
680mg
Ingredients
Flaxseed Oil, Capsule Shell (Modified Starch, Glycerol, Gelling Agent: Carageenan, Colour: Iron Oxide), Antioxidant: d alpha Tocopherol.
Suitable for / Cautions
Suitable For
This product is suitable for all adults. This product is suitable for vegetarians and vegans. This product is suitable during pregnancy and breastfeeding.
Cautions/Allergies
This product is free from wheat, yeast, dairy, soya, nuts and shellfish.
This product is free from gluten containing ingredients.
You Could Also Consider These Flax Seed (Linseed) Products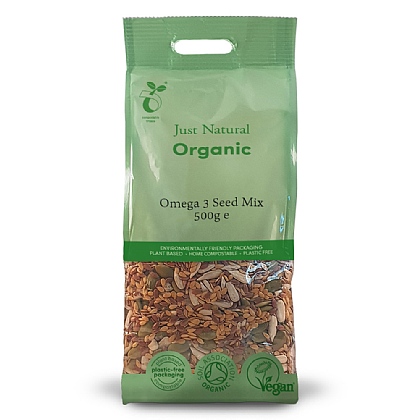 Omega Seed Mix
5/5 based on

89 customer reviews
Specially selected seed mix
The 'super seed' low GI mix of sunflower, pumpkin, linseed and sesame seeds all in one delicious mouthful for slow release energy.
£3.75
Add to basket
By
Anonymous
, 13 Feb 2019
Another excellent product for digestive health and to have a good source of Omega 3. Helps nail health and healthy skin.
Recommend to a friend: Yes
How much has this product helped you?
"This product is difficult to source."
By
Philip Jackson
, 04 Feb 2019
Really pleased to find this at such a good price. I take this because, although I am 64, I am still an active sportsman and I need to take care of my joints.
Recommend to a friend: Yes
How much has this product helped you?
"Easy to shollow and taste free"
By
Michele Hegarty
, 03 Jan 2019
It was recommended by the Eye Unit I attend. My Rheumatoid Arthritis has led to extremely dry eyes and this does seem to help, along with many eye drops

Recommend to a friend: Yes
How much has this product helped you?
"Very pleased with this product "
By
Darrell Harris
, 29 Dec 2018
Advised to by optician as I have dry eye.
Recommend to a friend: Yes
How much has this product helped you?
"A good alternative source, to fish oil...."
By
Robert Watson
, 29 Dec 2018
Flax seed oil has 680 mg of alpha-Linolenic acid. The body converts this to Omega 3 with EPA and DHA. The conversion favours the DHA to try and get a 1-1 ratio in the blood stream. There are only a few fish oil products that achieve a better ratio than this.
Recommend to a friend: Yes
Thank you for taking the time to leave a review.

The conversion of ALA to EPA and DHA can vary from person to person and is generally low. If you are looking to obtain a specific amount of DHA you may be better off opting for a Fish Oil supplement.
Nature's Best Customer service:
How much has this product helped you?