Flax Seed Oil 1000mg
UK's strongest, fish free Omega 3s
Twice the level of alpha-linolenic acid, a massive 680mg of Omega 3 (ALA) per capsule
Taste-free vegetarian capsules, no aftertaste or odour
Fresher for being UK-made
Encapsulated and packed in the UK
Flax seed is one of the richest 'fish free' sources of Omega 3 fatty acids, having an amazing 68% Omega 3 by weight of alpha linolenic acid, which is converted by the body into the Omega 3s found in fish oil. With 680mg of alpha linolenic acid (ALA) per capsule, our flax seed capsules are one of the UK's strongest. So for vegetarians or people who don't like taking fish oils, flax seed oil is a great way to boost the levels of Omega 3 in the diet.
Each Nature's Best Flax Seed Oil capsule contains a fantastic 1000mg of pure flax seed oil, a level which for some people will actually double their intake of Omega 3s. The oil is cold pressed to ensure its nutritive properties are retained. Each soft gel vegetarian capsule delivers pure flax seed oil without any aftertaste or odour. Flax Seed Oil spoils quickly, so ours is delivered in opaque capsules with added vitamin E to prevent oxidation.
Flax seed has been cultivated for over seven thousand years and the oil is popular as part of a heart friendly diet. It can also help promote healthy skin, hair and nails.
Product Information
Daily Intake
Take 1 to 3 capsules daily with a meal.Take only as directed. Do not exceed recommended daily dose.
Food supplements should not replace a balanced diet and healthy lifestyle.
Formula
Alpha Linolenic Acid
680mg
Ingredients
Flaxseed Oil, Capsule Shell (Modified Starch, Glycerol, Gelling Agent: Carageenan, Colour: Iron Oxide), Antioxidant: d alpha Tocopherol.
Suitable for / Cautions
Suitable For
This product is suitable for all adults. This product is suitable for vegetarians and vegans. This product is suitable during pregnancy and breastfeeding.
Cautions/Allergies
This product is free from wheat, yeast, dairy, soya, nuts and shellfish.
This product is free from gluten containing ingredients.
You Could Also Consider These Flax Seed (Linseed) Products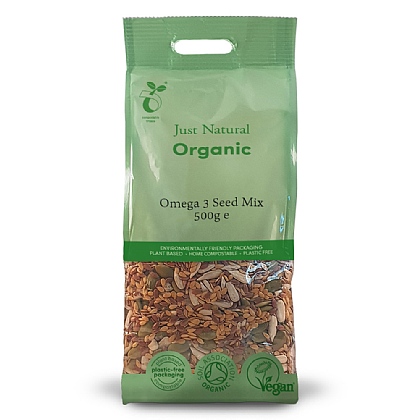 Omega Seed Mix
5/5 based on

73 customer reviews
Specially selected seed mix
The 'super seed' low GI mix of sunflower, pumpkin, linseed and sesame seeds all in one delicious mouthful for slow release energy.
£3.75
Add to basket
"Unmissable"
By
Anonymous
, 05 Jul 2018
A few years after I''d left home, my mother heard my joints squeaking one day and chided me for not continuing to take cod liver oil. I restarted using it and got better very quickly. Then, around the age of 55, I discovered Flax Seed Oil from Nature''s Best and found it to be even more efficient.
Recently some blood tests required me to stop taking any supplements for a couple of months, and boy did I notice the difference without Flax Seed Oil! I had pains in my joints and some of them felt like they were falling apart. I resumed a daily dose of 2 to 3 Flax Seed Oil capsules and within a few days was back to my normal limber self.
Unmissable! Thank you Nature''s Best.
Recommend to a friend: Yes
How much has this product helped you?
"A great way to get omega 3"
By
Robert F Watson
, 21 Jun 2018
Flax seed oil is a great way to get three times more omega 3 to a small amount of omega 6. Having it in capsules is better than buying it in liquid bottles.
Recommend to a friend: Yes
How much has this product helped you?
"Standard 1 gram of oil"
I have no dietary sources of omega oils so take two of these per day. There should be no observable effect from taking this, or any other brand of, oil as deficiency symptoms are generally not noticeable. However, as supplements are my only source, better safe than sorry.
Many of the benefits attributed to omega oils are fantasy.
Recommend to a friend: Don't know
How much has this product helped you?
"Works"
By
Joanne Baker
, 11 May 2018
Flaxseed stops the bloated feeling. Helps my digestion. Skin feels brighter. Hair healthier.
Recommend to a friend: Yes
How much has this product helped you?
By
Mike Maynard
, 08 May 2018
Recommend to a friend: Yes
How much has this product helped you?