Bromelain 500mg, Maximum Strength Enzyme Activity
1,250 GDU, 60 Tablets, 1+ month's supply
High strength bromelain, a level matching published studies
Accurately described enzyme activity; the only way to measure potency
Small vegetarian tablets that are taste-free
Makes the perfect partner to turmeric, fish oil and glucosamine
Product ID: 720
High strength bromelain, a level matching published studies
Accurately described enzyme activity; the only way to measure potency
Small vegetarian tablets that are taste-free
Makes the perfect partner to turmeric, fish oil and glucosamine
Product Information
Bromelain is a protein digesting enzyme extracted from the stem of fresh pineapples. It is perhaps best known for its use as a digestive enzyme, but attention has now focused on its use for helping sports people with sprains and strains.

This is a high potency Bromelain supplement with an enzyme activity quoted at 1250 GDU. This figure describes how active the enzyme is and many bromelain supplements do not have a level quoted on the label. It is therefore fair to assume that they will be very weak.

Bromelain works well on its own, but many experts recommend turmeric alongside bromelain as the two work together so well. Bromelain is also popular with people who take a glucosamine supplement.
Daily Intake
If taking with a digestive supplement, take 1 tablet before each main meal up to a maximum of 3 per day.If taking any other supplement (e.g. glucosamine, turmeric), take 3 tablets (1 between each meal) for one week.Thereafter a maintenance dose of 1 tablet daily can be taken for 3 to 6 months.Do not exceed recommended daily dose.
Food supplements should not replace a balanced diet and a healthy lifestyle.
Formula
Enzyme activity level
1250 GDU
Ingredients
Bromelain, Calcium Carbonate, Cellulose, Anti-caking Agents (, Silicon Dioxide, Stearic Acid & Magnesium Stearate), Crosslinked Cellulose Gum, Tablet Coating (Hydoxypropyl Methylcellulose, Glycerine).
Suitable For
This product is suitable for all adults. This product is suitable for vegetarians and vegans.
Cautions/Allergies
This product is free from wheat, yeast, dairy, soya, nuts and shellfish.
This product is free from gluten containing ingredients.
This product is not suitable during pregnancy or breast feeding.
You Could Also Consider These Digestive Enzymes Products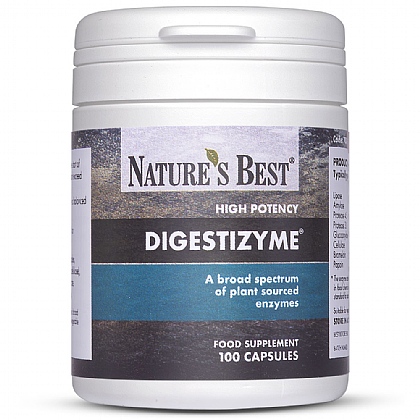 Digestizyme®, High Potency Digestive Enzymes
4.8/5 based on

156 customer reviews
To Help Digest Protein, Fat And Carbohydrates, 100 Capsules, 1+ month's supply
Feel bloated after meals? High potency, plant sourced enzymes, to help digest protein fats and carbohydrates. Notice the difference or your money back.
£13.25
Add to basket
"Brilliant"
This is brilliant, I initially bought it for some irritating eye itching allergy I had which only comes up when the weather's really hot and humid and it soothed me really well. Turns out its amazing for pain relief too (much better than your s***** p********ol which leaves you feeling numb as a 'side effect').

I don't have the full research down on it helping allergies but it sure works great for pain, without any so called side effects you get with mainstream medication.

A bit expensive, so the only problem I have is that there's too little of an amount in one pot (60), about 80 per pot would make this a winner for me.
Recommend to a friend: Yes
How much has this product helped you?
"Bromelain 500mgB"
By
Anonymous
, 11 Jun 2021
I first took Bromelain as it is extracted from Pineapple, which is helpful for easing sore throats. Now combined with taking Glucosomine and Turmeric I find it helps relieve Joint & Arthritic discomfort.


Recommend to a friend: Yes
How much has this product helped you?
"Effective for Bursitis"
By
Anonymous
, 17 May 2021
I wouldn''t be without this product although I only use it when I get recurring bursitis in my shoulder. I use the recommended high dose for the first week followed by a daily dose, if necessary until it is better. Often I only need to use it for a week before I notice results.
Recommend to a friend: Yes
Thank you for taking the time to leave a review.

As supplements can take some time to build up and have an effect in the body, we would normally suggest reassessing your symptoms after three months. However, I am pleased to hear that you are already starting to find this product helpful.

Nature's Best Nutrition Advice:
How much has this product helped you?
"Good product"
By
Jorge Vieira
, 11 Jan 2021
It is very good to help the recovering of injuries. I take many times with Turmeric as well.
Recommend to a friend: Yes
How much has this product helped you?
By
Duncan Watt
, 10 Dec 2020
Not used long enough to makw a fair assesment.
Recommend to a friend: Don't know
Hello,

Thank you for leaving a review. Please feel free to leave another review after 2-3 months of use, as supplements can take time to build up in the body and have noticeable effects.

Kind regards, Sally
Nature's Best Nutrition Advice:
How much has this product helped you?