Home

/

Introducing GlucosaGreen®
Introducing GlucosaGreen®

The world's first commercially available glucosamine derived from non-GMO corn, GlucosaGreen® is far more sustainable and less wasteful than traditional glucosamine produced from shellfish. We now use GlucosaGreen® in all of our glucosamine products, meaning vegans and vegetarians, people with allergies to shellfish, and those wanting to be more environmentally conscious can still enjoy all the nutritional goodness of this compound.
What is GlucosaGreen® and how is it different?

Glucosamine supplements typically comprise shellfish exoskeletons (prawns, crayfish, and lobster), manufactured using an environmentally intensive production process. TSI Group LTD, the brains behind GlucosaGreen®, have recognised the drawbacks of shellfish glucosamine. Harnessing a revolutionary direct fermentation process technology, they now offer a green solution to the challenges presented by traditional glucosamine manufacturing.

Instead of using shellfish as the raw material, GlucosaGreen® starts with glucose, derived from GMO-free corn. The result is a plant-based equivalent to regular glucosamine, which is sustainable and 100% free-free from shellfish and related allergens.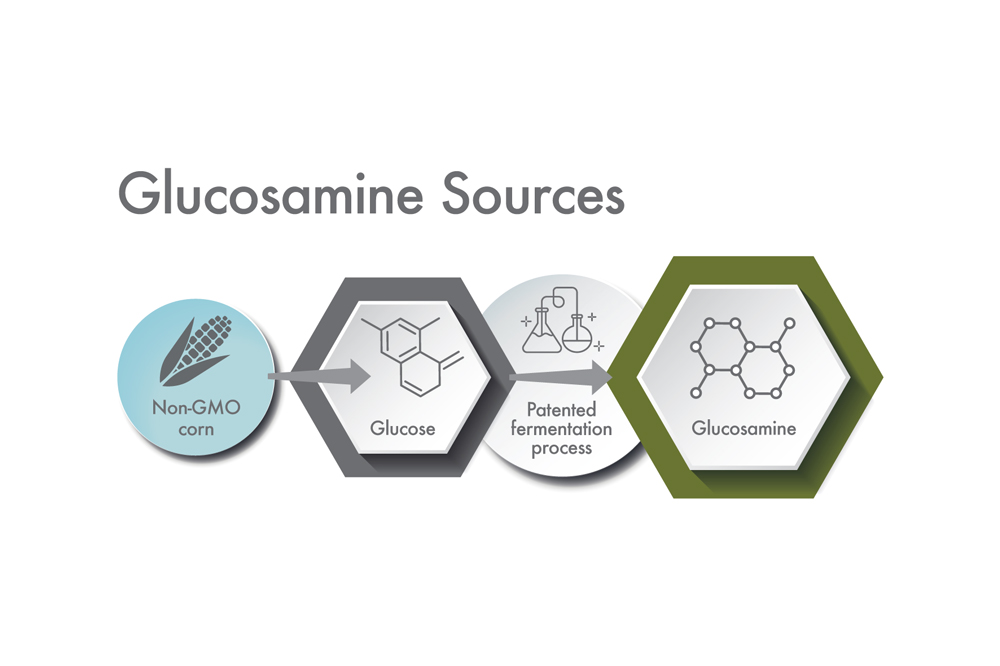 What are the environmental benefits of GlucosaGreen®?

The environmental gains to be made from using GlucosaGreen® are plentiful. Traditional glucosamine manufacturing – using shellfish – is a very wasteful process. GlucosaGreen®, on the other hand, produces just 2% of this waste.

The numbers speak for themselves: one metric tonne of shellfish-based glucosamine HCl creates 455 tonnes of water waste, whereas GlucosaGreen® only results in 2 metric tonnes. GlucosaGreen® virtually eliminates the environmental impact inherent to shellfish glucosamine production.

Better yet, GlucosaGreen®'s advanced and disruptive technology still produces the same high-performance glucosamine as shellfish glucosamine without the environmental implications.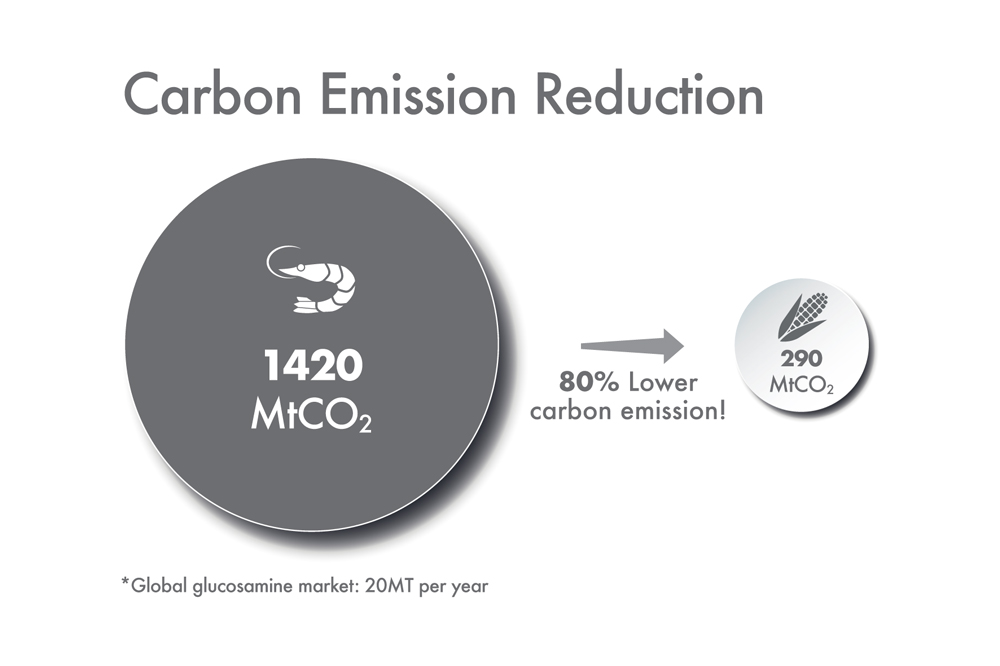 How does GlucosaGreen® compare to regular glucosamine?
GlucosaGreen® is a bio-equivalent to shellfish-based glucosamine. If regular glucosamine works for you, then you will see the same results with GlucosaGreen®. For further validation, GlucosaGreen® has achieved official certification from Novel Food, establishing it as a suitable equivalent.

The European Commission Directorate-General for Health and Food Safety and The Food Safety Authority of Ireland (FSAI) has also stated that Glucosamine salts (Glucosamine HC1, Glucosamine sulphate KC1, Glucosamine sulphate NaCl) are substantially equivalent to the comparators derived from shellfish in terms of composition, nutritional value, metabolism, intended use and level of undesirable substances.

GlucosaGreen® offers a sustainable, environmentally friendly alternative to traditional shellfish-based glucosamine. For more information, please reach out to our dedicated team of expert Nutrition Advisors.

If you're looking to buy a sustainable source of glucosamine look no further! Click here to browse our range of glucosamine products.