Home

/

Fish Oil Purification
Fish Oil Purification

Nature's Best Fish Oils | Purity levels that surpass industry standards
FISH OIL PURIFICATION
Our story from ocean to fish oil supplement
At Nature's Best, we understand how important it is for customers that our fish oil supplements are of the very highest quality. Reassuringly for them, all of our fish oils are made to Good Manufacturing Practice (GMP), in UK factories. They employ the very latest technology and a purification process that guarantees high levels of purity and fish oil supplements which are rigorously tested against every parameter of their specification. This means that we can be sure of providing our customers with the highest level of quality assurance at every step of the manufacturing process.
Sustainability
It's important to us that our fish oil has been responsibly sourced and to be sure of this we only use quality raw material which is responsibly sourced. To demonstrate our commitment to responsible sourcing, our fish oil supplements have achieved certification by the leading industry-recognised body 'Friend of the SEA'. This provides our customers with the reassurance that the fisheries in the supply chain are operating responsibly, with no overfishing, no bycatch of endangered species and no illegal, unreported or unregulated (IUU) fish.
Both the supply chain and production site have been audited by independent international certification bodies against strict sustainability criteria to achieve the certification.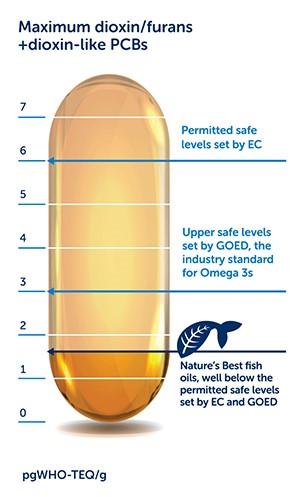 Purity levels well within the Permitted Safe Levels set by the European Council (EC)
Sadly, our oceans are becoming more and more polluted and like any natural ingredient, fish are just as prone to contamination. We're proud to report that our fish oil supplements are amongst the purest available. We use
the greatest vigilance and a process of routine chemical analysis to ensure that contaminants such as PCBs, dioxins and mercury (present in fresh fish), are well below the permitted safe levels set by the European Commission (EC). In fact, as the graphs on these 2 pages illustrate, our oils go far beyond the requirements of the EC and well beyond the industry measures set by the Global Organisation for EPA and DHA Omega 3s (GOED). GOED standards incorporate the strictest quality and purity standards.
EC legislation requires tests to be carried out on 6 chemical constituents however our oils are routinely tested for 209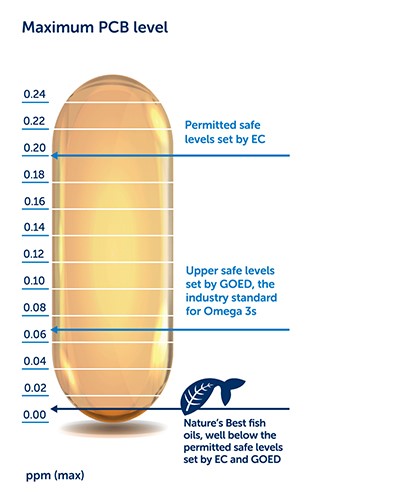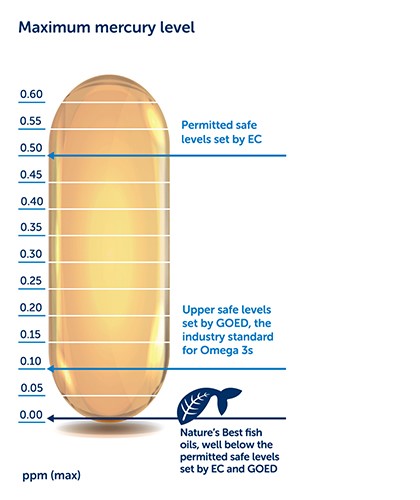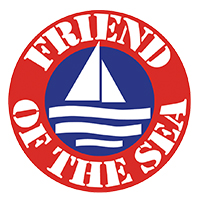 Friend of the Sea
Besides providing our customers with the highest level of quality and potency, we also ensure our fish oil supplements* have been sourced responsibly from well-managed fisheries. To demonstrate our unwavering commitment to environmental sustainability, our fish oil range has achieved certification by the internationally recognised body, Friend of the Sea. To find out more about Friends of the Sea and our sustainably sourced fish oil click here. [insert link to https://www.naturesbest.co.uk/corporate-responsibility/friend-of-the-sea/]
*with the exception of Cod Liver Oil 1000mg capsules
Want to learn more about fish oil supplements? Drop a line to one of our expert Nutrition Advisors, who are always happy to offer free, confidential advice. Simply click the chat button located at the bottom right-hand of our website.