Product Information
Bazuka Sub-Zero is a home use µfreezeã treatment for verrucas and warts. It may be more suitable for stubborn veruccas and warts, and when a really rapid treatment is desirable.


Description
Bazuka Sub-Zero is a viable freezing device for removing regular warts and verrucas which is based on the cryotherapy method used by doctors and healthcare professionals. Sub-Zero works by quickly freezing the verruca or wart to the core in just one treatment, causing it to fall off, often within a couple of weeks or so of freezing.Bazuka Sub-Zero uses a patented Verrukill technology for fast easy delivery in the convenience of your own home. Following application, after ten days' time the wart or verruca should fall off, leaving the skin underneath feeling clean and smooth. Please note that Bazuka Sub-Zero is not recommended for children younger than 4 years of age, because the sudden freezing process can be uncomfortable..
Usage
Assemble device (follow instructions). Use safety cap to charge foam applicator with the freezing agent. Gently apply freezer to wart or verruca - only for a matter of seconds
Ingredients
Contains: a pressurised aerosol (freezing agent), which includes a liquid mixture of Dimethyl Ether, Propane and Isobutane. Also contains: 12 disposable foam applicators.
Suitable For
Suitable For adults and children over the age of 4 years
Cautions/Allergies
Keep out of the reach and sight of children. Keep away from the eyes. Not suitable for use on birthmarks, moles, warts with hairs growing from them, or any other spots. Do not use if sensitive to any of the ingredients. Highly flammable, keep away from flames. Do not store above 25ªC.
Frequently Asked Questions (0)
You Could Also Consider These Warts Products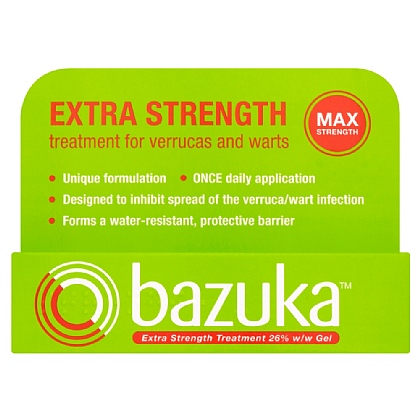 Bazuka Extra Strength Gel (GSL) - 6g
Bazuka Extra Strength Gel has been formulated for the treatment and prevention of warts, verrucas, corns and calluses.
£8
Add to basket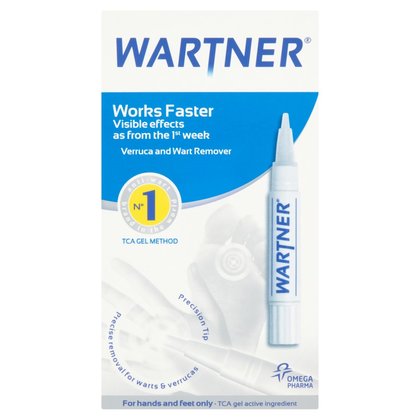 Wartner Verruca and Wart Remover - 1.5ml
Wartner Wart and Verruca Remover effectively removes verrucas and warts, upon the first week of application.
£9.49
RRP £9.99
Save £0.50 (5% OFF)
View Product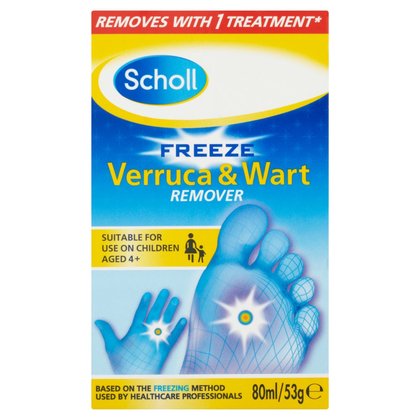 Scholl Freeze Verruca & Wart Remover - 80ml
Scholl Freeze Verruca & Wart Remover rapidly freezes the core of the verruca or wart on the spot, with one single treatment.
£14.25
RRP £15
Save £0.75 (5% OFF)
View Product