NiQuitin Mint 4mg Gum - 96
Helps overcome your urge to smoke
Fresh mint flavour
For those who smoke within 30 minutes of waking
Helps overcome your urge to smoke
Fresh mint flavour
For those who smoke within 30 minutes of waking
Product Information
NiQuitin Mint Gum provides convenient on-the-go relief to help manage cravings that pop up during your day. The gum is also easy to carry wherever you go, so you're always prepared and can be used as an alternative to NiQuitin Minis.


Description
Niquitin Cq Gum 4mg Fresh Mint offers relief from nicotine cravings as they happen wherever you are. The nicotine in cigarettes makes them addictive; however different substances in tobacco smoke, for example, tar, toxins and carbon dioxide, are more harmful to your wellbeing. NiQuitin Mint Gum does not have the health dangers of tobacco and works by replacing some of the nicotine you get from cigarettes.If you're not ready to give up smoking straight away you can use NiQuitin Mint Gum to help you cut down on the number of cigarettes you smoke. Stopping smoking straightaway is best for your health, however if this becomes difficult, NiQuitin Gum can be used to manage your cravings. During use you should then start to gradually reduce the number of cigarettes you smoke until you are completely smoke free. If you normally have your first cigarette within 30 minutes of waking up, you'll need NiQuitin 4mg Fresh Mint Gum. If you tend to start smoking more than 30 minutes after waking, use NiQuitin 2mg Fresh Mint Gum.
Usage
Adults and children over the age of 12 years: Chew gum slowly until the taste becomes strong. Rest between gum and cheek. Chew again when taste has faded. Maximum 15 pieces
Ingredients
Nicotine. Chewing Gum Base. Calcium Carbonate. Butylhydroxytoluene (E 321). Sorbitol (E 420). Maltitol Liquid. Glycerol. Acesulfame Potassium. Mannitol (E 421). Sodium Carbonate Anhydrous. Sodium Hydrogen Carbonate. Colour Quinoline Yellow (E 104). Carnauba Wax.
Suitable For
Suitable For adults and children over the age of 12 years.
Cautions/Allergies
Do not exceed the stated dose. Keep out of the reach and sight of young children. Not suitable for those under the age of 12 years. Pregnant & breastfeeding women should seek medical consultation before using this product.
Frequently Asked Questions (0)
You Could Also Consider These Gum Products
Great Combinations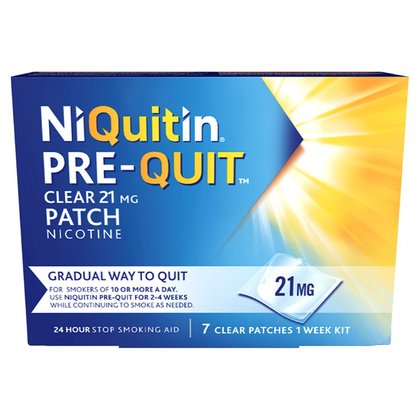 NiQuitin Pre-Quit Clear 21mg Patch 7 Patches
Nicotine NiQuitin Pre-Quit Clear 21 mg patches are part of a gradual programme, to ease you into cutting your intake and then stopping.
£14.85
RRP £15.63
Save £0.78 (5% OFF)
View Product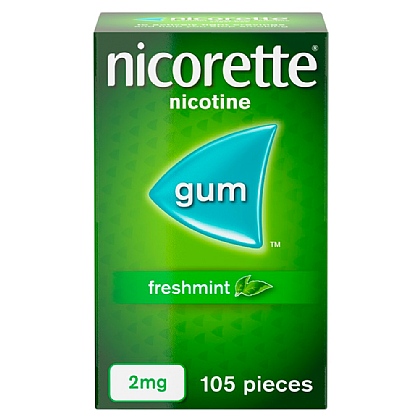 Nicorette Freshmint Sugar-Free Gum 2mg Nicotine 105 Pieces
Nicorette Freshmint Gum delivers a controlled amount of nicotine into your body enough to satisfy the craving, but not as much as a real cigarette.
£14.21
RRP £14.96
Save £0.75 (5% OFF)
View Product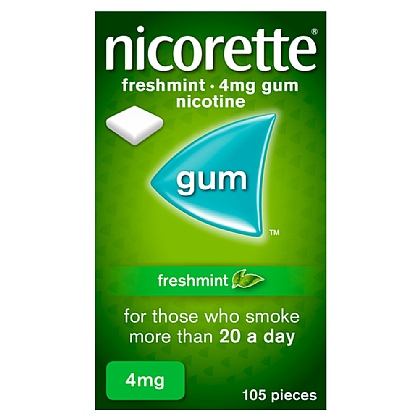 Nicorette Freshmint 4mg Gum - 105
Quickly absorbed. Relieves cravings. Double coated for enhanced flavour.
£17.30
RRP £18.21
Save £0.91 (5% OFF)
View Product