Product Information
Thermacare Heat Stretch Wrap for Necks and Arms keeps on working even after you take it off, for up to sixteen hours of back pain relief. That's eight hours of heat while you wear it, plus eight hours of relief after you take if off.


Description
The Thermacare Heat Stretch Wrap for Neck & Arms has been designed to provide heat therapy for long-lasting, powerful pain relief and relaxation of tight muscles. When heat is applied to your skin it reduces the sensation of pain because it stimulates the thermos-receptors, which block your body's pain transmitters from sending pain signals to your brain. Heat therapy increases circulation to the injured or sore area, which means more oxygen and nutrients are sent to the damaged tissue. Heat therapy also promotes flexibility and decreases stiffness, by stretching the soft tissues and relaxing the muscles.

Thermacare Neck & Arm Heat Stretch Wraps are made from cloth-like materials called €œnonwovens€š¬. These are the same materials used in disposable products like nappies and feminine hygiene pads. The heat cells are the part of ThermaCare wrap which provide warmth. These cells contain a mixture of ingredients that react with air to provide low-level heat. The chemical reaction is called iron oxidation, which occurs naturally in the environment. Once the iron is used up, it can't be reactivated or recharged, so simply stops heating. Thermacare Neck & Arm Heat Stretch Wraps won't reheat and should therefore be disposed of properly. They should not be used in microwave ovens, as the heat wrap may catch on fire.
Usage
Apply to pain in the neck/arm area, when required. Thermacare wraps are flexible enough to be worn on the move, during chores or while relaxing.
Ingredients
x 2 thermal stretch wraps.
Suitable For
Suitable For adults with neck and/or arm pain.
Cautions/Allergies
For external use only. Keep out of the reach and sight of children. If symptoms persist seek medical consultation.
Frequently Asked Questions (0)
You Could Also Consider These Joint & Muscle Pain Products
Great Combinations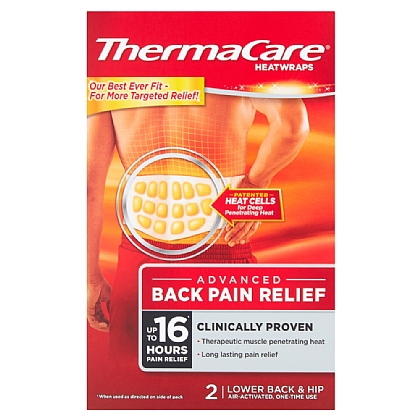 Thermacare Heat Stretch Wrap for Lower Back & Hip - 2
Self-heating wraps. Long-lasting relief. 8 hours of therapeutic heat. Fits most sizes.
£5.69
RRP £5.99
Save £0.30 (5% OFF)
View Product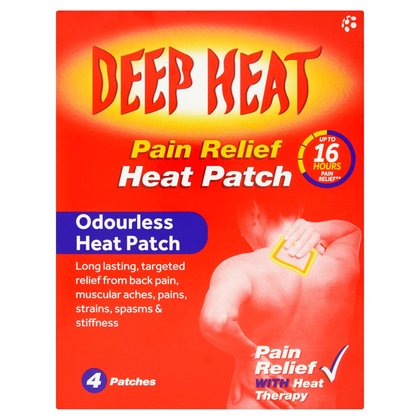 Deep Heat Patches - 4
Heat patch. Effectively relieves muscular aches. Contains 4 patches. Zero Odour.
£7.95
Add to basket