Nurofen Express 200mg Liquid Capsules - 30
Effective pain relief
fast acting
Product ID: 5000158100732
Effective pain relief
fast acting

Product Information
Nurofen Express Liquid Capsules are quickly absorbed to work where they are needed - at the site of pain. Designed to break down easily in the body, the liquid released is quickly absorbed to relieve pain and lower temperature.


Description
Nurofen Express Liquid Capsules are designed to provide effective relief from pain and contain the active ingredient ibuprofen, which belongs to a group of medicines known as non-steroidal anti-inflammatory drugs (NSAIDs). Ibuprofen works by changing the body's response to pain, swelling and high temperature. Nurofen Express Liquid Capsules break down easily in the body and the liquid, which is released from the capsule, is easily absorbed into the body to get to the site of pain quickly.
Usage
Adults and children 12 years and above: take 1-2 capsules with water, up to three times a day as required. Leave at least 4 hours between doses. Do not chew capsules. Do not exceed 6 capsules in 24 hours.
Ingredients
Ibuprofen. Potassium. E124.
Suitable for / Cautions
Suitable For
Suitable For adults and children over the age of 12 years.
Cautions/Allergies
Do not exceed the stated dose. Keep out of the sight and reach of children. Not suitable for those under the age of 12 years. Pregnant and breastfeeding women should seek medical consultation before using this medicine.
You Could Also Consider These Joint & Muscle Pain Products
Great Combinations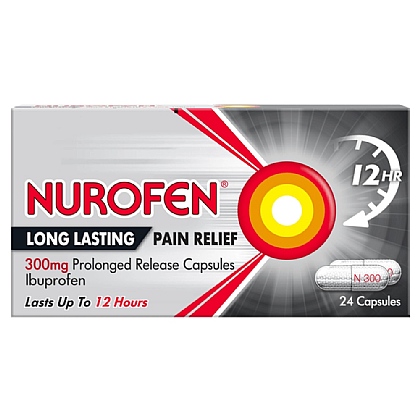 Nurofen Long Lasting Pain Relief Capsules - 24
Provides effective, powerful lasting relief up to 12 hours.
£6.17
RRP £6.49
Save £0.32 (5% OFF)
Add to basket