Deep Relief Gel - 50g
Effective pain relief
Double action
Suitable from 12 years
Effective pain relief
Double action
Suitable from 12 years
Product Information
Deep Relief Gel is a non-greasy gel with the fragrance of menthol, and is effective for the relief of rheumatic pain, muscular aches, pains and swellings such as strains, sprains and sports injuries. It is absorbed through the skin to reduce inflammation at the point of pain and can also aid the relief of pain associated with non-serious arthritic conditions.


Description
Deep Relief Gel is the only pain relief gel in the UK which contains two effective analgesics - ibuprofen and levomenthol. Ibuprofen is an NSAID (Non-Steroidal Anti-Inflammatory Drug) which penetrates the skin to provide effective pain relief and anti-inflammatory action, while levomenthol cools and soothes to help provide pain relief to the inflamed area. Levomenthol also acts synergistically with ibuprofen to enhance the delivery of ibuprofen through the skin.

Deep Relief Gel is a unique topical analgesic treatment that hits pain where it is needed the most, helping to get pain off your mind, so you can get on with everyday activities.
Usage
Adults and children over 12 years: Apply 1 - 4cm of gel as a thin layer up to 3 times a day. Do not use more often then every 4 hours.
Ingredients
Ibuprofen. Levomenthol. Carbomer. Propylene Glycol. Diisopropanolamine. Ethanol. Purified Water.
Suitable For
Suitable For adults and children over the age of 12 years.
Cautions/Allergies
For external use only. Keep out of the reach and sight of young children. Not suitable for children under the age of 12 years. Do not use more than 3 times in one day. Do not use after the expiry date. Those taking aspirin or other painkillers, should seek medical consultation before using this medicine. Pregnant and breastfeeding women should seek medical consultation before using this medicine.
Frequently Asked Questions (0)
You Could Also Consider These Joint & Muscle Pain Products
Great Combinations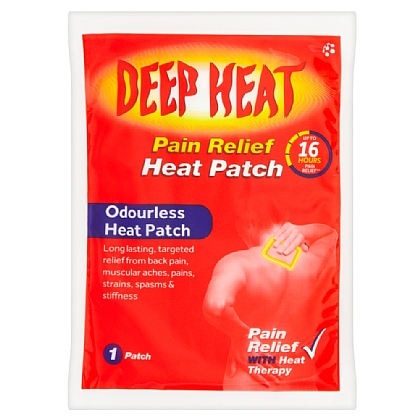 Deep Heat Well Patch - 1
Heat patch. Effectively relieves muscular aches. Lasts up to eight hours.
£2.36
RRP £2.49
Save £0.13 (5% OFF)
View Product