Deep Heat Maximum Strength Mentholatum Cream - 35g
Deep Heat Maximum Strength Mentholatum Cream has been formulated for the symptomatic relief of muscular pain and stiffness, including backache, lumbago, sciatica, fibrositis, sprains, bruises and rheumatic pain. It contains a special ingredient that, together with the bodyÆs natural enzymes, generates penetrating warmth that can be used to treat several types of pain.
Maximum Strength
Combines the benefits of heat treatment and massage
Double action
Product Information
Usage
Aduls and older children: Always try on a small area first. Apply a thin layer with gentle massage to the affected area two or three times a day. Wash hands thoroughly after use.
Ingredients
Soft white cream containing: Methyl Salicylate 30% & Menthol 8%.
Suitable for / Cautions
Suitable For
Suitable For adults and teenagers.
Cautions/Allergies
For external use only. Do not use if allergic to ingredients. Do not use if history of asthma associated with allergic reactions to aspirin or other NSAID's. Pregnant and breastfeeding women should seek medical consultation before using this cream. Avoid contact with the eyes and sensitive areas of skin. Some people may experience local discomfort if used during hot weather or after a hot bath. Wash hands thoroughly after use.
Great Combinations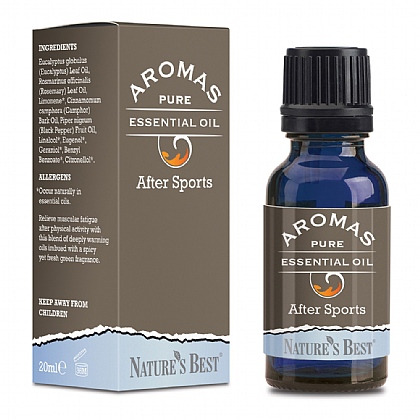 After Sports Blend
100% High grade pure and natural essential oils
A powerful combination of camphor bark, eucalyptus leaf, rosemary leaf oil and black pepper seed oil. Blended for their penetrating abilities to soothe and relieve.
£3.95
Add to basket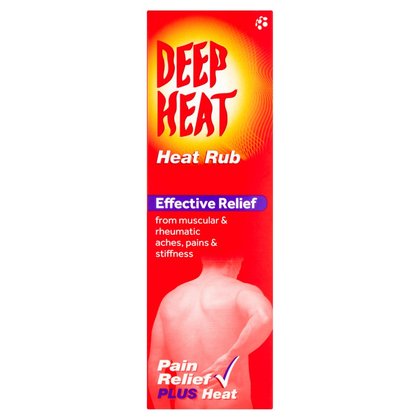 Deep Heat Cream Rub - 100g
Non greasy. Fast relief from muscular aches & pains. With penetrating warmth.
£4.93
RRP £5.19
Save £0.26 (5% OFF)
Add to basket
Deep Freeze Cold Spray - 150ml
Freezes pain instantly. Fast acting pain relief for strains, sprains, muscles & joints.
£3.60
RRP £3.79
Save £0.19 (5% OFF)
Add to basket
You Could Also Consider These Joint & Muscle Pain Products