Product Information
Cura-Heat Back & Shoulder Pain Heat Packs provide targeted, temporary 12 hour warming relief from back and shoulder pain. Each pack provides warming relief to both the back and shoulders


Description
Cura-Heat Neck & Shoulder Pain Heat Packs have a thin discreet design, are fragrance free and non-medicinal. These easy-to-use heat patches can be worn under clothing to increase circulation, decrease stiffness and relax sore muscles. Just open the sachet and apply to let the heat radiate through to the source of pain..
Usage
Adults & children over the age of 12 years: open the sachet by hand (do not cut) and remove the Cura Heat heat pack, peel away the paper strip, adhere to clothing/underwear over the painful area, Cura Heat warms up gradually and reaches maximum heat within approximately 30 minutes, Cura Heat is air activated, do not open the sachet until you are ready to use it.
Ingredients
x 3 packs containing: Iron Activated Carbon. Water.
Suitable For
Suitable For adults and children over the age of 12 years.
Cautions/Allergies
Keep out of reach of children and pets. Store in a cool dry place avoiding direct sunlight. Do not use patch on children 12 years and under. Do not use heat patch over an area with the presence of redness, inflammation, over broken/bruised or irritated skin. Do not use heat patch whilst sleeping. Do not use on areas of the body where heat cannot be felt and in conjunction with other creams and other heat sources. Do not use heat patch on persons who have experienced allergic reactions with medicines or cosmetics in the past.
Frequently Asked Questions (0)
You Could Also Consider These Back Pain Products
Great Combinations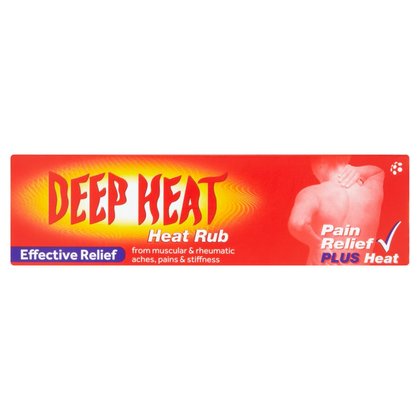 Deep Heat Cream Rub - 67g
Non greasy. Fast relief from muscular aches & pains. With penetrating warmth.
£3.70
RRP £3.89
Save £0.19 (5% OFF)
View Product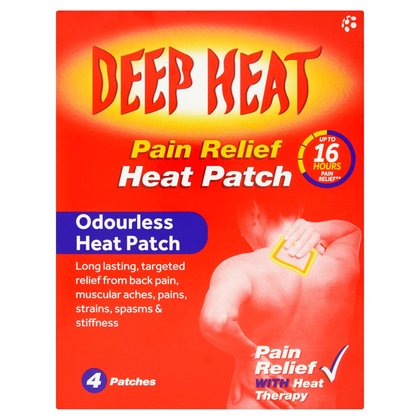 Deep Heat Patches - 4
Heat patch. Effectively relieves muscular aches. Contains 4 patches. Zero Odour.
£7.95
Add to basket