Ultramol Soluble Tablets
Relief of migraine and headache
Fast-acting relief
For 3 days use only
Relief of migraine and headache
Fast-acting relief
For 3 days use only
Product Information
Ultramol Soluble Tablets is formulated to provide you with relief for moderate to strong pain. Contains the active ingredients Paracetamol, Codeine and Caffeine.


Description
Ultramol Soluble Tablets contain three different active ingredients; paracetamol, caffeine and codeine phosphate - for the relief of mild to moderate pain. Paracetamol helps relieve pain and fever, while caffeine is a stimulant that helps increase the pain relieving actions of paracetamol. Codeine phosphate is an opioid analgesic which works by blocking the transmission of pain signals sent by the nerves to the brain.

Ultramol Soluble Tablets have been specifically formulated for the short term treatment of acute moderate pain, caused by headaches, migraine, toothache, neuralgia, period pain and rheumatic pains, when other painkillers have not worked. These triple action tablets are suitable for adults and children over the age of twelve years.
Usage
Adults: 2 tablets up to 4 times per day if required. Children over 12 years: 2 tablets up to 4 times per day if required. Tablets should be dissolved in water before swallowing. Do not take more frequently than every 4 hours and do not exceed 4 doses in any 24 hour period.
Ingredients
Contains Paracetamol 500mg, Caffeine 30mg and Codeine Phosphate 8mg. Sodium content 362mg per tablet.
Suitable For
Suitable for adults and children aged over 12 years.
Cautions/Allergies
Do not use for more than three days. Get advice from your doctor or pharmacist before taking this medicine if you: are allergic or sensitive to or have had a reaction to any of the ingredients in the medicine, have liver problems, have kidney problems, are on a low sodium diet, have a fructose intolerance or you are taking other medicines that contain paracetamol. If you are taking more than one medicine they may interact with each other. Before taking this medicine consult your doctor or pharmacist if you are taking or have recently taken other medicines including vitamins, supplements and herbal or complementary preparations.
Frequently Asked Questions (0)
You Could Also Consider These Pain Relief Products
Great Combinations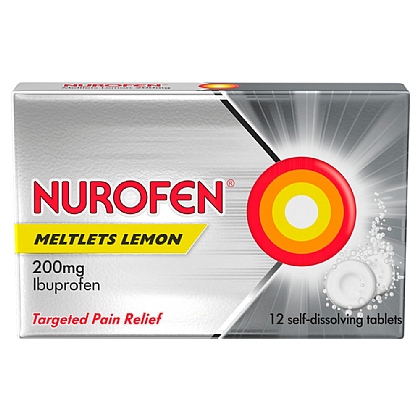 Nurofen Meltlets Lemon Tablets - 12
Contains ibuprofen. Provide fast effective relief from mild to moderate pain. Gluten-free. Lactose-free.
£3.80
RRP £3.99
Save £0.19 (5% OFF)
View Product