Pepto Bismol Oral Suspension - 120ml
Relief of heartburn, indigestion, nausea and upset stomach
Controls diarrhoea
Protective coating action
Relief of heartburn, indigestion, nausea and upset stomach
Controls diarrhoea
Protective coating action
Product Information
Pepto Bismol Oral Suspension has been formulated to help relieve heartburn, indigestion, nausea, upset stomach, and diarrhoea.


Description
Pepto Bismol Oral Suspension contains active ingredient, bismuth subsalicylate 17.5mg/ml, which is commonly used to treat occasional upset stomach, heartburn, and nausea. Bismuth subsalicylate is a type of medicine known as an antidiarrheal agent and works in conjunction with the rest of the solution. It provides a soothing, antiseptic coating on the stomach and the intestine. Bismuth subsalicylate also helps to slow the growth of bacteria that might be causing the diarrhoea, however it should not be used to self-treat diarrhoea if you also have a fever or blood/mucus in the stools.
Usage
Adults and children 16 years and over:
Shake well before use.
Pour 30ml in dosing cup and swallow.
Repeat dosage every half to 1 hour as needed.
No more than 8 doses to be taken in 24 hours.
Only use as directed, used for longer than 2 days or at higher doses than recommended has been associated with an increase in side effects.
Ingredients
Active is Bismuth Subsalicylate (526 mg in 30ml dose).
Others: Aluminium Magnesium Silicate, Methylcellulose, Methyl Salicylate, Salicylic Acid, Sorbic Acid, Benzoic Acid, Saccharin Sodium Salicylate, Amaranth and Water.
Suitable For
Suitable for adults and children only on prescription.
Cautions/Allergies
Not suitable for those under the age of 16 years.
Do not exceed the stated dose.
Do not take if you are taking other salicylate products, and/or allergic to aspirin.
Frequently Asked Questions (0)
You Could Also Consider These Digestion & Stomach Products
Great Combinations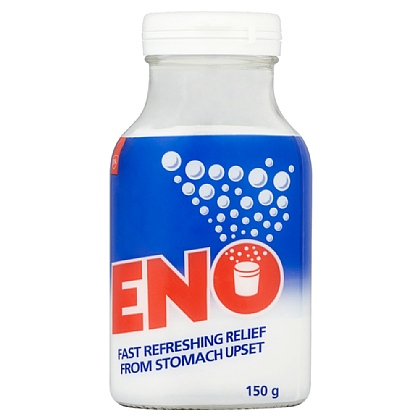 ENO Original Fruit Salts - 150g
Fast & refreshing. Relieves stomach upset. Relieves indigestion, flatulence (wind) & nausea. Gluten & lactose free. No sugar, sweeteners or preservatives
£3.49
Add to basket