Piriteze Allergy Syrup is to relieve the symptoms of hayfever, pet allergies, skin allergies, mould spore allergies and house dust mite allergies.
Suitable for children 6 years and over
Contains Cetirizine hydrochloride
Sugar free
Banana flavour
Product Information
Usage
For oral use. Use the spoon provided to make sure you have the correct dose. Adults and adolescents aged 12 years and over: two 5ml spoonfuls once daily. Children aged between 6 and 12 years: one 5ml spoonful twice daily - morning and evening. Children under 6 years: not recommended. If you have kidney problems, you may need to lower the dose.
Ingredients
Each 1ml of oral solution contains 1mg of Cetirizine Hydrochloride. Also includes Sorbitol (E420), Methyl Parahydroxybenzoate (E218) and Propyl Parahydroxybenzoate (E216).
Suitable for / Cautions
Suitable For
Suitable for children over 6 years of age.
Cautions/Allergies
Keep out of reach and sight of children. Do not exceed the stated dose. Warning: may cause drowsiness. If affected do not drive or operate machinery. Avoid alcoholic drinks. If symptoms persist consult your doctor. Do not take if you are pregnant or breast-feeding.
Great Combinations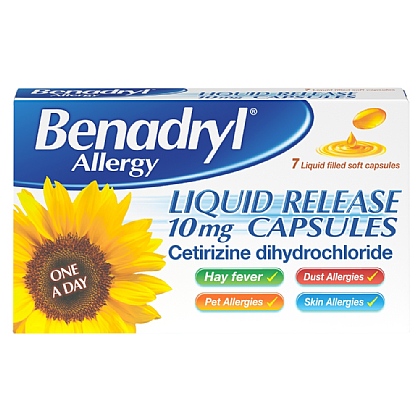 Benadryl Allergy Liquid Release 10mg Capsules
Benadryl Allergy Liquid Release 10mg
Capsules provide relief of itchy & runny nose, itchy & watery eyes, sneezing and Urticaria (hives and itchy skin rash).
£5.03
RRP £5.29
Save £0.26 (5% OFF)
Add to basket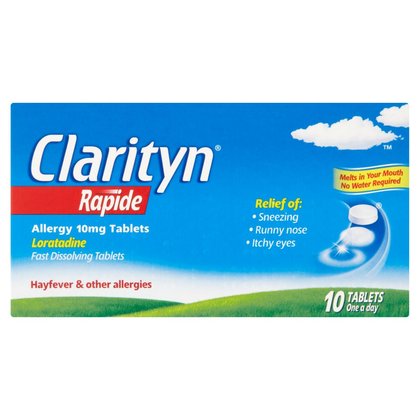 Clarityn Rapide Allergy
Clarityn Rapide Allergy tablets are used
to relieve allergic symptoms due to hay fever and other airborne allergies such as house dust mites and pet allergies.
£5.69
RRP £5.99
Save £0.30 (5% OFF)
Add to basket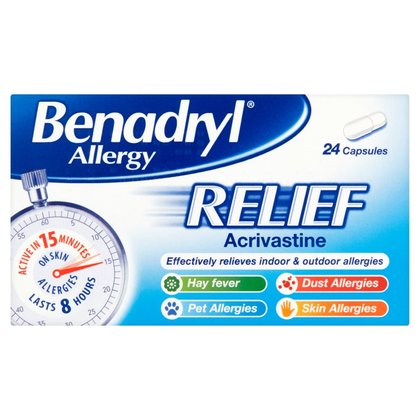 Benadryl Allergy Relief Capsules
Benadryl Allergy Relief Capsules work to
relieve the symptoms of hay fever and other allergic conditions such as pet, skin or dust allergies.
£8.88
RRP £9.34
Save £0.46 (5% OFF)
View Product
You Could Also Consider These Allergy & Hayfever Products