Sensodyne Gentle Whitening Fluoride Toothpaste
24/7 care for sensitive teeth
Dentist recommended brand
Specially formulated for people with sensitive teeth
Gently and effectively helps remove stains restoring teeth to their natural whiteness
Removes plaque with regular brushing and contains fluoride to prevent decay
Minty taste keeps mouth feeling clean and fresh
24/7 care for sensitive teeth
Dentist recommended brand
Specially formulated for people with sensitive teeth
Gently and effectively helps remove stains restoring teeth to their natural whiteness
Removes plaque with regular brushing and contains fluoride to prevent decay
Minty taste keeps mouth feeling clean and fresh
Product Information
Sensodyne Gentle Whitening toothpaste has been specially formulated for people with sensitive teeth. Exposed areas of porous dentine can be prone to discolouration as well as sensitivity. With fluoride to help prevent tooth decay, this low abrasion toothpaste has been formulated to remove stains gently yet effectively, restoring teeth to their natural whiteness.


Description
Sensodyne Gentle Whitening is a low abrasion, fluoride containing toothpaste that, when used twice a day, provides 24/7 care for sensitive teeth.
Usage
Brush twice a day and no more than three times, minimise swallowing and spit out. Use Sensodyne Gentle Whitening whenever you normally brush.
Ingredients
Contains Sodium Monofluorophosphate 0.306% (1400ppm F-). Also: Aqua, Hydrated Silica, Sorbitol, Glycerin, Pentasodium Triphosphate, Potassium Nitrate, PEG-6, Aroma, Titanium Dioxide, Cocamidopropyl Betaine, Sodium Methyl Cocoyl Taurate, Xanthan Gum, Sodium Hydroxide, Sodium Fluoride, Sodium Saccharin.
Suitable For
Suitable for adults, elderly and children over 12 years of age.
Cautions/Allergies
If irritation occurs, discontinue use. Sensitive teeth may indicate an underlying problem that needs prompt care. If symptoms persist or worsen see your doctor. Keep out of reach of children. Not for use by children under 12 years of age unless on advice of a dental professional or doctor.
Frequently Asked Questions (0)
You Could Also Consider These Dental Care Products
Great Combinations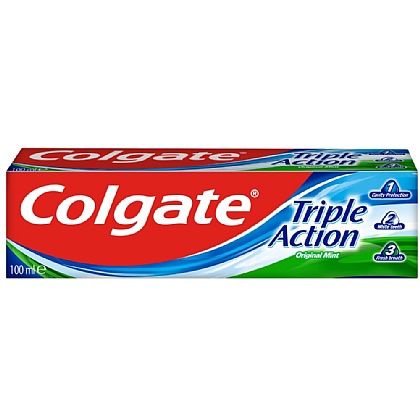 Colgate Triple Action Toothpaste
Colgate Triple Action Toothpaste provides triple benefits with proven cavity protection.
£1.42
RRP £1.49
Save £0.07 (5% OFF)
View Product