Product Information
Lyclear Spray & Comb is a clinically proven, easy to use head lice treatment which is specifically designed for children's delicate scalps. It is a natural treatment, free from insecticides.


Description
Lyclear Spray easily sprays upon you child's scalp, without mess or fuss. Compared to other non-insecticide sprays, only two 15 minute treatments per person is all that is required, and there's no need to leave it on overnight.
Usage
Hold the spray approximately 10cm from the hair and carefully spray a sufficient quantity of Lyclear solution evenly onto dry hair. Be sure to cover all the hair and scalp. Massage well from the roots to tips paying particular attention to the neck and the area behind the ears. Leave it on for 15 minutes. Wash the hair with a normal shampoo, and be sure to rinse thoroughly. Wash again if necessary. Before drying the hair, comb thoroughly with the enclosed fine toothed Lyclear anti-lice comb to remove the lice and eggs. Regularly clean the comb to remove any lice or eggs. Repeat the treatment after 7 days.
Ingredients
Caprylic/Capric Triglyceride (Fractionated Coconut Oil). Cananga Odorata (Ylang-Ylang) Flower Oil. Isopropyl Alcohol. Illicium Verum (Anise Oil).
Suitable For
Suitable For adults and children over 2 years of age.
Cautions/Allergies
Not suitable for children under 2 years of age. Avoid contact with eyes. Use in pregnancy or lactation only if clearly needed.
Frequently Asked Questions (0)
You Could Also Consider These Treatments & Repellents Products
Great Combinations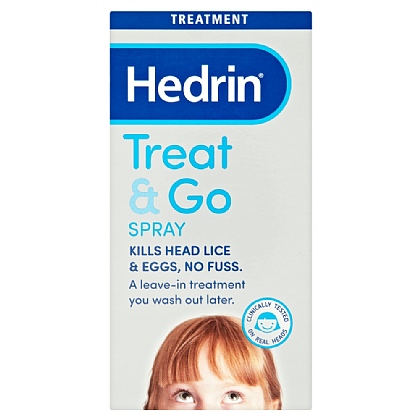 Hedrin Treat & Go Spray - 60ml
Free of non-volatile ingredients. Skin friendly. Quick to apply. Easy to wash out.
£7.59
RRP £7.99
Save £0.40 (5% OFF)
View Product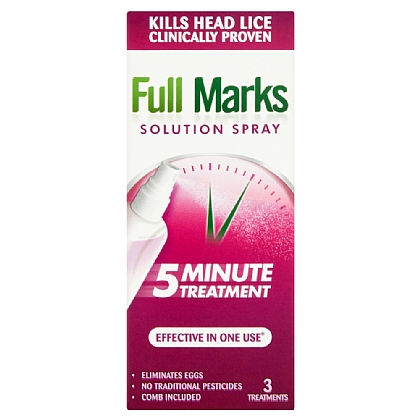 Full Marks Solution Spray - 150ml
Kills head lice & eliminates eggs. Quick & easy treatment. 10 minute treatment. Low in odour. Toxin free.
£12.34
RRP £12.99
Save £0.65 (5% OFF)
View Product