Product Information
Profoot All Day Comfort Insoles are perfect for most footwear types to add extra cushioning.
Description
All-day superior comfort insoles with anti-bacterial protection. 2 pairs unisex, one size fits all.
Usage
Using guidelines, trim to size with sharp scissors. Place in footwear printed side down. The lines are meant as a guide only. We suggest cutting larger than your shoe size initially, and then trimming down to the correct size. Machine washable at low temperatures. Dry flat.
Ingredients
1 pair of unisex insoles, one size fits all.
Suitable For
One size fits all, unisex insoles
Cautions/Allergies
Please read instructions carefully.
Frequently Asked Questions (0)
You Could Also Consider These Insoles Products
Great Combinations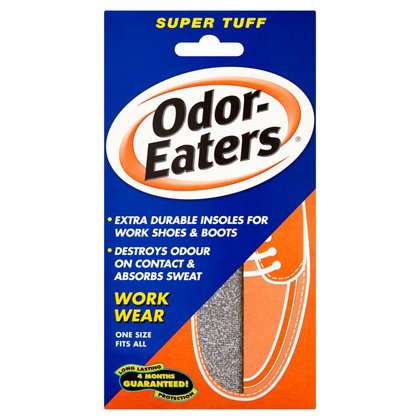 Odor-Eaters Super Tuff Insoles
Super Tuff Insoles are specifically designed for Work Shoes.
£4.74
RRP £4.99
Save £0.25 (5% OFF)
View Product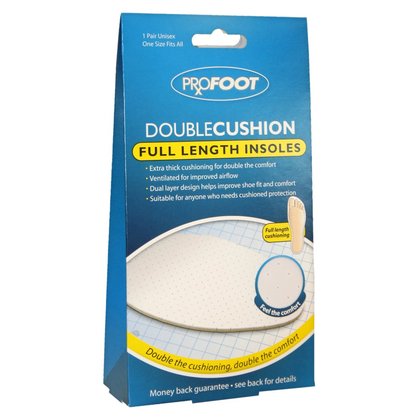 Profoot Double Cushion Insoles
Double Cushion Insoles are suitable for anyone who needs cushioned protection.
£3.87
RRP £4.07
Save £0.20 (5% OFF)
View Product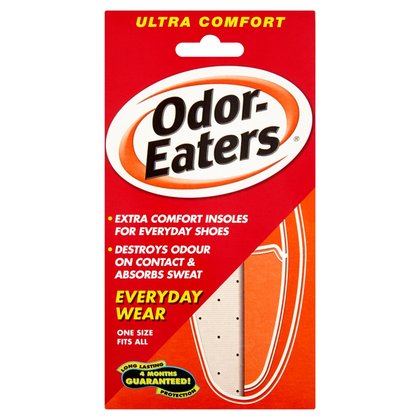 Odor-Eaters Ultra Comfort Insoles
Ultra Comfort Insoles are specifically designed for Everyday Shoes.
£3.59
RRP £3.78
Save £0.19 (5% OFF)
View Product