Canesten Hydrocortisone Cream (P) - 15g
Canesten Hydrocortisone Cream has been formulated for the treatment of athletes foot and fungal sweat rash when there are additional symptoms of inflammation such as swelling, redness and itching.
Treats the redness and itching associated with athlete's foot and jock itch
Triple action
Suitable form the age of 10 years
Product Information
Usage
Adults and children aged 10 and over: The cream should be evenly and thinly applied twice daily to the affected part and rubbed in gently.
Ingredients
Clotrimazole. Hydrocortisone. Benzyl Alcohol. Cetostearyl Alcohol. Triceteareth-4-phosphate. Medium Chain Triglycerides. Purified Water.
Suitable for / Cautions
Suitable For
Suitable for adults and children over 10
Cautions/Allergies
For external use only. Keep out of the reach and sight of children. Do not store above 25C. Do not use after the stated expiry date. If symptoms do not improve, seek medical consultation. Pregnant and breastfeeding women should seek medical consultation before use.
Great Combinations
Canesten Cream (P) - 50g
Canesten Cream (P) is used to treat fungal skin infections such as ringworm, athlete's foot, fungal nappy rash and fungal sweat rash.
£7.75
RRP £8.16
Save £0.41 (5% OFF)
Add to basket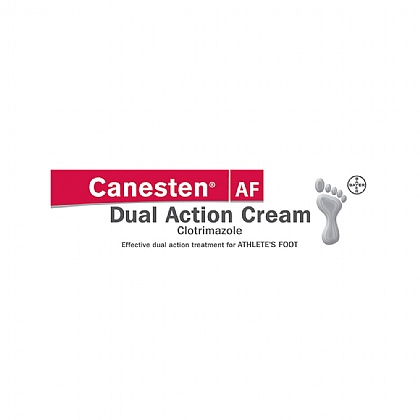 Canesten AF Dual Action Cream - 15g
Canesten AF Dual Action Cream contains an antifungal ingredient which effectively treats athlete's foot and jock itch.
£3.94
RRP £4.15
Save £0.21 (5% OFF)
View Product
You Could Also Consider These Fungal Nail Treatment Products