Description
Elastoplast Fabric Assorted Plasters cover and protect minor, everyday wounds such as scratches, cuts and grazes. Available in 4 different sizes, every pack ensures there is a plaster for every situation.

Elastoplast Fabric Assorted Plasters are made from a flexible and breathable fabric, which prevents external contaminates such as dirt and grit getting but still allowing air to reach the wound. Each plaster includes a non-stick wound pad that forms a protective cushion to help guard wounds against bumps and scrapes. Elastoplast has been trusted for generations to help people to enjoy an active life without being limited. They offer innovative, simple solutions to everyday problems and pains and have therefore earned a central position in the personal healthcare market.
Elastoplast Fabric Assorted Plasters are a convenient way to protect all types of small wounds. Many believe that keeping minor cuts and grazes uncovered and letting the air get to them helps them to heal faster, however this is not true. Research shows that covered wounds recuperate more efficiently and have a reduced risk of infection. Band aids and standard dressings shield the wound from external influences and prevent contamination. Elastoplast Fabric Assorted Plasters provide protection from potentially damaging foreign bodies until the wound is completely healed.
Usage
Clean wound and gently dry skin. Apply without stretching. Use each strip only once.
Ingredients
Pack includes: 20 plasters - 19 x 65mm. 10 plasters - 30 x 65mm. 2 plasters - 50 x 72 mm. 8 plasters - 23 mm.
Suitable For
Suitable For adults and children.
Cautions/Allergies
Keep out of the reach and sight of young children. For external use only. Store in a cool dry place.
Frequently Asked Questions (0)
You Could Also Consider These Plasters & Bandages Products
Great Combinations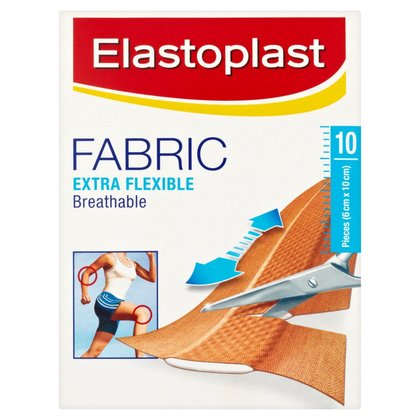 Elastoplast Fabric Dressing Strips 6cm x 10cm - 10
Extra flexible & breathable. Strong adhesion. Protects and cushions the wound. With extra flexible fabric.
£2.61
RRP £2.75
Save £0.14 (5% OFF)
View Product
Elastoplast Finger Strips 19 x 120mm - 16
Flexible and dirt proof. Good adhesion. Durable & breathable fabric.
£2.47
RRP £2.60
Save £0.13 (5% OFF)
View Product