Elastoplast Fabric Assorted Plasters - 40
Elastoplast Fabric Assorted Plasters cover and protect minor, everyday wounds such as scratches, cuts and grazes. Available in 4 different sizes, every pack ensures there is a plaster for every situation.
Extra flexible & breathable
Strong adhesion
Protect and cushions the wound
Ideal for joints
Textile plaster
Durable
Product Information
Usage
Clean wound and gently dry skin. Apply without stretching. Use each strip only once.
Ingredients
Pack includes: 20 plasters - 19 x 65mm. 10 plasters - 30 x 65mm. 2 plasters - 50 x 72 mm. 8 plasters - 23 mm.
Suitable for / Cautions
Suitable For
Suitable For adults and children.
Cautions/Allergies
Keep out of the reach and sight of young children. For external use only. Store in a cool dry place.
Great Combinations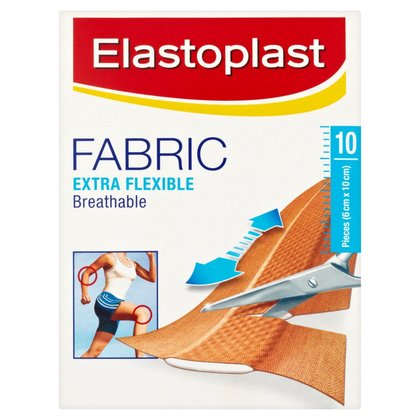 Elastoplast Fabric Dressing Strips 6cm x 10cm - 10
Extra flexible & breathable. Strong adhesion. Protects and cushions the wound. With extra flexible fabric.
£2.61
RRP £2.75
Save £0.14 (5% OFF)
Add to basket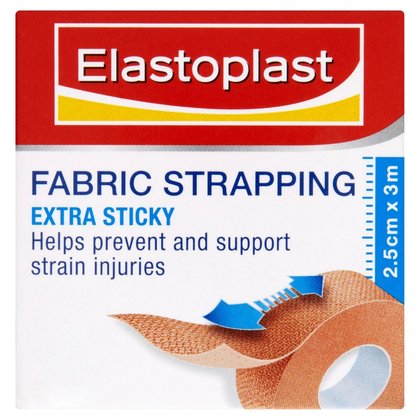 Elastoplast Sports Fabric Strapping - 2.5cm x 3m
Improved quality. Extra sticky. Reliably strong.
£2.90
RRP £3.05
Save £0.15 (5% OFF)
View Product
Elastoplast Finger Strips 19 x 120mm - 16
Flexible and dirt proof. Good adhesion. Durable & breathable fabric.
£2.47
RRP £2.60
Save £0.13 (5% OFF)
Add to basket
You Could Also Consider These Plasters & Bandages Products