Bausch & Lomb Boston Advance Comfort Formula Conditioning Solution - 120ml
Product Information
Bausch & Lomb Boston Advance Comfort Formula Conditioning Solution is the recommended choice for effectively cleaning rigid gas permeable contact lenses. Please note: this product is to be used with Bausch & Lomb Boston Advance Cleaner


Description
Bausch & Lomb Boston Advance Comfort Formula Conditioning Solution includes a patented, multi-polymer comfort system that binds and coats the surface of the lens. It cushions the lens upon insertion and reduces friction against both the cornea and the eyelid while removing particulate matter, which can cause irritation and discomfort. This unique formula also contains a patented dual preservative system which provides excellent disinfecting properties to eradicate dirt, debris and harmful microorganisms from your lenses, leaving them clean and clearBausch & Lomb Boston Advance Comfort Formula Conditioning Solution is suitable for use with silicone acrylate, fluoro silicone acrylate and rigid gas permeable contact lenses after the lenses have been cleaned. It is also recommended for use with PMMA lenses
Usage
Wash your hands with mild soap. (Caution - pump soaps may contain oil-based suspension agents). After cleaning with Boston Advance Cleaner and rinsing, place lenses in empty lens case and fill to top of ridges with fresh solution. Soak lenses for at least 4 hours (or overnight) before wearing. Always use fresh solution for soaking and storing lenses. After removing lenses from the lens case, apply fresh solution to wet the lenses for additional cushioning, if desired, and insert. Thoroughly clean interior of lens case with hot water and air dry after each use
Ingredients
Cationic Cellulose Derivative Polymer. Cellulosic Viscosifier. Polyvinyl Alcohol & a derivatised Polyethylene Glycol as wetting & cushioning agents; preserved with Chlorhexidine Gluconate (0.003%). Polyaminopropyl Biguanide (0.0005%). Edetate Disodium (0.05%).
Suitable For
Suitable For adult contact lense wearers
Cautions/Allergies
Keep out of the sight and reach of children. Do not use this solution if you are allergic to any of the stated ingredients. Solution will irritate eyes unless removed from lenses by thorough rinsing. If solution comes into contact with the eyes, immediately remove lenses & flush eyes with fresh tap water until solution is thoroughly removed. Always use fresh solution for soaking & storing lenses. Store solutions at room temperature.
Frequently Asked Questions (0)
You Could Also Consider These Contact Lens Solution Products
Great Combinations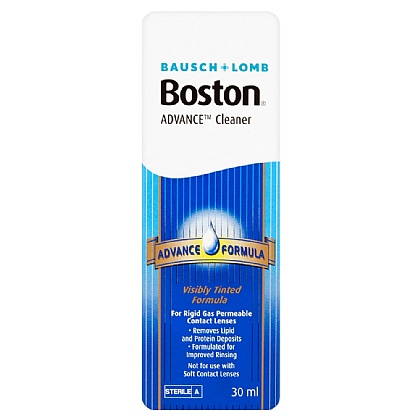 Bausch & Lomb Boston Cleaner Advance Formula 30ml
Specially formulated solution. Cleans rigid gas permeable contact lenses.
£6.64
RRP £6.94
Save £0.30 (4% OFF)
View Product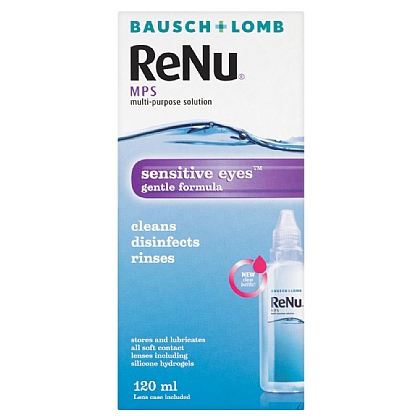 Bausch & Lomb Renu Multi-Purpose Solution Sensitive Eyes 120ml
Bausch and Lomb Renu Multipurpose Solution Sensitive Eyes cleans, disinfects, rinses, stores and lubricates soft contact lenses including silicone hydrogels.
£5.03
RRP £5.22
Save £0.19 (4% OFF)
View Product