Imodium Classic Capsules - 18
Imodium Classic Capsules contain the active ingredient Loperamide and are specifically designed to treat the symptoms of diarrhoea in one dose
Relief of diarrhoea in just one dose
fast acting - under one hour
easy to take capsules
Product Information
Usage
Adults and young people over 12 years of age: Take 2 capsules initially, followed if required, by 1 capsule after every further loose bowel movement. No more than 6 capsules should be taken per day. If diarrhoea symptoms last for more than 48 hours, seek medical consultation. For IBS diarrhoea - adults and young people aged 18 and over who have been diagnosed with IBS: Take 2 capsules initially, followed if required, by 1 capsule after every further loose bowel movement. You can use this medicine for up to two weeks for repeated attacks but do not take for any one attack lasting longer than 48 hours
Ingredients
Each Imodium Classic Capsule contains 2mg loperamide hydrochloride.
Suitable for / Cautions
Suitable For
Suitable For adults and children over 12 years of age.
Cautions/Allergies
Imodium Classic Capsules are for the symptomatic relief of diarrhoea only and should not be used as a substitute for rehydration therapy. Keep all medicines out of reach and sight of children. Do not exceed the stated dose. Do not store above 25¦C.
Great Combinations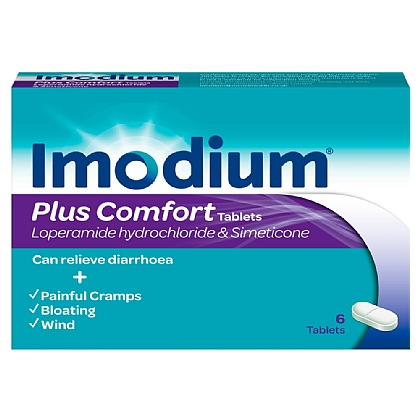 Imodium Plus Comfort Tablets - 6
Relieves the symptoms associated with trapped wind including abdominal discomfort, bloating and cramps. Dual relief.
£4.28
RRP £4.50
Save £0.22 (5% OFF)
Add to basket
You Could Also Consider These Capsules & Tablets Products