Actifed Multi-Action Dry Coughs Liquid - 100ml
Product Information
Actifed Multi-Action Dry Coughs Liquid provides relief from the irritation of dry coughs and other symptoms, which include runny noses, nasal congestion and catarrh.


Description
Actifed Multi-Action Dry Coughs Liquid contains three active ingredients, which include pseudoephedrine, triprolidine and dextromethorphan. These combine to reduce congestion and eliminate other common cold and flu symptoms.
Usage
Adults and children aged 12 years and over : Two large 5ml spoonfuls every 4 - 6 hours, up to 4 times a day. Leave at least 4 hours between doses. Do take more than 4 doses in 24 hours.
Ingredients
Pseudoephedrine Hydrochloride. Triprolidine Hydrochloride. Dextromethorphan Hydrobromide. Sucrose. Sorbitol. Sodium Benzoate. Methyl Hydroxybenzoate. Colouring (E124). Alcohol.
Suitable for / Cautions
Suitable For
Suitable For adults and children over the age of 12 years.
Cautions/Allergies
Keep out of the sight and reach of young children. Not suitable for children under the age of 12 years. Do not take more than 4 doses in 24 hours. If symptoms persist seek medical consultation.
You Could Also Consider These Cough Medicines Products
Great Combinations
Actifed Multi-Action Tablets - 12
Unblocks sinuses. Dries runny noses. Unblocks stuffy noses. Clears catarrh. Contains pseudoephedrine hydrochloride.
£4.13
RRP £4.35
Save £0.22 (5% OFF)
Add to basket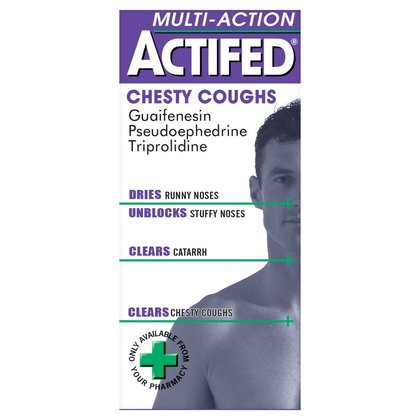 Actifed Multi-Action Chesty Coughs Liquid - 100ml
Contains pseudoephedrine & triprolidine. Loosens stubborn mucus. Eliminates common cold & flu symptoms.
£4.56
RRP £4.80
Save £0.24 (5% OFF)
Add to basket